Former British Prime Minister Gordon Brown has ignited a debate over freedom of speech and potential censorship within the media. Brown specified that and commentators Dan Wootton and Laurence Fox should be barred from broadcasting, according to statements made during his interview with Sophy Ridge for Sky News.
Brown further suggested the UK's controversial broadcasting regulatory body Ofcom should possess greater regulatory "teeth."
Brown's comments came in response to controversial remarks made by Fox about female PoliticsJOE journalist, Ava Evans, during a GB News show hosted by Wootton. "Who would want to shag that?" Fox asked. Fox's comment led to both him and Wootton being taken off air as an investigation by GB News, which bills itself as a free speech media outlet, ensued.
Drawing parallels with the situation involving comedians Jonathan Ross and Russell Brand, who infamously prank called actor Andrew Sachs approximately 15 years ago, Brown demanded stricter regulation for the increasing number of emerging broadcasters. His vision for regulation extends beyond television, including social media and newspapers.
Despite advocating for tighter regulatory control, Brown denied advocating for censorship and emphasized the need for propriety in on-air discussions. "These people have got to be kept off the air – this cannot be allowed," he said. Brown's stance raises questions over whether tighter regulations could potentially infringe on the freedom of speech, one of the cornerstones of a democratic society. The fact that speech in media is already regulated by Ofcom is already controversial in the country.
"I'm not in favor of censorship, but you cannot have this fall in standards and allow it to continue," were the former Prime Minister's chosen words.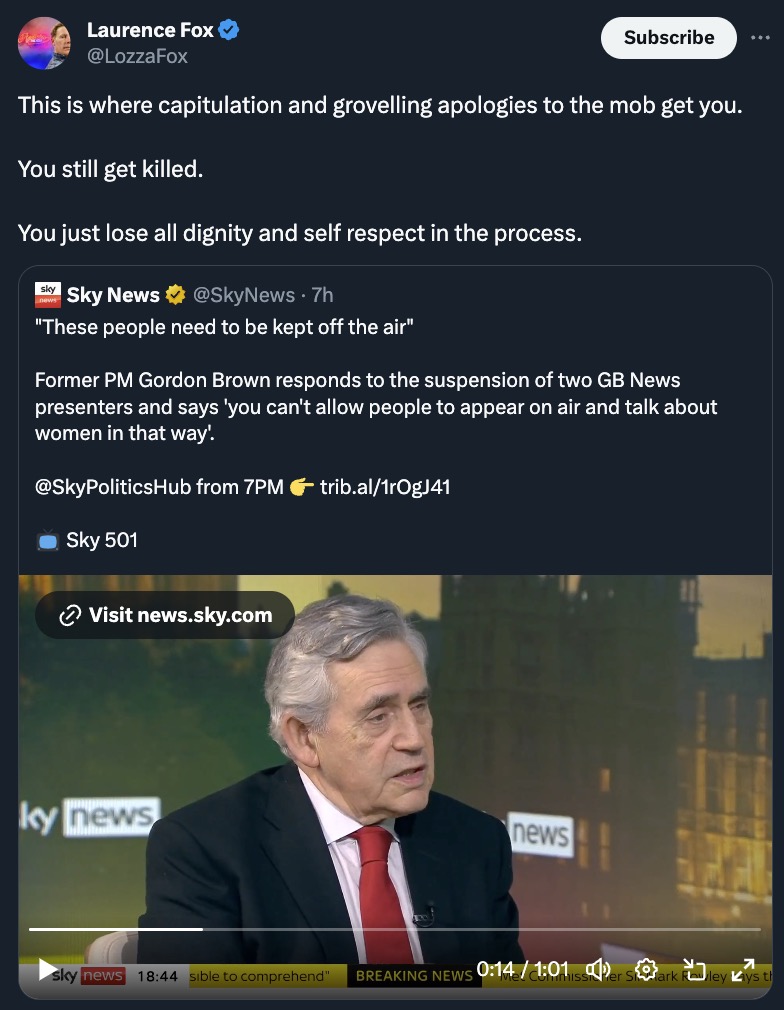 In response, Fox criticized the former PM's statement highlighting that appeasing the mob can tarnish one's dignity and self-respect.