Update: After media attention, Apple have now reinstated Rambo's account.
Apple is pulling a bit of a Google in the way it is treating a developer whose account has been locked for months. Namely, the company is keeping him in the dark about the reasons for the decision, denying him access to a human employee, yet refusing to reverse it.
It's hard to fight a ban when you don't know what you did do deserve it, as Guilherme Rambo is now finding out. But some have suggested that the reason may be the giant's desire to "silence the scoop machine."
In addition to being the app developer of ChibiStudio, Rambo, who writes and podcasts for 9to5Mac, is also known for going through early development builds of iOS and macOS in the hope of identifying changes in the code that reveal some new and upcoming feature.
In fact, he has been very successful in doing this, managing to produce some of the biggest Apple scoops and with this possibly frustrate the company to the point of locking him out of his developer account.
The problem, however, is that Apple won't tell Rambo if this is the reason behind the decision. The only information Rambo has received is that the account is disabled "for security reasons" and that an investigation is under way.
"Developer support then called me, and I gave my previous case number to a nice person on the other end of the phone, who explained that my case had been escalated to a supervisor, who then escalated it to their supervisor, and that I would hear back from them "soon". This was in mid September. In early October, I called again and was told I would receive an e-mail explaining the situation, I haven't. More recently, I tried calling again and got to talk with a supervisor, who said I would be getting an e-mail with instructions to get my access restored. During the call, they told me my developer account is currently "inactive". I followed up over e-mail a couple of days later and got a generic response that "the internal team is still investigating the issue" and thanking me for my patience."
It has been under way since August, preventing the developer from updating several apps with more than 100,000 active users.
This is far from the first time that Apple has been treating a developer heavy-handedly, while attempts to prevent leaks and scoops about its software and hardware have in the past motivated the company to go after media outlets, too.
The lead editor of 9to5Mac, Zac Hall, has recently lamented that despite providing some of the best and fairest Apple coverage around, they always get overlooked with press passes to Apple events and product embargos.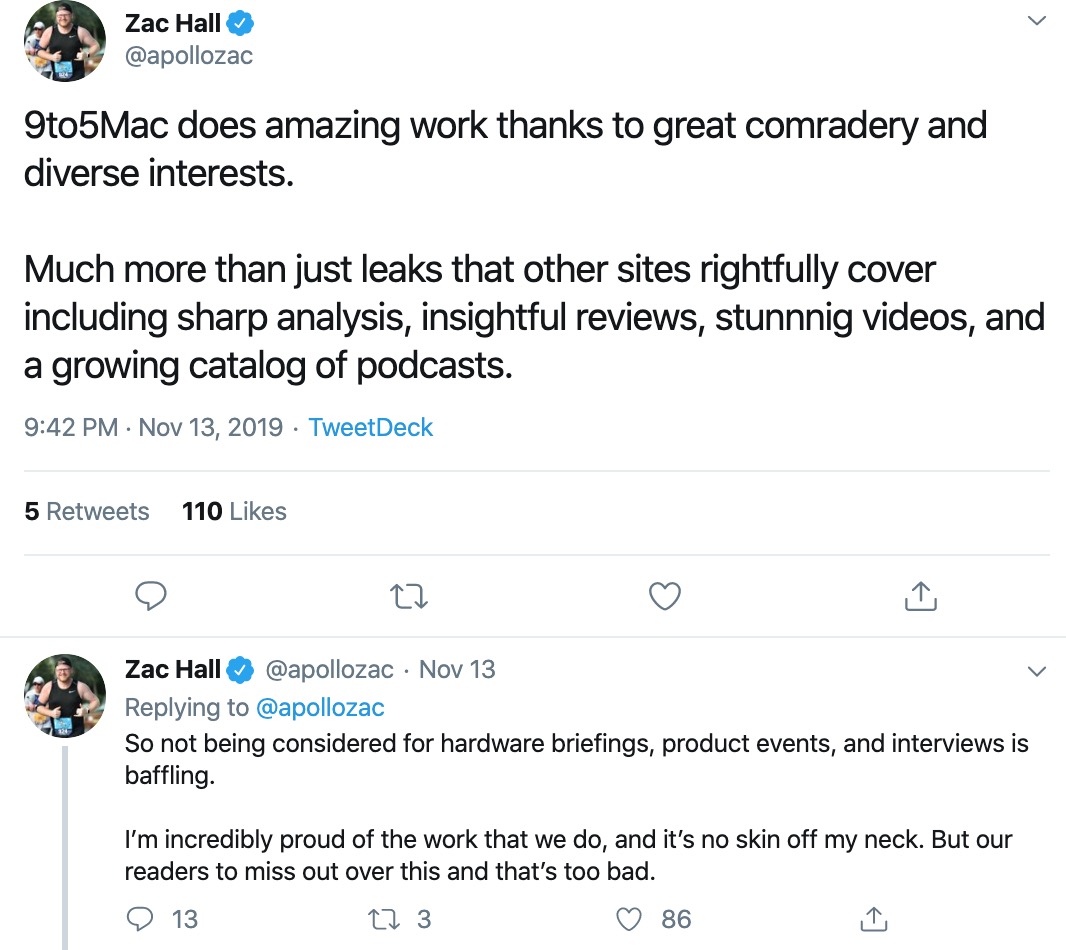 Considering that preventing Rambo from accessing his developer account doesn't actually prevent him from inspecting beta builds and many have speculated that the ban is probably simply a way to punish him.
And maybe that is why Apple will neither confirm nor deny that Rambo's code dissections are the reason behind the decision.