As America is deciding what or who to cancel next, the Broadway musical film Hamilton that just arrived on Disney Plus is now facing backlash as its lead character is the eponymous Founding Father Alexander Hamilton and who was a slave trader.
As a matter of fact, Hamilton, despite not owning any slaves, married into a family that was in the slave trade. He went on to manage the sale of slaves and also did accounting for a trading company that was engaged in slave trade. The Broadway musical, however, shows Hamilton as a "young, scrappy, and hungry" immigrant who wanted to abolish slavery.
With the film being recently released on the streaming platform Disney Plus, the outraged have taken to Twitter to express complaints against releasing the film on the streaming platform and tweeted with the hashtag #CancelHamilton.
"The play & now movie Hamilton is racist buffoonery & revisionist history meant to make liberal white folks feel good about their collaboration with the colonial project known as the US & its racist imperialist project abroad. Miranda should concentrate on feeing Puerto Rico," tweeted Ajamu Baraka, an international human rights activist and political analyst.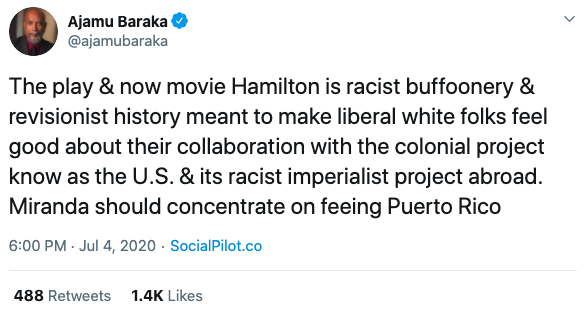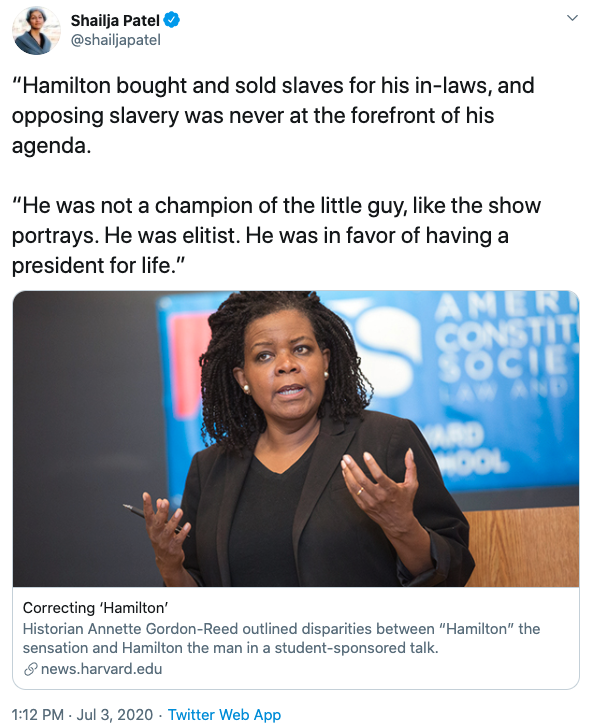 "Hamilton was a slave trader. Tear down the statues NOW and #CancelHamilton," tweeted a user.
That said, there were other Twitter users who were tongue-in-cheek about the whole situation and took a jibe at the prominent cancel culture. "Alexander Hamilton bought and traded slaves. Is Broadway going to cancel one of the top-grossing shows of all time?" tweeted conservative political commentator and author Nick Adams.
Disney Plus has been known for censoring many of its major titles that are on the platform, but Hamilton made the platform with only having swear words removed. The arrival of Hamilton on Disney Plus has driven app downloads up 74% so it's unlikely that they're going to be canceling it anytime soon.
There have been several calls for artistic representations from movies and TV to be censored in recent times, but most of them are decades old – such as the classic Gone With The Wind. Hamilton only hit Broadway in 2015 and some are already unironically calling for it to be censored.