Thousands of messages obtained by The Telegraph reveal how former UK Health Minister Matt Hancock considered a plot to get Sir Jeremy Farrar, a member of the Scientific Advisory Group of Emergencies (SAGE), fired over a tweet.
Hancock and others in the ministry and advisory groups had an issue with Farrar's opinions on some COVID-19 topics.
In August 2020, about half-an-year into the pandemic, Farrar questioned the government's decision to disband Public Health England (PHE). Hancock wanted PHE scrapped in favor of the creation of another organization that would be run by his friend Baroness Dido Harding, who led the controversial Covid surveillance program.
Farrar has also criticized the Test and Trace Program.
After PHE was axed, Farrar tweeted: "Arbitrary sackings. Passing of blame. Ill thought through, short term, reactive reforms… Preempting inevitable public inquiry."
The post angered ministers that they conspired to have him removed from SAGE.
"He'll now know I've done a comprehensive ring round. This will irritate him but also warn him. I wonder if there is some sort of official route to talking to him?" Lord Bethel wrote to Hancock.
In an August 20, 2020, message, Hancock asked: "Does [Sir Jeremy] bring any value at all to SAGE? I've never once heard him say anything useful at all."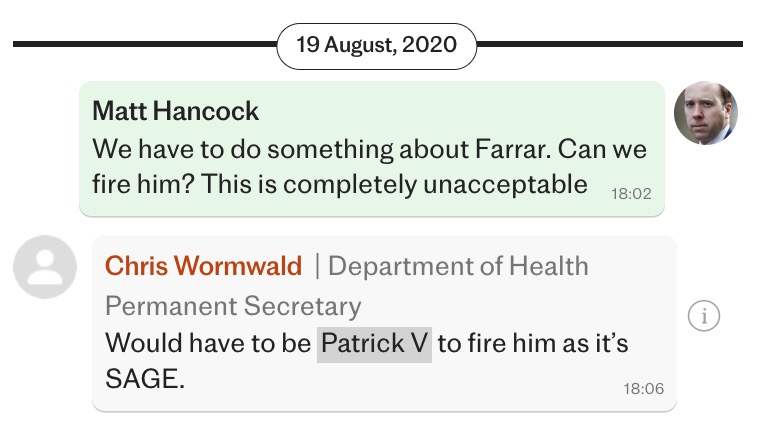 In April 2020, before the axing PHE controversy, Hancock was infuriated that Farrar did an interview with Sky News' Sophy Ridge. In the interview, Farrar said: "I hope we would have a vaccine towards the end of this year."
However, he warned that making a safe and effective vaccine within that period would be difficult.
Hancock questioned if Farrar had been given "permission' to be interviewed.
In June 2020, when Farrar tweeted that lifting lockdown would be an "entirely reasonable" decision, Allan Nixon, Hancock's adviser, told his boss: Jeremy Farrar going off the rails again. Hancock replied: " He is definitely no10's problem not ours," before adding: "If asked about Farrar by No10, explain that we thought best to relieve him from his duties but were overruled."
Despite the plots to remove him, Farrar remained at SAGE until the end of the pandemic.