New research revealed that several lawyers studying at Harvard share a much-relaxed point of view about piracy. As a matter of fact, many of them consider casual forms of piracy to be ethically acceptable. While law and ethics don't always coincide, the study, however, revealed an interesting perspective on piracy.
Harvard lawyers Prof. Dariusz Jemielniak and Dr. Jérôme Hergueux conducted the study on what lawyers thought about casual piracy and if it was ethically acceptable.
The study was conducted on more than 100 international Master of Law (LLM) students at Harvard who already has a pre-existing law degree. On a scale of one to five, with one being unacceptable to five being acceptable, the students were asked to express their perspectives on several scenarios of privacy.
Scenarios such as pirating music, downloading movies or TV-shows, downloading study materials and textbooks, pirating content for commercial purposes and more were a part of the study. After collecting responses on 19 such scenarios, the researchers obtained an average score of 3.23 based on the answers by all the candidates.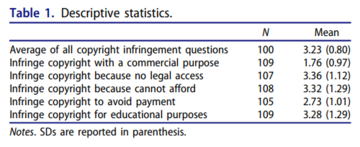 Out of all the scenarios, it was revealed that the lawyers typically frowned upon infringing copyright for commercial purposes. In the rest of the cases, they were almost fine with casual privacy. Resorting to piracy when there is no legal way to access something or due to the lack of financial resources were two scenarios that received the highest scores and thereby, levels of 'acceptance.'
It is to be noted that these scores are averages and we cannot say for sure if a lawyer accepts two or more scenarios of piracy. Also, it was known that most friends of these lawyers downloaded TV-shows from the internet. Nearly 95% of the lawyers accepted the same.
The research also highlighted that the responses differed between lawyers who work for the public sector and the ones working for the private sector. While lawyers working in the public sector were more acceptable about casual piracy, the ones working in the private sectors weren't very accepting of casual privacy.
The researchers primarily aimed to publicize the fact that there must be new reforms in the copyright legislation and there must be further decriminalization of copyright legislation.
"The fact that even the international elite lawyers perceive digital file sharing as generally acceptable signals that policies are increasingly misaligned with social practices," wrote the researchers.
image source: HBO
Free Tutorial: Our step-by-step guide to starting your own website for fun or profit