The manufacturer of the main line of Star Wars toys, Hasbro, has canceled orders of the upcoming Cara Dune figures. The news follows hypocritical criticism of social media posts from Gina Carano, who plays Cara Dune in the Disney+ hit series The Mandalorian.
The Big Bad Toy Store broke the news by emailing customers about the canceling of their pre-orders of the Cara Dune figures.
"We have been informed by Hasbro that they have cancelled production of the Star Wars: The Black Series 6" Cara Dune (The Mandalorian) and will not be fulfilling our order. Unfortunately, this means we must cancel our pre-orders for this item. We apologize for the inconvenience and greatly appreciate your understanding," read a toystore's email to customers.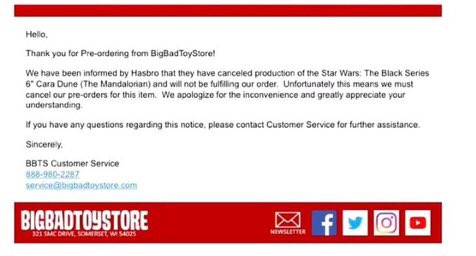 Gina Carano, an outspoken conservative, has been the subject of controversy in the past few days over an Instagram post where she highlighted and compared the current political situation to how the people in Nazi Germany turned against the Jews.
Despite the constant exaggerated comparisons of the current political climate to Nazi Germany that are often made in recent times, Carano's post was the final excuse that Disney used to drop Carano, a prominent conservative in Hollywood.
The post sparked backlash from Disney and activists online.
On social media, people were calling for her firing, using the hashtag, #FireGinaCarano, which was trending on Wednesday. She has since been dropped by Star Wars and The Mandalorian, which are produced by Lucasfilm.
"Gina Carano is not currently employed by Lucasfilm and there are no plans for her to be in the future," said the production company in a statement. "Nevertheless, her social media posts denigrating people based on their cultural and religious identities are abhorrent and unacceptable."
The Mandalorian star was also dropped by her agency.
The Instagram post was not the first time Carano was attacked on social media. In November, she posted a series of tweets criticizing mask-wearing and the results of the presidential election.
Her exercising of her First Amendment free speech right has cost her roles in Star Wars and The Mandalorian.
The former mixed martial arts (MMA) star entered the world of acting through the 2011 film Haywire. She has since featured in high-profile movies such as Fast & Furious 6 and Deadpool.
However, she might still make a return on screens; conservative political commentator Ben Shapiro announced he will cast her in a movie.