Hong Kong residents are showing that attempts to police people's speech is futile as people can easily come up with new phrases and new ways to get around restrictions.
Residents of Hong Kong are coming up with creative ways of protesting the new security law. Beijing passed the new security law that will remove some of the freedoms Hongkongers enjoyed, such as free speech.
The law is already being implemented in Hong Kong, meaning residents can no longer display political slogans protesting China's authoritarian regime. Just one day after the law came into effect, a man was arrested for brandishing a flag that simply read "Hong Kong Independence."
Last week, the local government illegalized the widely-used dissent slogan, "Liberate Hong Kong, revolution of our times." Most people use the slogan to express their frustration with the authoritarian Chinese regime. China sees this as a phrase that calls for complete independence from China, an idea the Chinese regime strongly opposes.
Now, people are finding ways to protest without breaking the law, mostly by using wordplay. Hongkongers are keeping the slogan alive using coded language such as "GFHG, SDGM," which is the acronym of the English transliterated version of the slogan.
Another phrase that's gaining popularity is "seize back banana." In traditional Chinese, the words Hong Kong and banana have similar characters.
Another "safe" way of protesting being used is the subversion of the regime's rhetoric. For instance, protesters are using the slogan "Arise, ye who refuse to be slaves," which is coined from the national anthem. Others are using the phrase "Make Hong Kong great," similar to President Trump's famous "Make America Great Again."
Speaking to The Guardian, pro-democracy activist, Chan Kin-man said, "In a public space, one might either not say anything or use an 'officially-approved' language to protect themselves. But hidden language is something that cannot be banned by laws."
Plain white pages have replaced protest graffiti across the city. The blank pages are symbolism for "white terror," a phrase used in China to mean political persecution.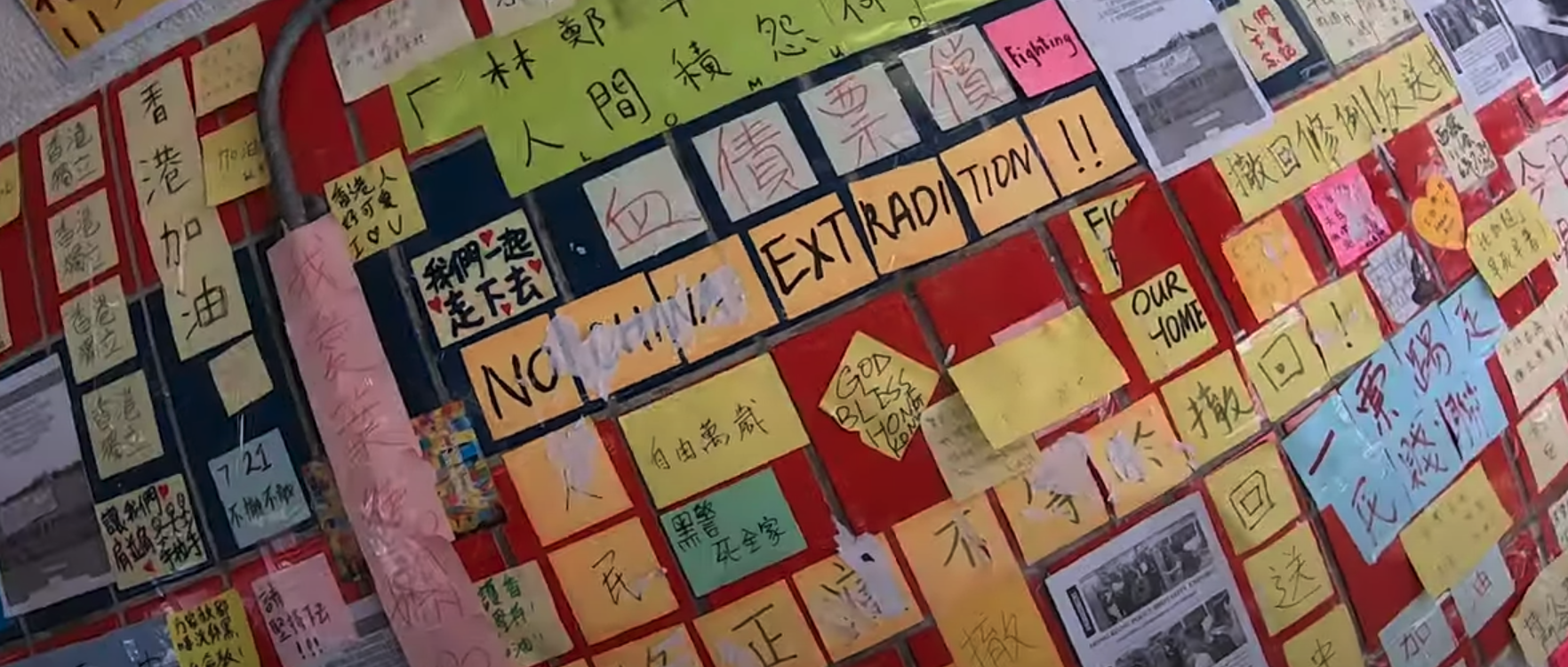 Hongkongers have had to take down "Lennon Wall" displays, which showed support for pro-democracy and are now in violation of the new security law. These walls, usually in shops and cafes in the city, display protest slogans written on sticky notes.
A café owner substituted the protest slogans with blank sticky notes. On their Facebook page, they wrote, "What is essential is invisible to the eyes."
"Suppression catalyzes people to fight back," Chan explained.