You can blur your house from Google Street View and the process is relatively easy. That is good news for those who value their privacy and don't want their home to indexed by the Big Tech giant.
Street View is a Google product launched in 2007. As the name suggests, it provides a street-level view of cities and towns. The images are captured by vehicles roaming the streets and individuals.
For obvious reasons, the service has been the subject of controversy more than a few times.
In 2008, Google had to pull down the images of North Oaks, a Minnesota suburb, after residents threatened to sue the company for trespassing.
A year later, Privacy International, a digital rights group, filed a formal complaint with the Information Commissioner's Office of the UK because Google revealed people's identities captured by Street View.
A woman who was escaping a violent partner was identifiable outside her home on an image captured by Street View. The controversial service also captured two workmates in a compromising position. The two were embarrassed when the image did rounds at their workplace.
Google admitted that the vehicles used to take Street View images collected personal data by accessing unencrypted Wi-Fi networks as its Street View cars drive past people's homes.
To blur your house from Street Viewer:
Open Google Maps
Enter your home address
Switch to Street View mode by picking the yellow human icon at the bottom right and dropping it in front of your house
With your house in view, select the "Report a problem" option, which is located at the bottom right corner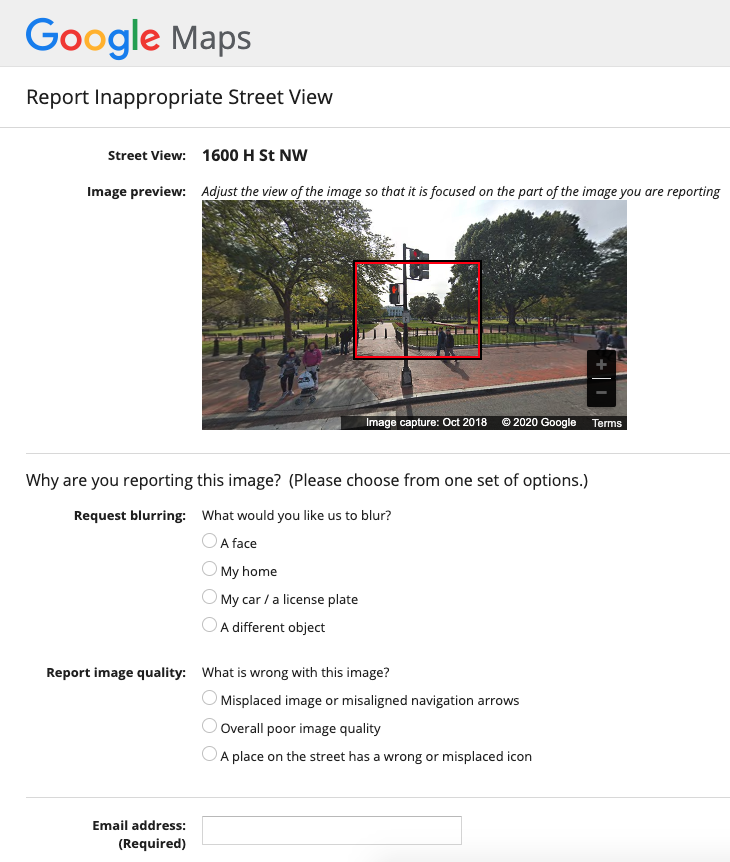 Drag the red box so that it covers the front of your home
Select "Request blurring" and select "My home"
Type the reason you are requesting blurring
Fill in your email address and hit "Submit"
You will receive an email from Google saying that your request is under review.
According to Google, the decision to blur your home from Street View is irreversible.