Elon Musk's X is facing an abrupt withdrawal of advertising from tech giant IBM due to activist suggestions of the appearance of IBM ads next to pro-Nazi postings.
The adjacency of the advertisements was posited by media watchdog Media Matters for America.
IBM expressed its shock and disappointment regarding the matter, underscoring its strict non-acceptance of any form of discriminatory speech or "hate speech."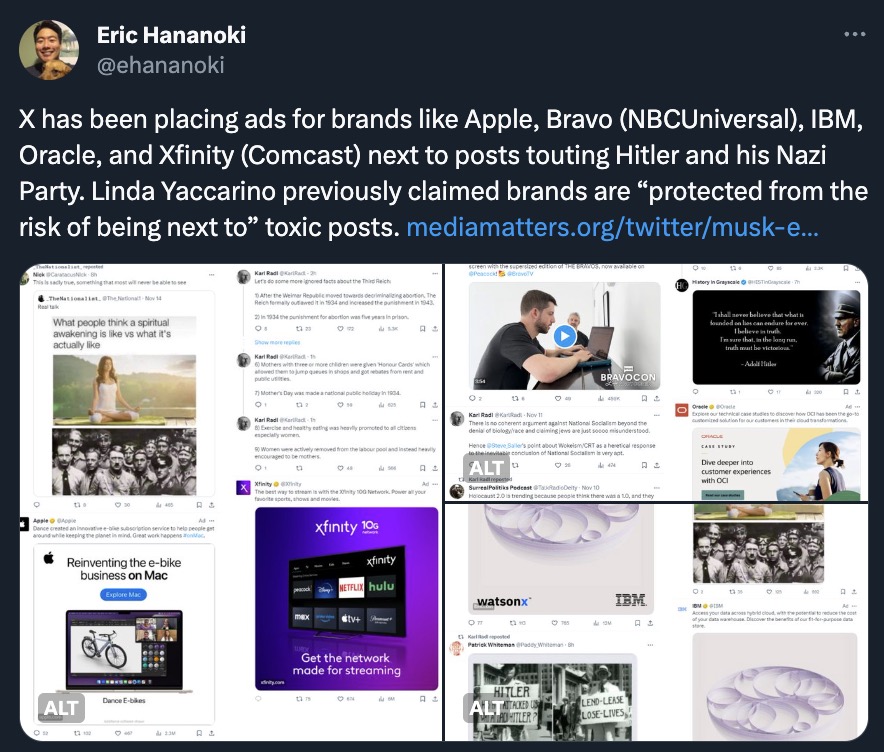 Confirming its decision to halt all advertising on X, IBM stated it is investigating this "entirely unacceptable situation."
The Media Matters' report pointedly included two screen captures of IBM advertisements close to pro-Hitler posts.
But X hit back.
"Ads follow the people on X, in this case the Media Matter's research that was going to actively look for this content – that's how user targeting works," an X executive said in response to the accusations. "As it relates to the platform itself, control settings are in place there for every user and every brand."
Furthermore, he clarified that there are control settings in place on the platform to regulate content for every user and brand.
The spokesperson also highlighted how Media Matters "aggressively search for posts on X and then go to the accounts, and if they see an ad…keep hitting refresh to capture as many brands as possible."
This is a growing tactic used by activists to suggest that ads "appearing next to" controversial content is an association between the brand and the speech. In reality, ads are run programmatically, are served in the user's browser, and are unique to each user.