On Thursday, independent progressive media outlet Status Coup announced on Twitter that YouTube had removed another one of their videos, calling the move "a disgrace."
In the tweet, one of the founders of Status Coup, Jordan Chariton, revealed that YouTube's stated reason for the removal was that the video was promoting harassment and cyberbullying – an accusation the outlet rejects as false.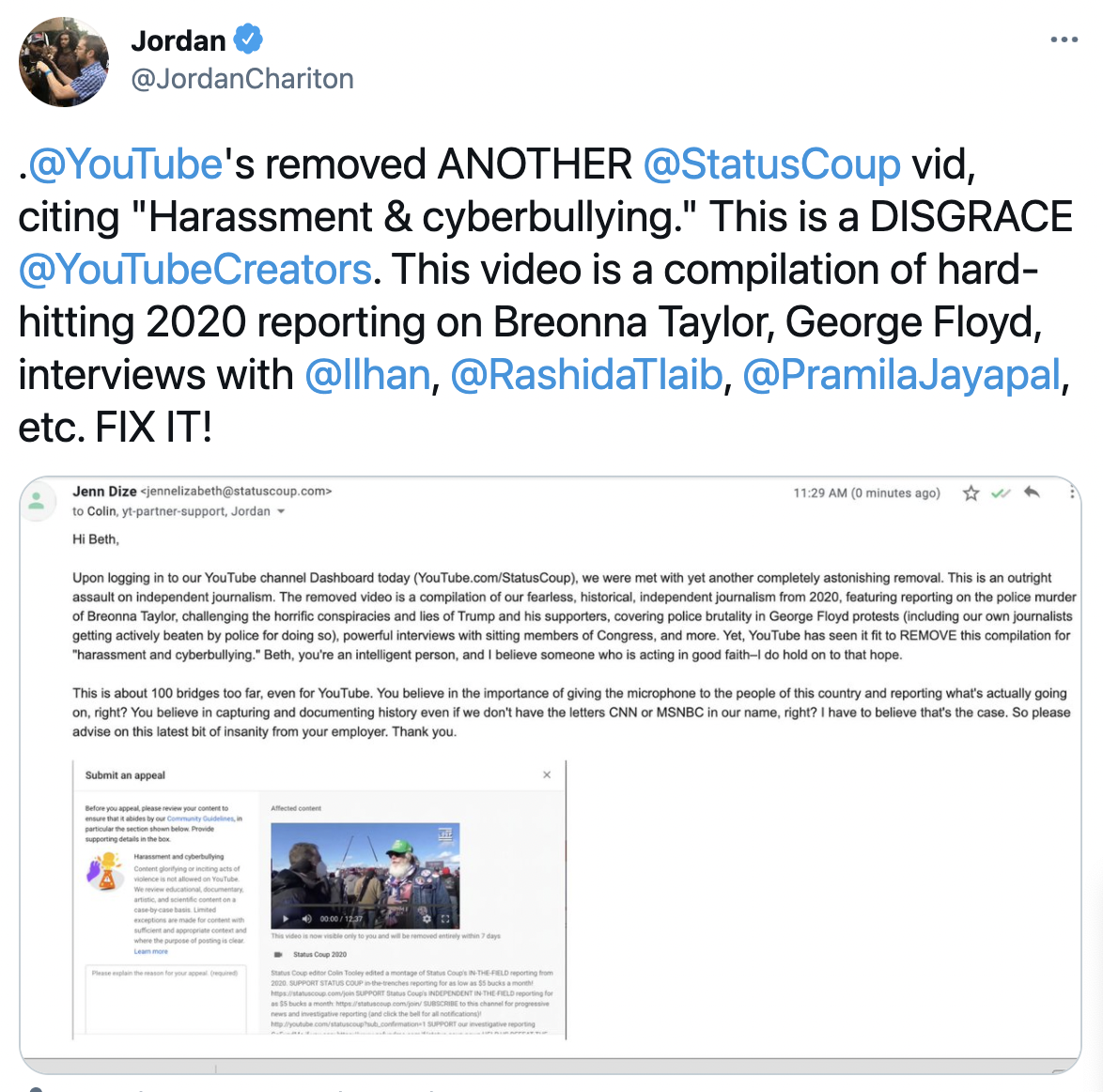 Chariton then explained that the video contained "hard-hitting 2020 reporting on Breonna Taylor, George Floyd" as well as interviews with a number of Democratic figures like congresswomen Rashida Tlaib and Ilhan Omar, and others.
While urging YouTube to reverse the removal, the Status Coup co-founder also shared a screenshot of an email that appears to have been sent to a YouTube employee, complaining about the decision as baseless.
It is common for conservative voices to denounce rampant, unjustified, and poorly explained censorship against them on YouTube, but in the post-election period some observers see the "inclusion" of progressive channels as Google's giant video platform targeting independent creators in general.
This would be in line with YouTube's open shift over the recent year or so towards favoring content coming from big networks and corporations over native talent and smaller creators.
A month ago, Chariton said on Twitter that YouTube had deleted between seven and ten videos published by his outlet that he said dealt with Trump supporters' belief that the 2020 election was rigged.
Not only that, but YouTube at the time cautioned the channel that posting more such content would result in a strike and a week's ban.
Chariton saw this as YouTube's attempt to push Status Coup off the platform, citing as further proof loss of subscriber growth and views through YouTube's deliberate action to suppress their content through algorithmic manipulation.
Chariton – who was a Bernie Sanders supporter during the 2020 election – is worried about what this might mean for the future of Status Coup. Those who supported him and his outlet blamed YouTube's policies on disinformation that don't distinguish between allegedly false information and reporting about it.
Others warned that corporate media also play a role in undermining independent creators by pushing for more censorship on the internet.