Big tech seems to be on a mission to suppress all content that reports on fake hate crimes and now, as a final resort, they're coming for the memes. Both Mark Dice, a media analyst, and the Hodge Twins, a pair of Conservative comedians, have had content that mentions the actor Jussie Smollett removed from Instagram.
Both pieces of content mentioned Smollett and also suggested that he had perpetrated a hate crime hoax. If you're not familiar with the Smollett situation, he originally claimed that he was attacked by two individuals who screamed racist and homophobic insults at him. However, his claims quickly fell apart under scrutiny and the latest evidence suggests that Smollett orchestrated the whole thing as part of a fake hate crime.
Dice shared a screenshot of the message Instagram sent him after deleting his meme alongside an image of the offending meme on Twitter.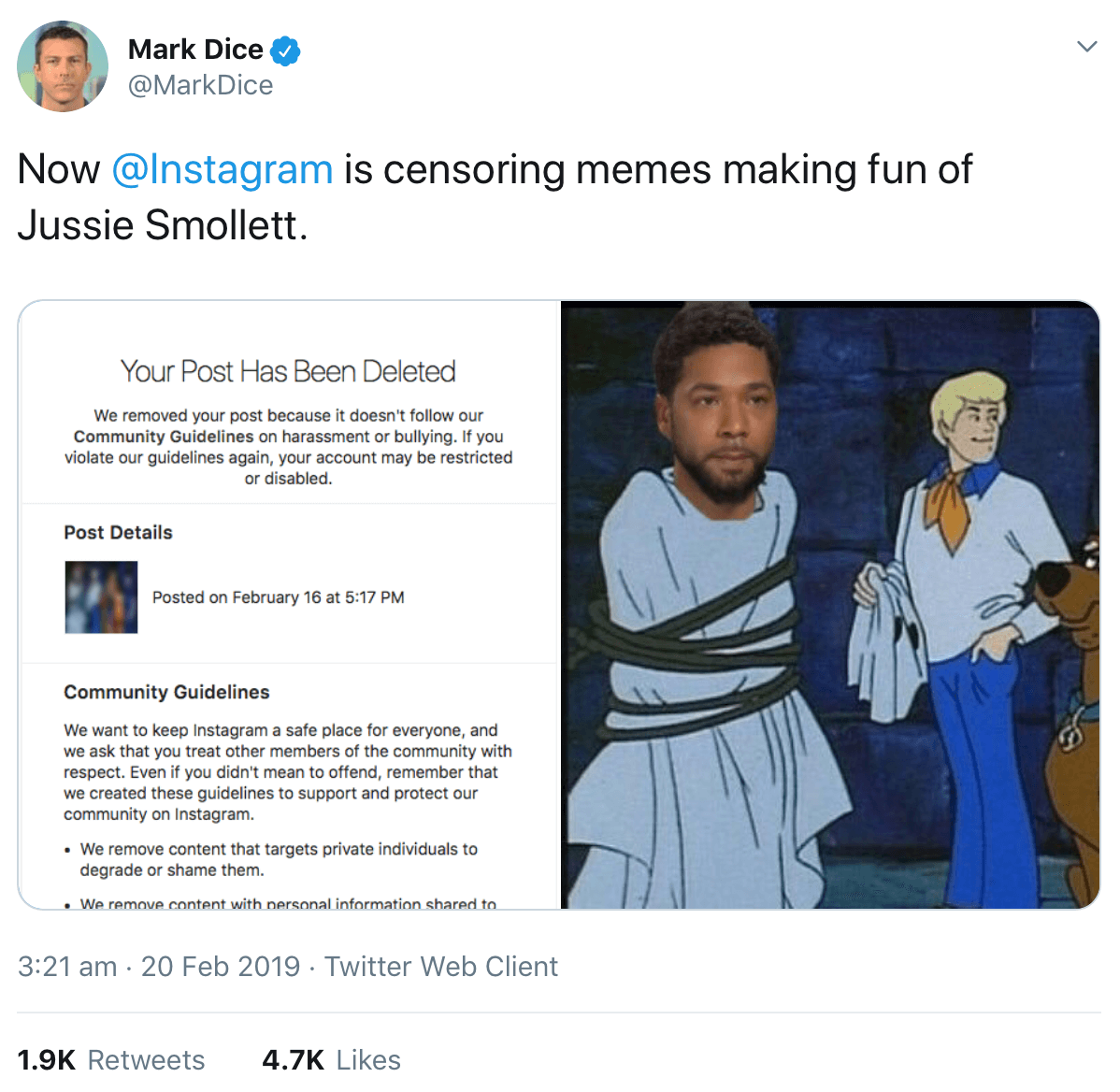 In the Instagram message that was sent to Dice, the company explains that his post was deleted for violating Instagram's community guidelines. While the message doesn't explain the specific guidelines Dice violated, it suggests that the post was removed for one of the following reasons:
We remove content that targets private individuals to degrade or shame them.
We remove content with personal information shared to harass or blackmail people.
We have a zero tolerance policy when it comes to posts or threats to post intimate images of others.
Since the meme is light-hearted Scooby Doo style image of Smollett and implies that "he would have got away with it if it weren't for those pesky kids," it's difficult to see which of these guidelines Instagram feels it actually violates. Smollett is a public figure (not a private individual), the meme contains no personal information, and it contains no reference to intimate images.
In a reply to the tweet, the Hodge Twins also claimed that they had two videos removed from Instagram for talking about "Jussie's Hoax."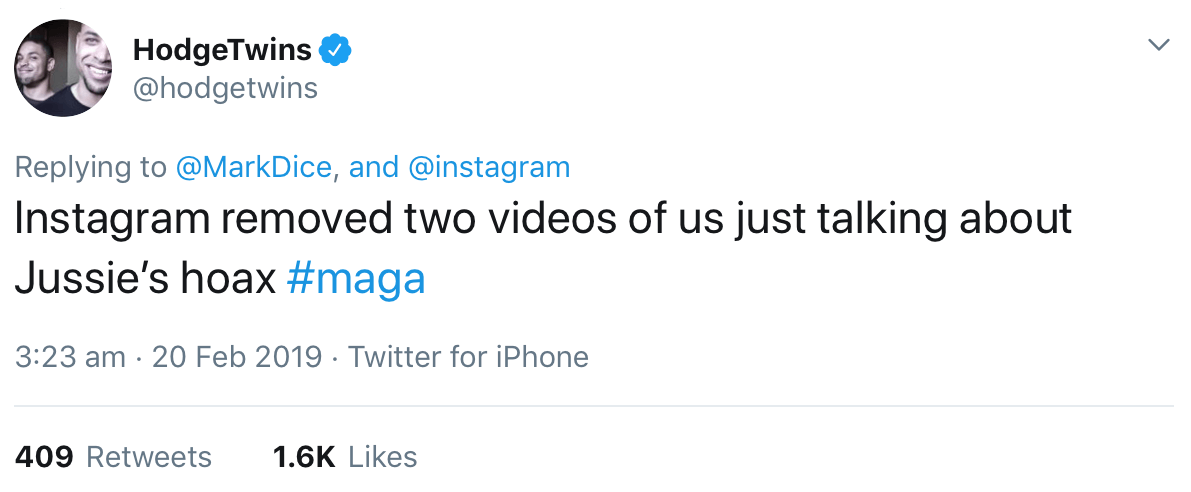 This is the second time this week that Instagram has removed content that suggests Smollett may be making false claims. On Monday, Donald Trump Jr. was forced to delete an Instagram post which featured a screenshot suggesting that Smollett had faked his attack. After news of this forced deletion started to spread, Instagram reinstated the post and apologized, saying it was an error.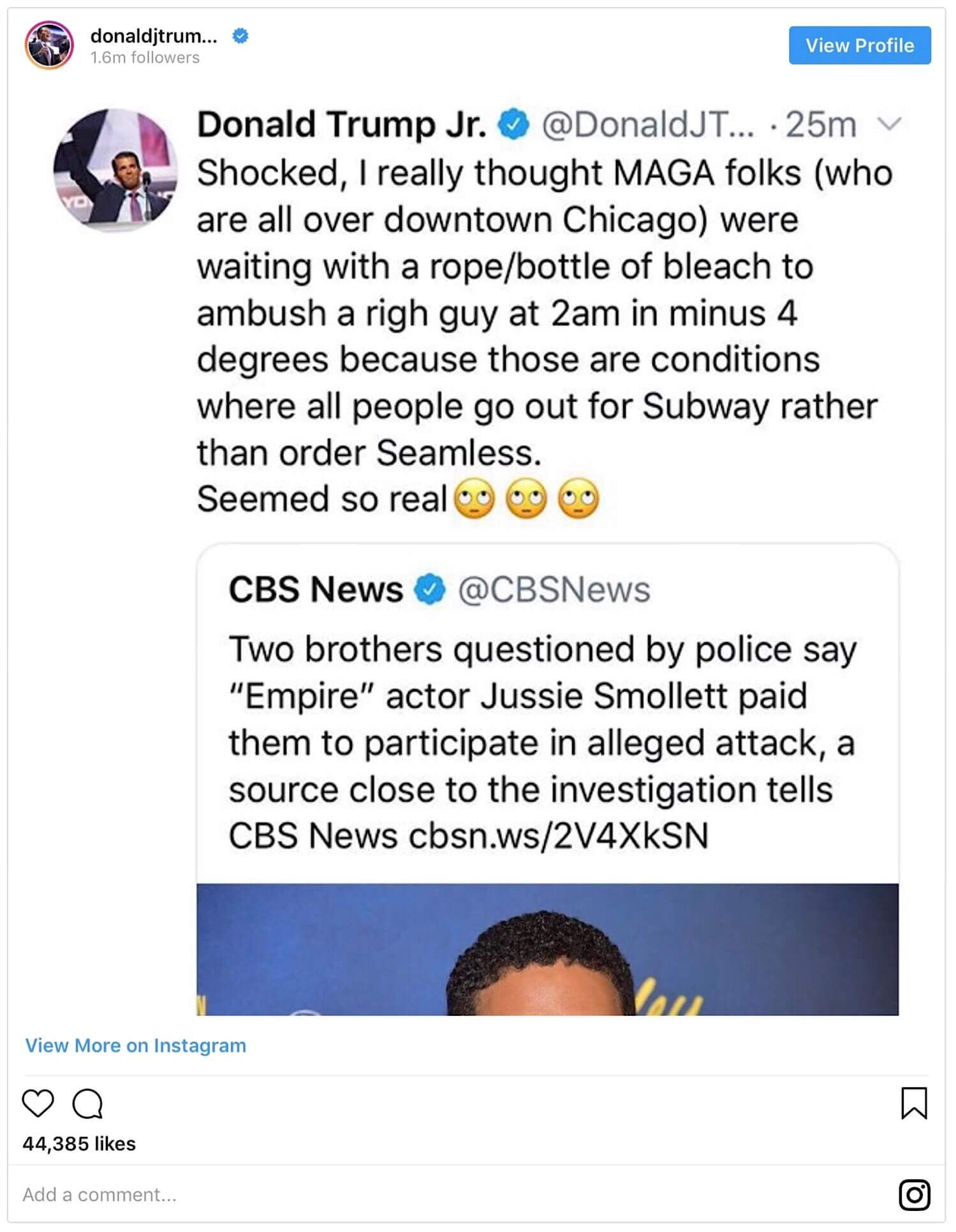 This censorship of Smollett memes on Instagram is just the tip of the iceberg. Facebook and YouTube are also cracking down on any content that suggests victims of violence are making false claims, even if there is evidence that they are indeed making false claims. Yesterday YouTube quietly prohibited reporting on hate crime hoaxes in its new community guidelines and earlier this week, there were reports of Facebook temporarily blacklisting articles that claimed the Smollett incident was a hoax.
We're certainly living in strange times. These social media companies had no problem letting Smollett's initial claims spread freely on their platforms but now those initial claims have been called into doubt, they've resorted to censoring cartoon memes.