Instagram is now hiding results for #QAnon – the main hashtag for the popular movement that has been suppressed across most of the mainstream social media platforms.
Instagram users that attempt to view the hashtag are presented with a message that states: "Posts for #qanon have been limited because the community has reported some content that may not meet Instagram's community guidelines."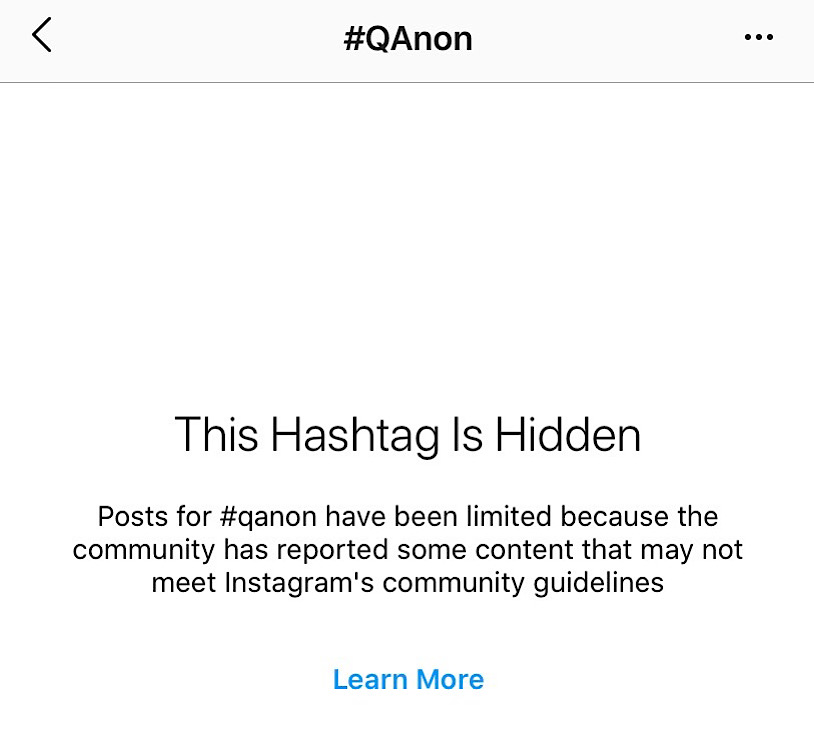 Last week, Facebook announced a mass crackdown on QAnon with thousands of accounts being removed and suppressed and over 300 QAnon hashtags being blocked across Facebook and Instagram.
The blocking of its main hashtag on Instagram is yet another blow that reduces the organic visibility of the topic.
Before Big Tech's suppression, QAnon was enjoying rapid organic growth with accounts and posts that cover the topic building sizable followings and receiving high levels of engagement.
But numerous mainstream media outlets complained about QAnon's popularity and the Silicon Valley giants' failure to censor it.
The tech platforms ultimately bowed to this pressure with Twitter, Facebook, TikTok, and Google Play all making moves against QAnon.
This Big Tech censorship has resulted in thousands of QAnon accounts being purged or restricted and the topic being blacklisted from many of the discoverability features on these tech platforms.
Followers of QAnon are largely pro-Trump and Big Tech's sweeping crackdown against the movement started four months before the 2020 US presidential election.
With the election now less than three months away and tech platforms continuing to restrict the movement, the suppression is also likely by extension to restrict online support for President Trump.