It's turning into a full time job for those who wish to create, curate and maintain their own "bubble" on mainstream social media by making use of the ever-growing list of options that restrict communication and interaction with other users.
Facebook's Instagram is now testing a new feature to keep away groups of users rather than just individuals, several social media consultants have shared on Twitter, along with screenshots showing the new setting.
The feature, dubbed "Limits," is introduced as a way to "manage harassment from groups of people." In case a user is unsure which accounts are harassing them – which seems unlikely – Instagram will helpfully "recommend" them and let the user limit comments and messages coming from select accounts.
The feature was shared by social media consultant Matt Navarra.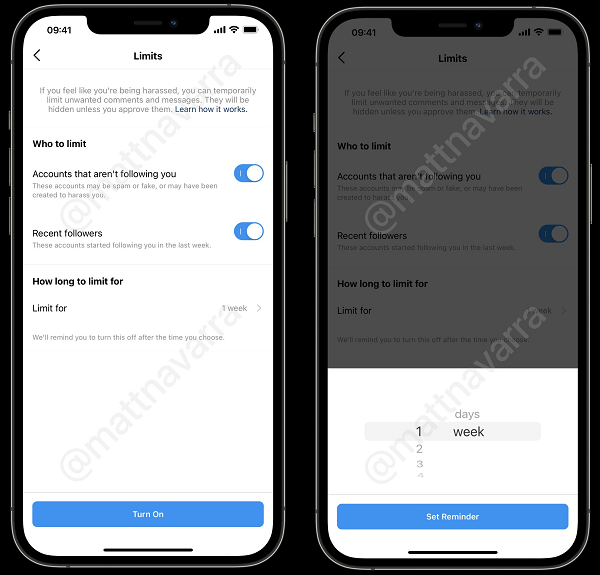 It will be interesting to see how this plays out when and if it gets deployed on the platform, given how habitually prone to mistakes automated unwanted content discovery algorithms are.
But once identified, one way or another, these limited comments and messages can also be hidden until the recipient changes their mind and allows them. It's suggested that the new feature might come in handy for those who are being "harassed" as one of the options is to target only groups of new users or those who don't follow you – and who are presumably there to join in the pile-on.
The feature is already rolling out to some accounts and can be found in the Privacy settings. Given that this is supposed to temporarily limit the ability of unwanted groups to communicate – Instagram seems to be trying to show it is "doing more" to stop harassment, but also maintain a higher level of engagement on the platform than what happens when you simply block somebody – and thus prevent them from commenting or messaging you.
Instagram's official explanation states that the company wants to give people "more ways to manage intense instances of harassment or abuse. We're testing a new tool that lets people hide comments and DMs from recent followers or people they don't follow for a certain period of time."