Paul Saladino MD, the host of The Fundamental Health Podcast, has informed his followers on Instagram that his account may soon be deleted by the Facebook-owned company.
In a post accompanied by a screenshot of the warning message he received, Saladino said that he was not aware of why Instagram found his content objectionable, but assumed it had to do with his stance on Covid.
The notice cites two instances – one from June this year and one from November 2020, that Instagram believes didn't follow its guidelines.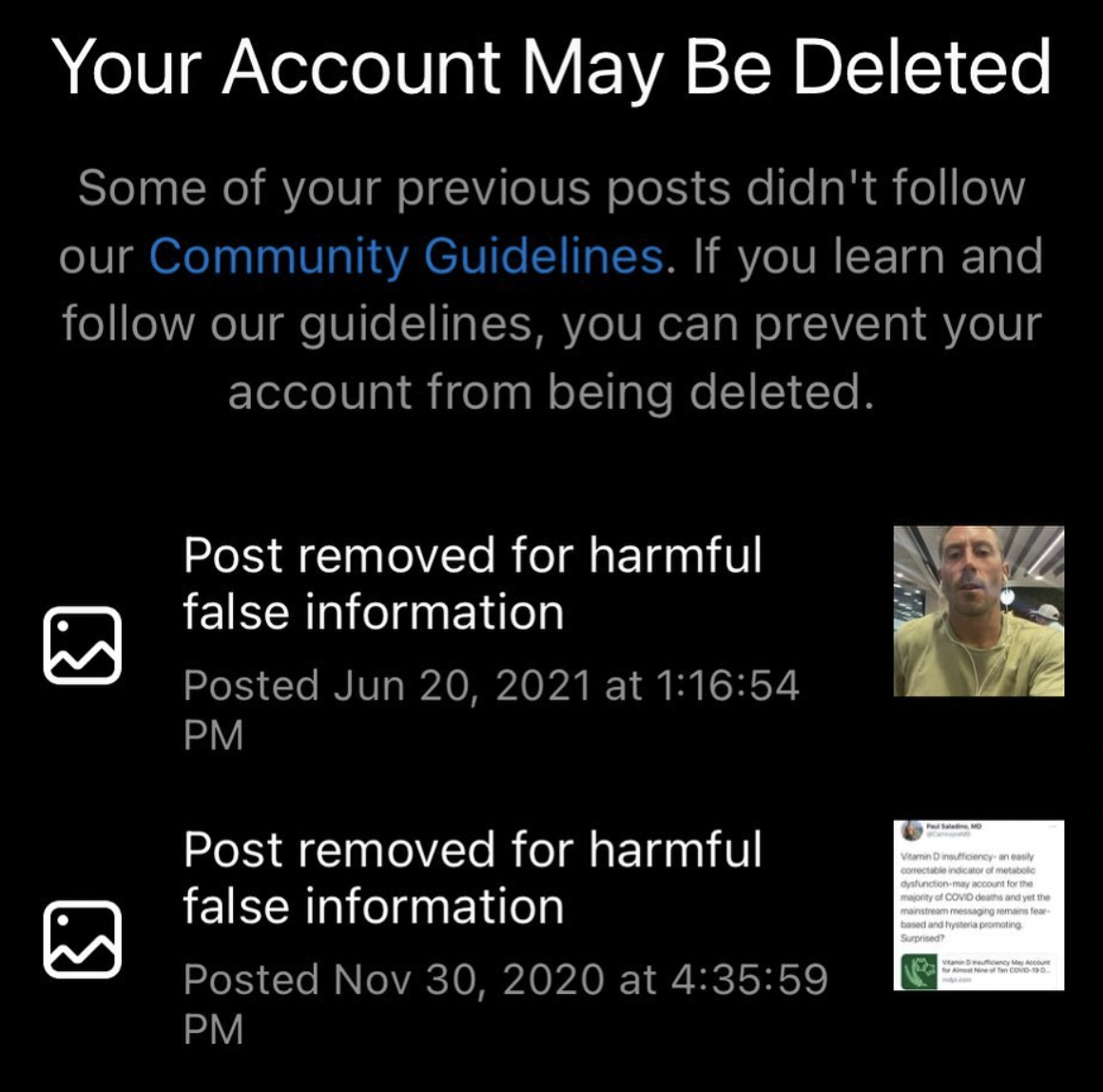 The November post speaks about vitamin D insufficiency and that this indicator of metabolic dysfunction can be corrected easily.
The message warning Saladino that his account may get deleted also advises him to "learn and follow" the guidelines in order to avoid this outcome.
In sharing the warning with his followers, Saladino, in a sarcastically toned post, said he would seek forgiveness from the powers that be and comply with their orders such as quarantining "forever" – as he "worships at the altar of Anthony Fauci."
Judging by the post, Saladino is critical of Fauci and Covid restrictions such as mask-wearing and lockdowns, so although Instagram continues with the tactic used by major social media not to reveal concrete causes for censorship, his guess that this is related to his views on the pandemic is likely correct.
Facebook – and Instagram – have recently made a massive U-turn on one component of their Covid-related censorship – discussing the origin of the virus is now allowed. But the political signal to let people criticize masks, lockdowns, or Dr. Fauci has clearly not arrived yet.
After further making fun of Instagram by "humbly apologizing" and "promising" to learn the guidelines going forward, for the sake of being allowed to stay on what he said is a "shitty platform" – Saladino told his followers that he had created a backup account, just in case.
Some of his fans advised him to switch to another platform, like Locals or Gab, or one of the block-chain based solutions, in order to make sure he has a platform in the first place, and one where he can express himself freely.

Defend free speech and individual liberty online.
Push back against big tech and media gatekeepers…