Twitter has permanently banned the account of Irish journalist Gemma O'Doherty. Before getting banned, O'Doherty had, in recent times, been a vocal anti-lockdown supporter on the platform and had also drawn attention to the desecration of Christian statues.
O'Doherty has long been familiar with social media censorship, having been already banned from both Facebook and YouTube and had famously organized a protest outside of YouTube's Irish offices over the matter.
O'Doherty wrote for the Irish Independent until 2014. She mostly covered corruption and the criminal justice system and her more notable work as a freelancer is the Mary Boyle documentary. The documentary, which was published on YouTube, covers one of the biggest missing child cases in Ireland. In the documentary, O'Doherty alleged that political interference derailed the investigation.
A Twitter rep confirmed that O'Doherty's account was permanently suspended. They said that she repeatedly violated the policies on abusive behavior and sensitive media.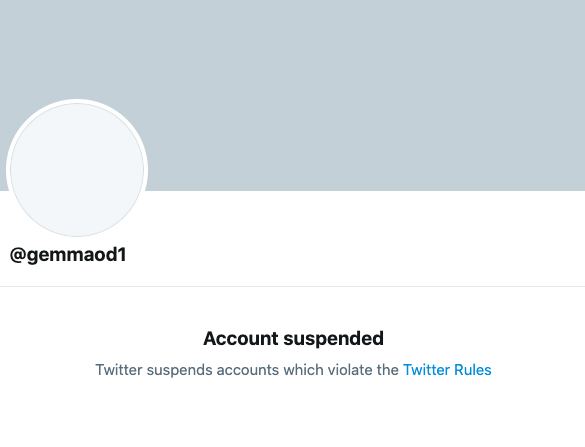 "We have clear abusive behaviour and hateful conduct policies in place, and we will continue to take action when our rules are broken.
"The account in question has been permanently suspended after repeated violations of the Twitter Rules including violations of our Abusive Behavior & Sensitive Media policies," explained the statement.
O'Doherty has been vocal against the lockdown restrictions imposed by the Irish government. According to her, and other activists, the restrictions are an affront to civil liberties and "reminiscent of Nazi Germany."