At a time when his company is facing backlash due to its overreaching moderation practices that go against the spirit of free speech, Jack Dorsey, the tech billionaire and founder of Twitter, has donated $10 million through his foundation Start Small to Dr. Ibram X. Kendi, an activist and "anti-racist" author. Kendi is now at the helm of a nascent organization that is just about six-weeks old.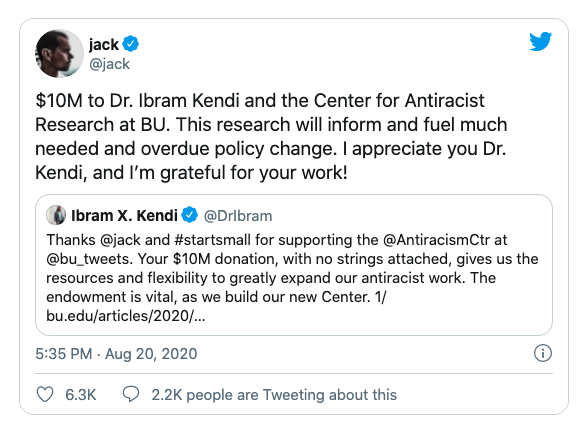 Ibram Kendi, who's books such as "How to Be an Antiracist" have been widely praised for being able to make people more aware of "white privilege" and "systemic racism," has widely been adopted by corporate HR departments across America.
Kendi, while thanking Dorsey, said that the donation gives them "the resources and flexibility to greatly expand our antiracist work. The endowment is vital, as we build our new Center."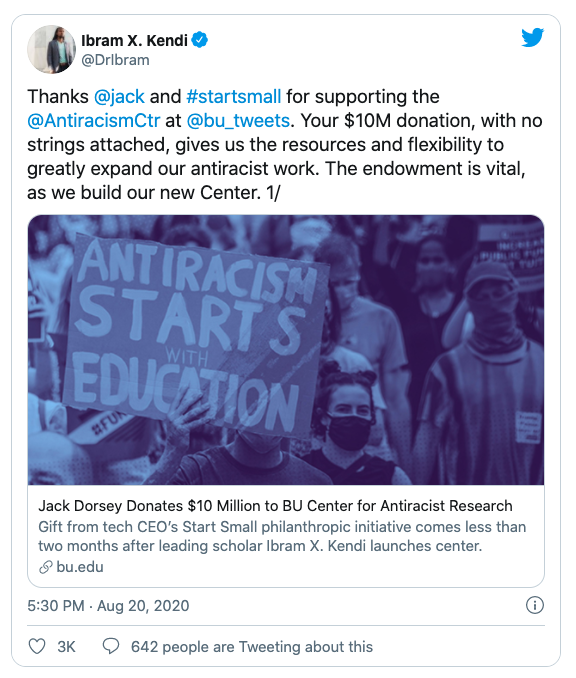 The "no strings" attached nature of Dorsey's donation is being praised by the BU President Robert A. Brown as it "gives the director endless discretion about how the income from the gift will be used over time to advance the center."
"What is amazing is just the generosity of Jack Dorsey and that it give the foundation to the center," said Brown.
While Dorsey's donation has been well received by Kendi and the likes of him, others have started expressing concern over how it may not be a wise decision.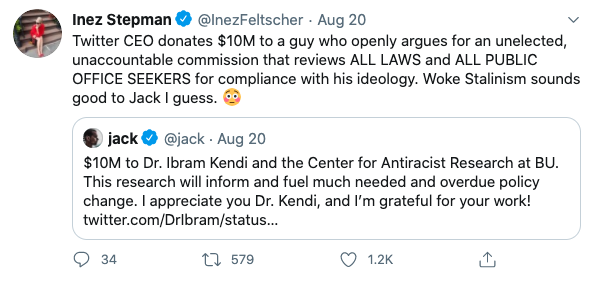 Kendi proposes adding an antiracism amendment to the US Constitution, one that would likely conflict with other amendments. The proposed amendment would create a federal "Department of Anti-racism (DOA) comprised of formally trained experts on racism and no political appointees. The DOA would be responsible for preclearing all local, state and federal public policies to ensure they won't yield racial inequity, monitor those policies, investigate private racist policies when racial inequity surfaces, and monitor public officials for expressions of racist ideas."
Kendi added that: "The DOA would be empowered with disciplinary tools to wield over and against policymakers and public officials who do not voluntarily change their racist policy and ideas.
"Every policy in every institution in every community in every nation is producing or sustaining either racial inequality or equity," says Kendi.
Ironically, Kendi firmly believes that "Capitalism is essentially racist," while accepting donations from a tech billionaire who had built his wealth on the model of capitalism in the first place.