The CEO of Twitter, Jack Dorsey, met with President Trump today to discuss the "health" of Twitter conversations.
Current reports don't disclose what the 30-minute meeting covered as it was a private, closed-door meeting. However, in an email written by Vijaya Gadde, Twitter's head of "trust and safety", the conversation was scheduled to be about "the health of the public conversation" on Twitter.
In recent months Twitter has been brought under intense scrutiny for shutting down accounts of its users and has been accused of suppressing speech, especially the speech of conservatives on the platform.
Last month, we reported on the Senator Ted Cruz-chaired Judiciary subcommittee on censorship, where Cruz, among others, subjected Twitter representatives to tough lines of questioning about their policies in regards to so-called "hate speech" and more.
Conservatives have long believed that their views are being suppressed on Twitter, with many being shadowbanned, as well as outright removed from the platform.
Just this morning, ahead of the meeting, the President tweeted about how Twitter has been unfair to Republicans: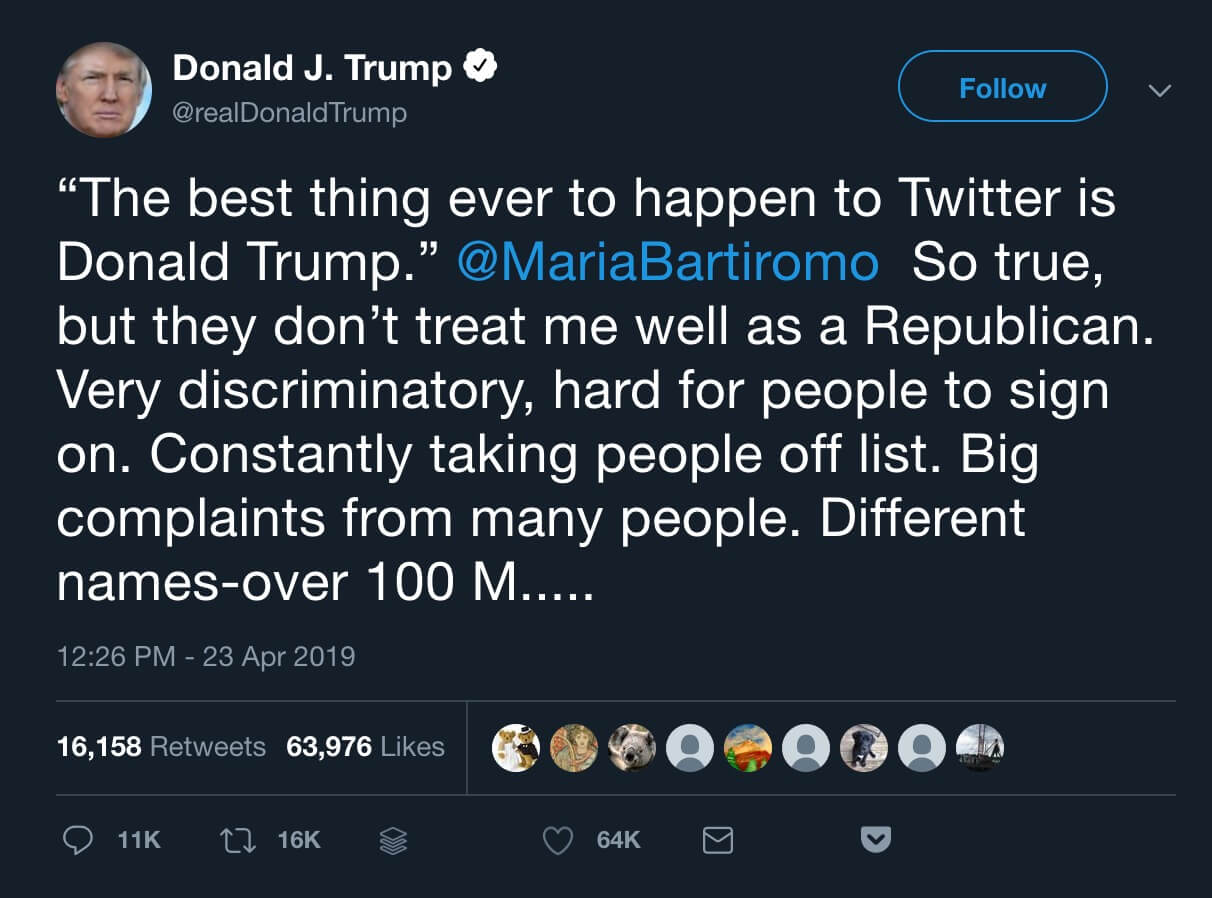 "The best thing ever to happen to Twitter is Donald Trump." @MariaBartiromo So true, but they don't treat me well as a Republican. Very discriminatory, hard for people to sign on. Constantly taking people off list. Big complaints from many people.
In leaked emails, on the topic if meeting with the President, Dorsey is quoted as saying, "As you know, I believe that conversation, not silence, bridges gaps and drives towards solutions…I have met with every world leader who has extended an invitation to me, and I believe the discussions have been productive, and the outcomes meaningful."
After the meeting, President Trump tweeted: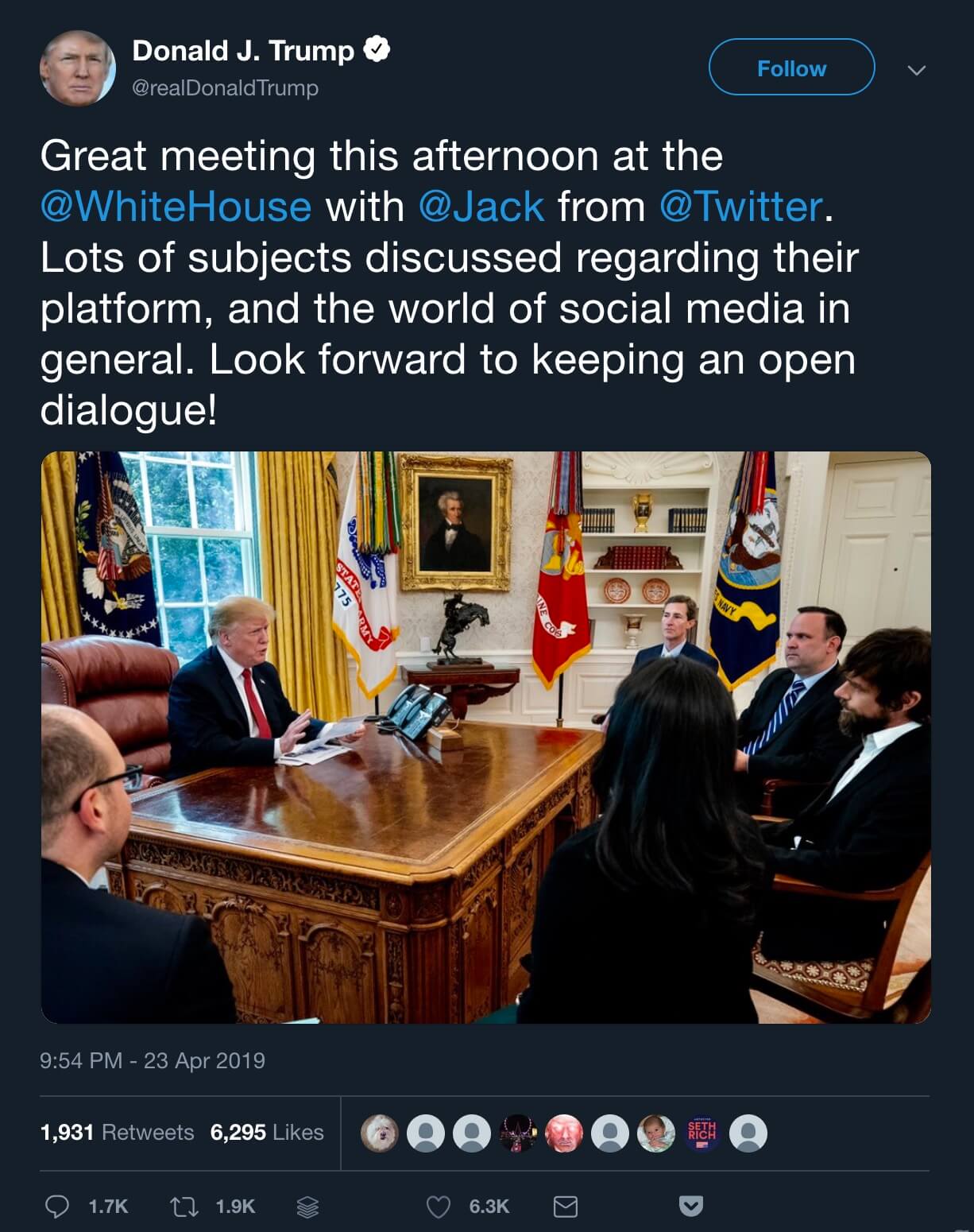 Great meeting this afternoon at the @WhiteHouse with @Jack from @Twitter. Lots of subjects discussed regarding their platform, and the world of social media in general. Look forward to keeping an open dialogue!
Dorsey responded on Twitter: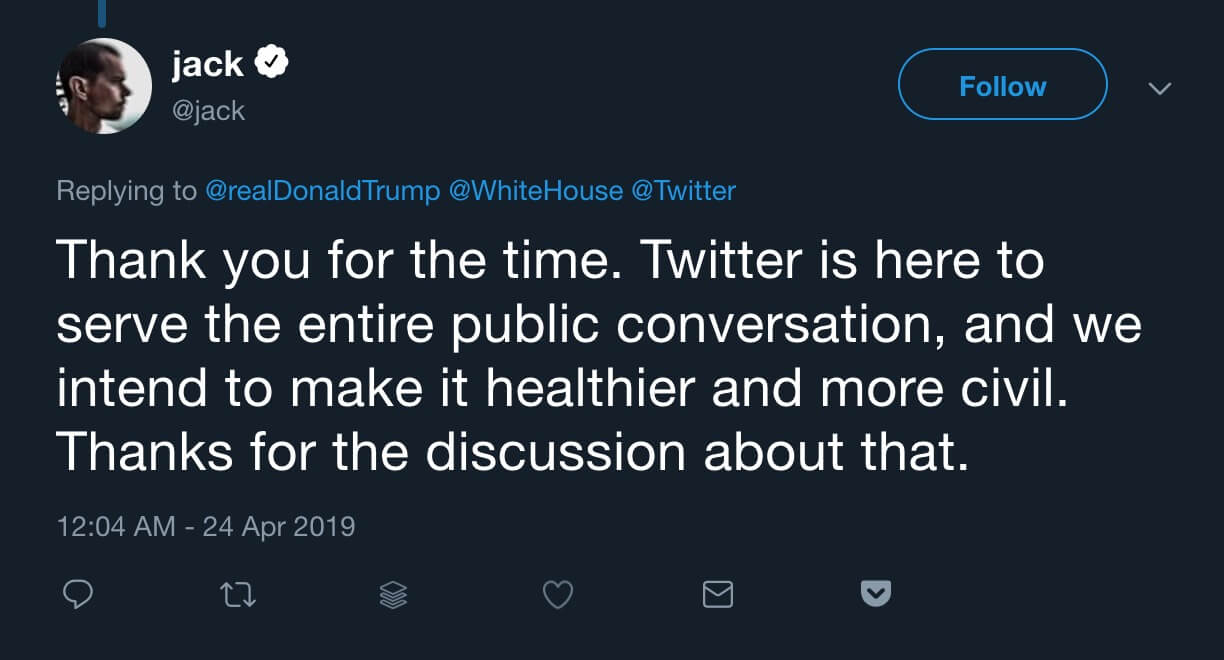 Thank you for the time. Twitter is here to serve the entire public conversation, and we intend to make it healthier and more civil. Thanks for the discussion about that.
featured image source: @realdonaldtrump twitter.com