The conversation around the coronavirus pandemic on social media is crystallizing into three main themes: people who are seeking and providing information about the disease; those who are trying to lighten the mood with humor; and those shaming others for not being sufficiently aware.
Influencers, of course, must also take a stand to remain visible.
Instead of some wayward fellow influencer or fan he disagrees with, YouTube star James Charles has decided to take on an entire platform for what he sees as unethical and exploitative behavior around the outbreak.
The platform is Cameo – where A-through-D list celebrities can make money by recording short personalized messages to their fans, in exchange for a fee that reflects their star power.
Charles, with his 17 million subscribers on YouTube, certainly fits somewhere in there – but when Cameo reportedly tried to recruit him – he came hard after the company.
Reacting to an email he says he received from Cameo, Charles said it was tantamount to "a pathetic" attempt to make money off of the crisis.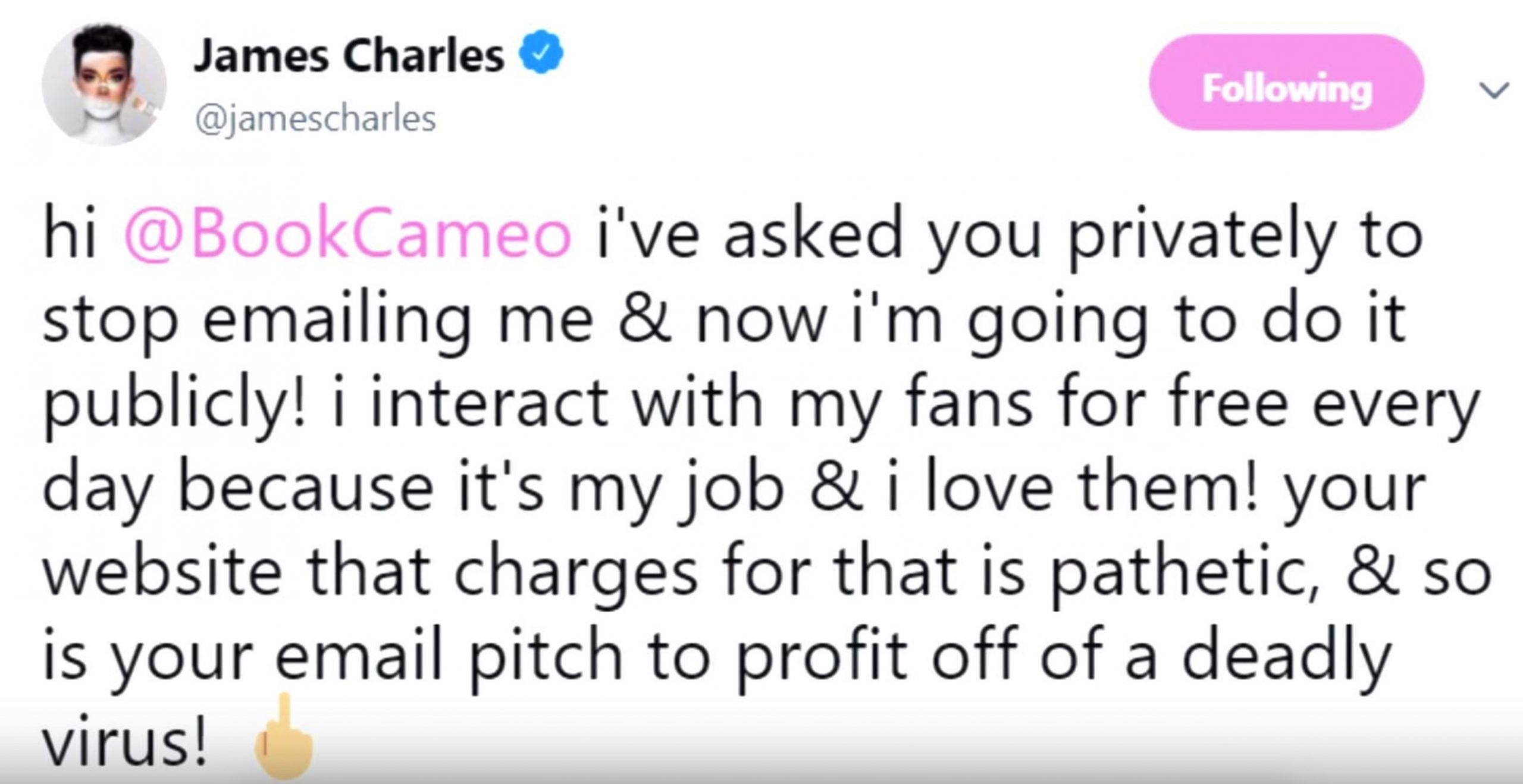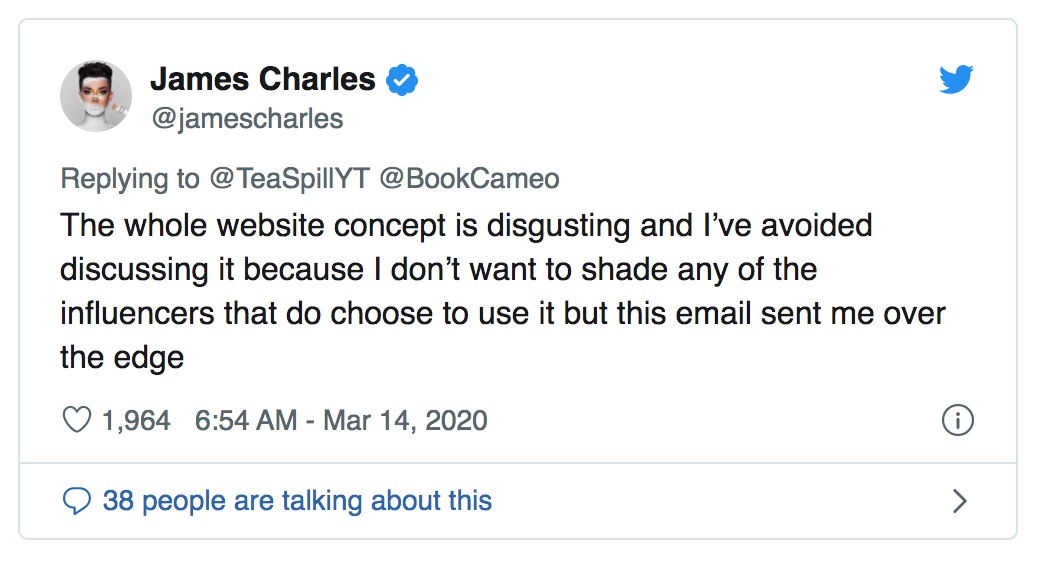 Charles was incensed by the email message from Cameo that reportedly invited him to join the platform in case the coronavirus lockdown canceled any of his previously planned events, i.e., money-making opportunities.
And as entire economies grind to a halt, with travel, sporting and other events suspended, why is it bad for somebody to be making money?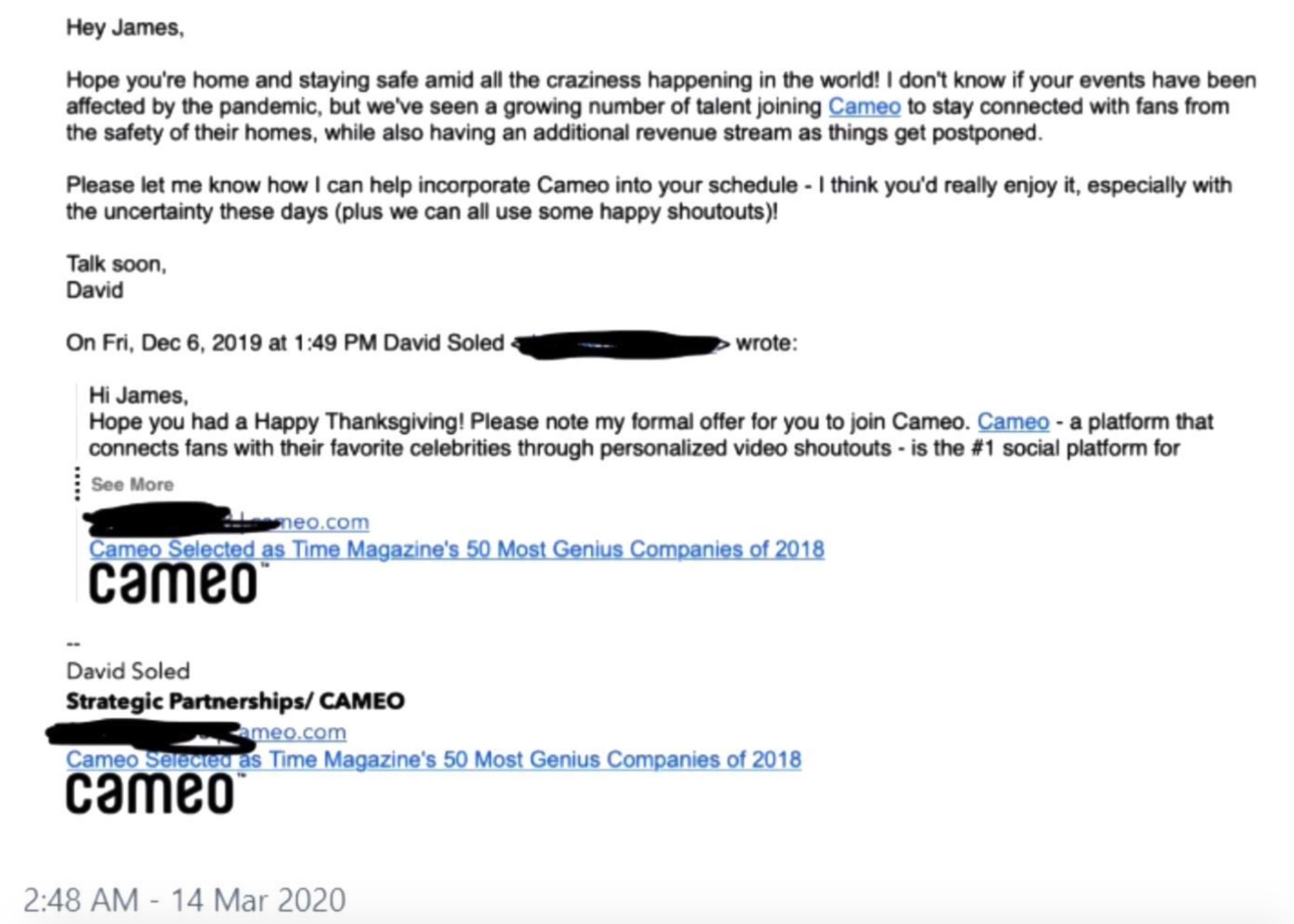 The idea behind Cameo's purported email appears to be that "social distancing" doesn't mean "social media distancing" – on the contrary – and that celebrities and influencers can still connect with their fans.
And the fans, cooped up in their homes, probably need that interaction more than before.
But Charles claims that his interaction with fans is "for free" while Cameo's business model is essentially morally corrupt for charging fans who order special messages from their favorite celebrities.
So is Cameo really trying to "profit off of a deadly virus" – or could James be overreacting? That's hard to tell. But the YouTuber whose specialty has been makeup does have every reason to be raising his profile and visibility online, as he has just announced his first foray into music.