Amazon has completely banned a book that goes against the mainstream coronavirus narrative.
James Perloff's book "Covid-19 and the Agendas to Come: Red-Pilled" is banned on Amazon after selling more than 3,500 copies. The e-commerce platform claimed that the book "violated content guidelines."
"BAD NEWS. After selling over 3,500 copies for Amazon since publication on August 20, Amazon has banned my book "COVID-19 and the Agendas to Come, Red-Pilled," the writer announced the banning of his book on Twitter.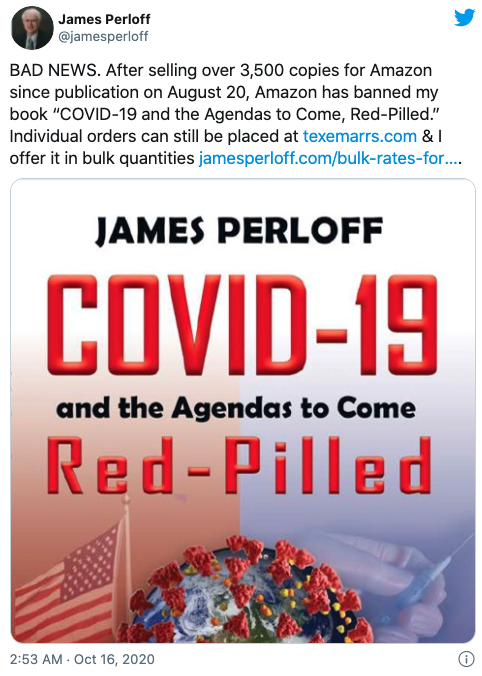 Perloff's book suggests governments are using the pandemic to impose social control rules and erode civil liberties. Perhaps its greatest selling point is how the author suggests what is in store for humanity after the virus and how people can come together to avoid authoritarian practices by governments.
In an interview with RT, Perloff said, "We are in a truly Orwellian culture." He also noted that the banning of the book upheld one of the conclusions he made in the book that "the censorship on Covid has been getting progressively stronger."
On Thursday, Amazon asked the writer to prove that he owned the rights to the book. But even before he could resend the materials that prove he owns the book, he received an email saying that "a quality assurance" review of his catalog had concluded that the book "violated content guidelines."
On asking what content guidelines he had violated, Amazon was not specific. They repeated that the theme of the book violated content guidelines.
In the book, Perloff validates his viewpoints using information gathered from doctors and academic publications. It has endnotes documenting that he got the information from what he believes to be authoritative sources.
"There is nothing I say in the book that isn't documented," he said.
Perloff is not the first coronavirus dissenter to have his book banned by the eCommerce behemoth. In August, Amazon banned Ezra Levant's "China Virus." Alex Berenson, formerly of the New York Times also had his lockdown-skeptic book banned, until Amazon caved to social media pressure to reinstate it, a campaign led by tech mogul Elon Musk.
Perloff is not all frustrated at the book's banning as he is confident the Streisand effect will work in his favor.
"If you say to people, 'Don't read this book,' their instinct is to go and read it," Perloff said.