Tech writer and podcaster Jason Snell has had a video about the iPad's new mouse support features struck down after a bogus copyright claim from a random YouTube channel with a single subscriber.
The video featured Apple's senior vice president of Software Engineering, Craig Federighi, demonstrating the new mouse functions and was provided to Snell by Apple which had permitted him to upload it to his channel.
Snell posted the video to his Six Colors YouTube channel on March 18 and then on March 28, a copy of the video was uploaded to the Nicolò Tanas YouTube channel which has one subscriber and no channel branding.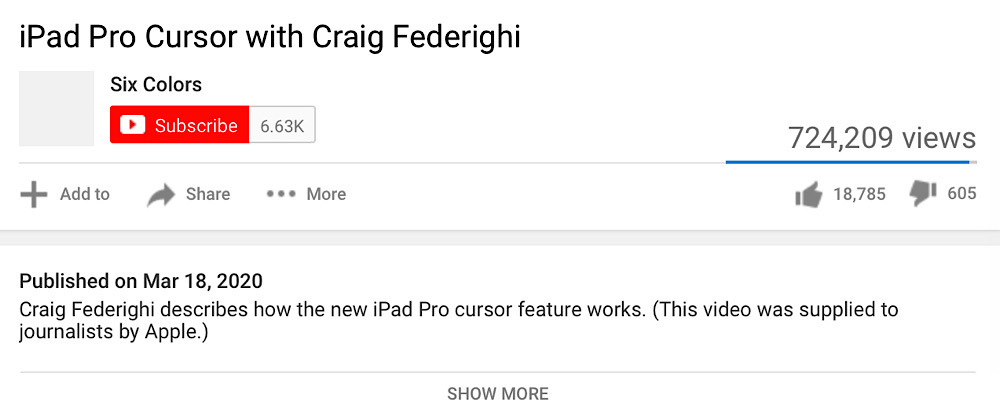 Two days after the video was posted to Tanas' YouTube channel, Snell reported that his Six Colors YouTube channel had been hit with a copyright takedown request from Tanas which resulted in the video being removed and the Six Colors being given a strike.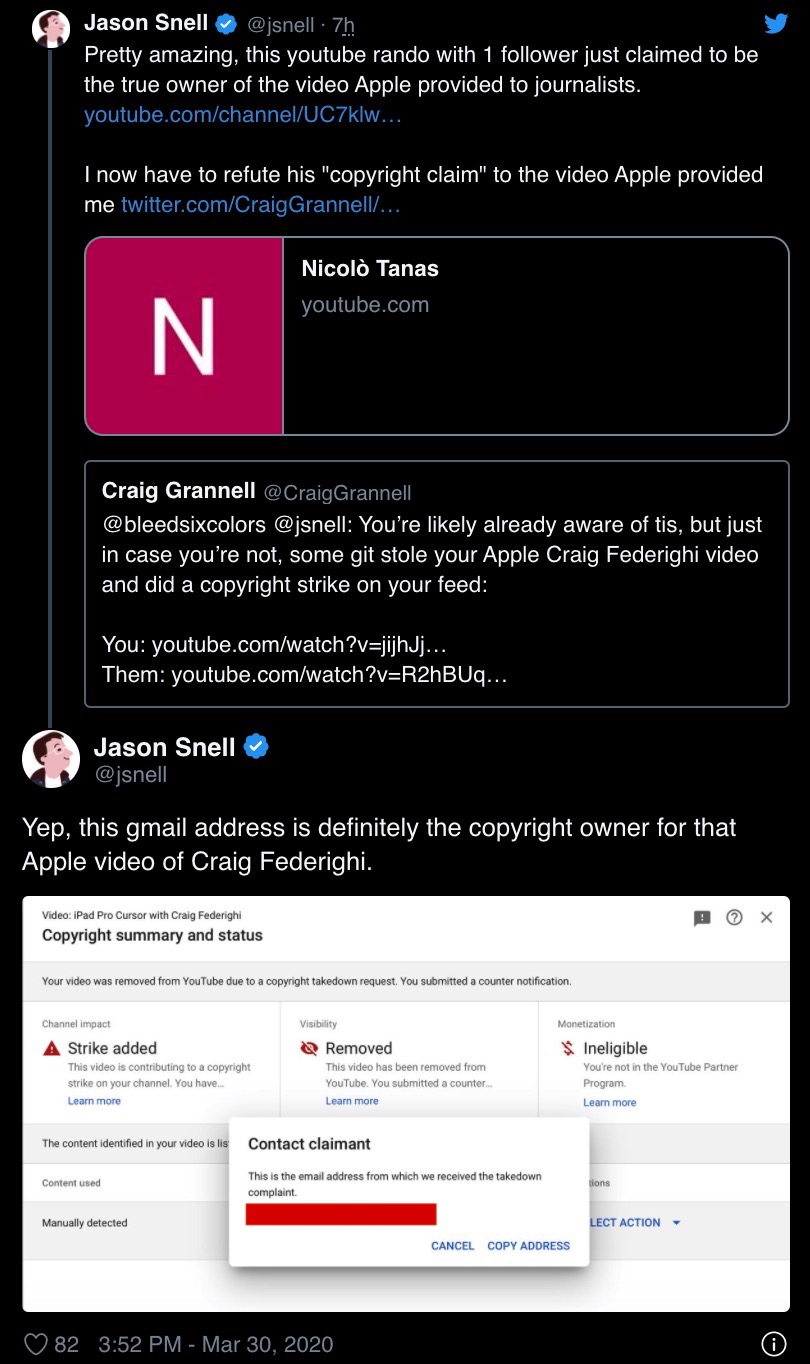 Snell responded to the takedown by slamming YouTube's copyright system and tweeting: "You can literally have your work stolen and removed from the site because someone random somewhere in the world checks a few boxes."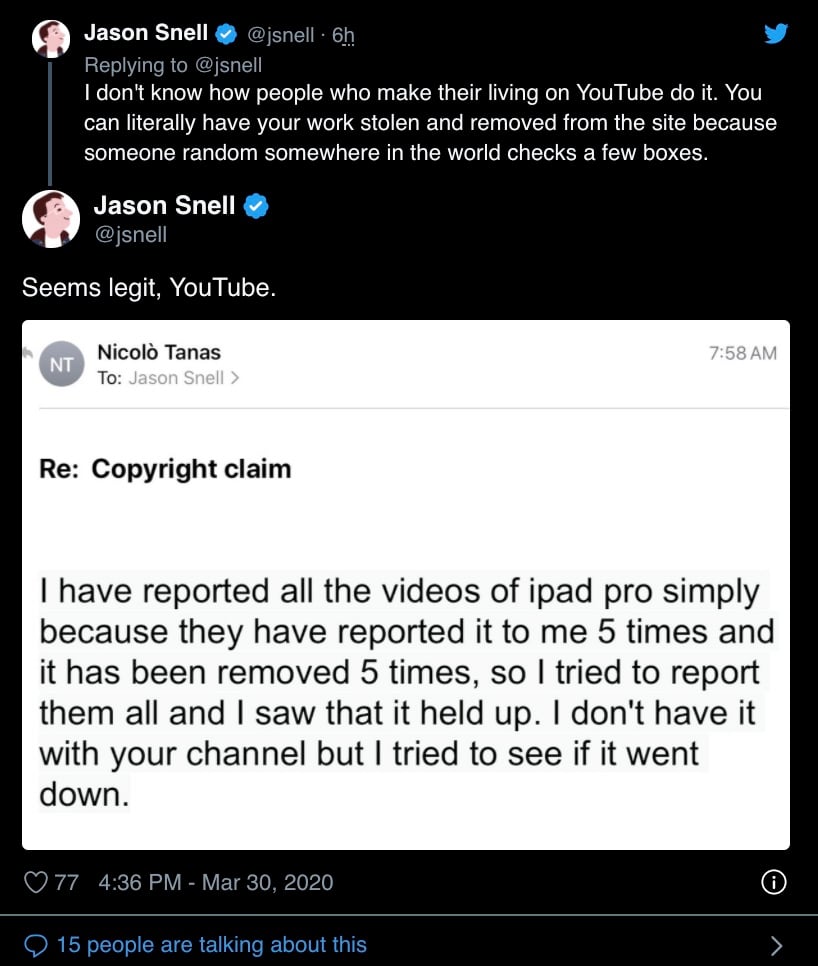 Craig Grannell, a writer and journalist who reported the takedown to Snell, also blasted YouTube's copyright system, described it as "idiotic," and wrote that his friend often gets automated copyright strikes on music he owns the rights to.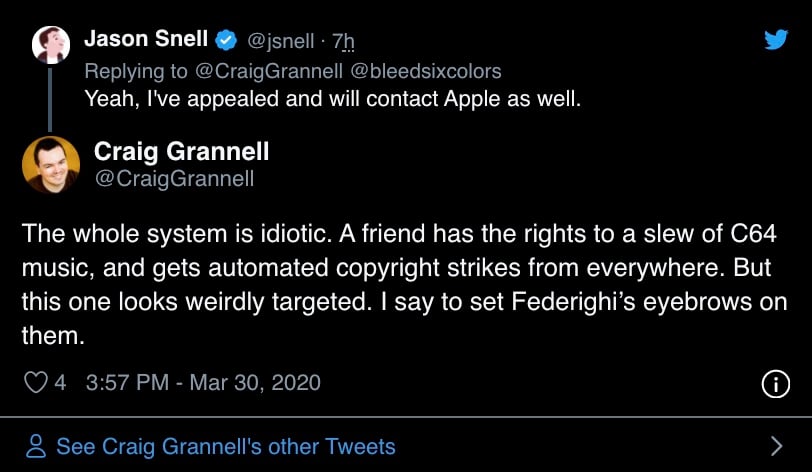 Snell has appealed the takedown but for now, his video is still unavailable while Tanas has removed his copy of the video.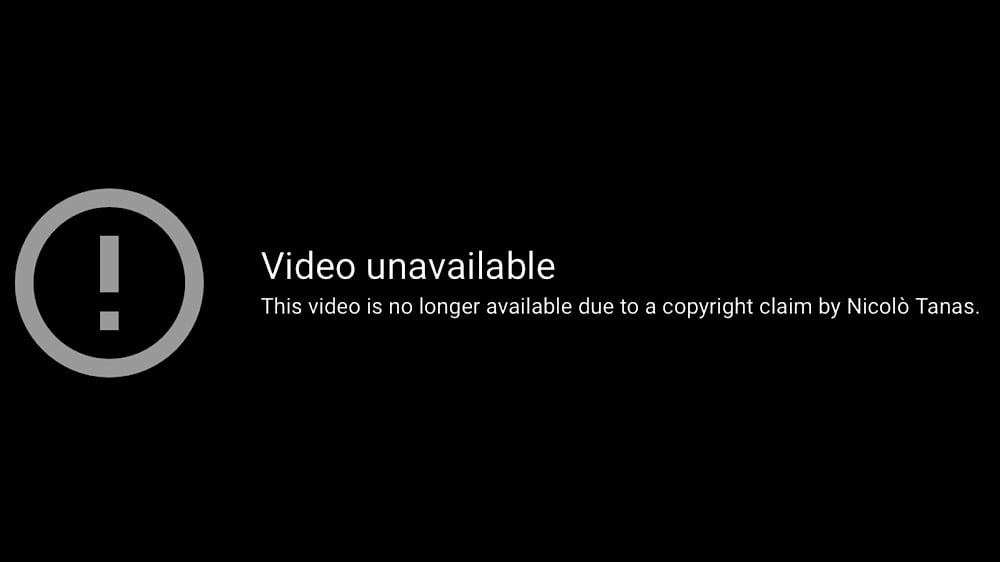 The takedown of Snell's video is the latest of many examples where YouTubers have had content they own the rights to removed because of fake copyright claims.
Earlier this month, Halo soundtrack composer Martin O'Donnell was hit with a bogus copyright claim on his own music.
And in February, video game commentary YouTuber SidAlpha had one of his videos struck down after studio71 France filed a fake copyright claim on a video containing his own Grand Theft Auto (GTA) 5 footage.
The way YouTube's system allows random accounts to claim they own the copyright to videos without providing evidence has been criticized for some time and, although they've began to sue trolls such as this in court, many would prefer YouTube just change its system.
But so far, YouTube hasn't shown any signs that this broken part of the system will be changing.