Many listeners were excited to see the Twitter CEO Jack Dorsey being interviewed on The Joe Rogan Experience podcast. However, that excitement quickly turned to frustration when Rogan failed to push Dorsey on the topic of social media censorship and then top YouTube comments started to disappear. Rogan has now responded to the fallout in a lengthy Instagram post, saying that he didn't want to get too confrontational with Dorsey and blaming machine learning for the comments situation.
In the Instagram post, Rogan says, "I felt like I got out of him whatever I was going to get without being too confrontational."
In full:
"I had Jack Dorsey, the CEO of twitter on the podcast Friday and many people felt I didn't grill him hard enough on twitter censoring right wing voices.

My intention going into the podcast was to talk to him about that, but also to talk to him about the responsibilities that come with managing world wide conversation with a platform that no one ever saw coming. The other idea I wanted to discuss was what possible new technologies could be the next version of social media.

I asked him about censorship, but some people on the right felt that I didn't go after him hard enough. Some people, like whoever wrote this article think I'm "right wing."

I'm not, and I don't even think anyone who has paid attention to anything I've said believes that. It seems like someone wanted a good controversial click-baity title for the article regardless of whether or not it was accurate.

As for the interview, I asked the questions I wanted to ask, and although his answers on some of them were vague, I felt like I got out of him whatever I was going to get without being too confrontational.

There have also been talks of us editing the video and deleting disparaging YouTube comments. That's not true. The video fucked up while we were filming and the tricaster crashed. As far as I know Jamie put it all back together.

As for the YouTube comments we don't delete those. I don't know how it works, but I suspect there's some form of what Dorsey talked about with twitter where machine learning downvotes certain perspectives, or what they deem "offensive" or "rude" comments. What definitely isn't is Jamie or anyone else from my team deleting things.

I definitely think there's a discussion to be had about censoring comments through computer programs or manual deleting, but I want you folks to know we're not responsible for any of that.

I do my best, and if I didn't fulfill some of your expectations I can understand. Honestly, I think I learn more from negative reactions than from positive ones, and I truly appreciate having a public review of these conversations because it's part of how I get better at this shit."
Many Reddit users are not happy with Rogan's explanation for failing to push Dorsey and have called him out for having no problem getting confrontational with former guests including the conservative commentators Candace Owens and Steven Crowder.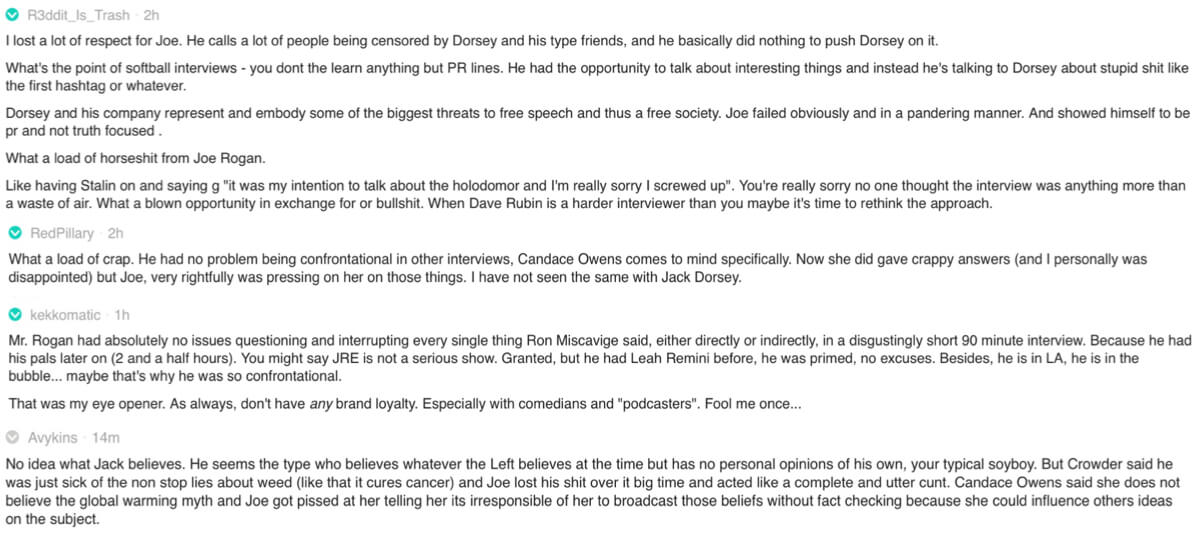 However, they're more forgiving of his explanation of the comments disappearing, probably because YouTube has a pattern of censoring its community's voices.

If you're not familiar with the top YouTube comments that seem to have been suppressed, they came from the YouTubers Mark Dice and Sargon of Akkad.
Here's Mark Dice's comment which supposedly had more likes than the entire video when it was removed from the top spot:
Joe: Why was Alex Jones banned?

Jack: I don't know.

Bull crap. He was banned for telling off CNN's Oliver Darcy at the Jack Dorsey hearing for lobbying all the social media companies to get him banned, and so then Twitter banned him for "harassing" a "journalist"
And this is Sargon's comment which had over 2,000 likes before being buried:
If we have a right to use social media, you have no justification for banning people, Jack.