In August, Twitter permanently banned journalist Alex Berenson for questioning the effectiveness of the COVID-19 vaccines. He has responded by filing a lawsuit claiming the platform violated, among other things, Californian law.
Since the beginning of the pandemic, Berenson has earned a name for himself for criticizing measures and the vaccines. The former New York Times reporter was permanently banned from Twitter after a post about the fact that vaccinated people can get and transmit the virus.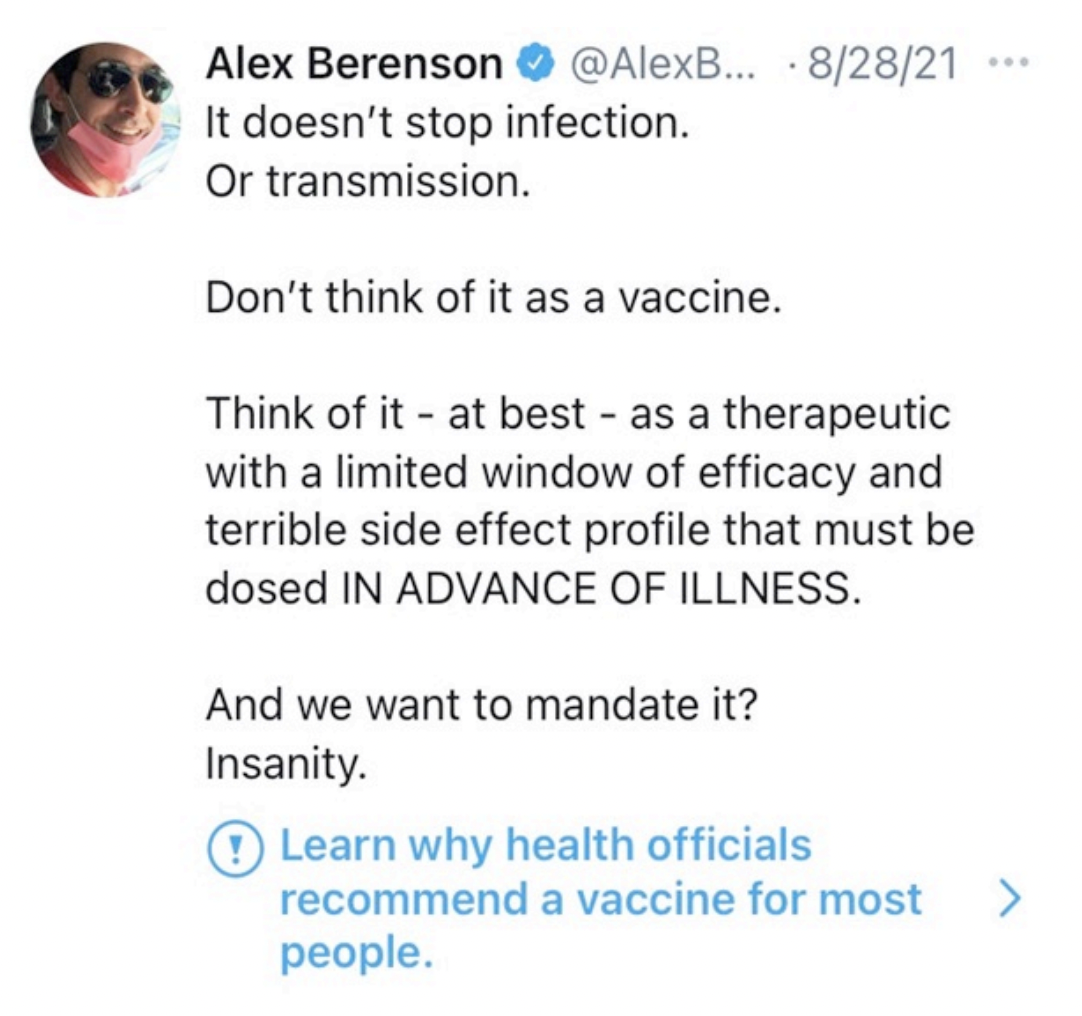 In the complaint, his lawyers wrote: "Mr. Berenson's claim that the COVID-19 vaccines do not 'stop infection' or 'transmission' of COVID-19 was true at the time and is true now.
"It is undisputed that vaccinated persons can contract and spread COVID-19," the lawsuit adds.
We obtained a copy of the lawsuit for you here.
But the suit's main argument is not about the accuracy of the tweet. In the 70-page lawsuit, they argue that Twitter should not ban or censor such statements because it fits the definition of a common carrier and says that the law of the state of California requires common carriers to serve everyone.
"Twitter's role in public debate in the twenty-first century resembles that of the telegraph in the nineteenth," the complaint argues.
Twitter banned Berenson days after President Joe Biden asked social media companies to crack down on vaccine "misinformation" as a "good will gesture."
The suit contends that Berenson has "a uniquely viable claim that Twitter acted on behalf of the federal government in censoring and barring him from access to its platform."
The suit claims that the ban violated Berenson's First Amendment rights, was a violation of the common carrier law in California, and was false advertising.
The lawsuit demands the reinstatement of Berenson's account and unspecified monetary damages.
Before he was banned, Berenson had more than 340,000 followers. Since the ban, he has been posting his political commentary via Substack. He has also published a book titled, "Pandemia: How Coronavirus Hysteria Took Over Our Government, Rights, and Lives."