International press groups have raised concerns on the worsening hostility towards foreign reporters in China, mostly fueled by Chinese nationalism promoted by the authoritarian CCP regime. China continues to be a risky and hostile place for international and even local journalists to work, especially if they contradict the government's rhetoric.
Amid the recovery and rescue efforts as a result of deadly floods in China's Henan province, press groups, including the Foreign Correspondents' Club of China (FCCC) and Reporters Without Borders (RSF), have expressed alarm at the threats and harassment journalists covering the disaster have faced.
"Rhetoric from organizations affiliated with China's ruling Communist party directly endangers the physical safety of foreign journalists in China and hinders free reporting," said the FCCC.
"The FCCC is disappointed and dismayed at the growing hostility against foreign media in China, a sentiment underpinned by rising Chinese nationalism sometimes directly encouraged by Chinese officials and official entities.
"The FCCC is especially alarmed at the threats levied against our Chinese colleagues. Online, critics have falsely accused them of espionage and treason and sent them threatening messages – simply because of their valuable work for foreign media organizations."
Reporters working with international outlets, including CNN, BBC, Al Jazeera, the Associated Press, Los Angeles Times, and Deutsche Welle, have been threatened and harassed for simply doing their work.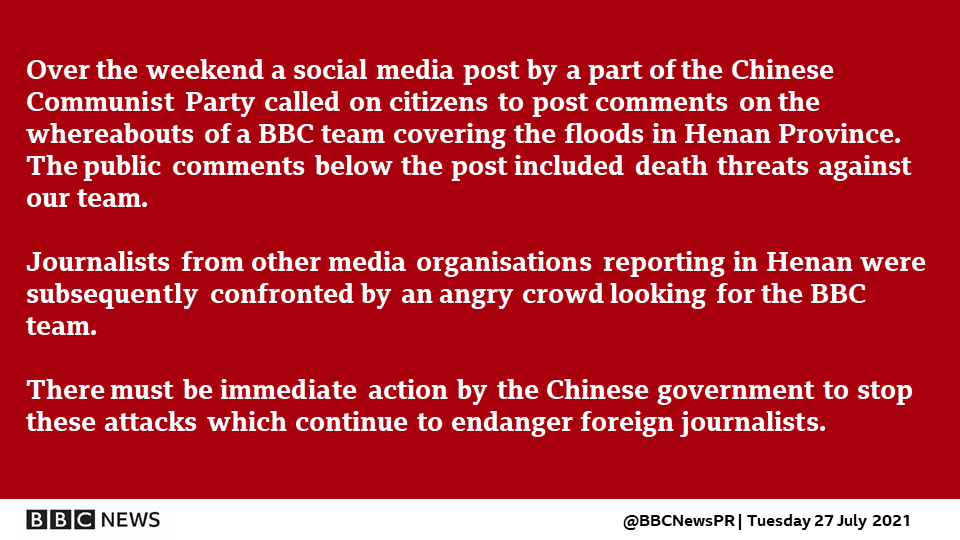 According to The Guardian, some of the reporters have faced physical confrontation from angry crowds, while others have been harassed online, threatened with violence or death, and even doxed (having their personal information spread online).
The Henan disaster is being covered extensively by both international and domestic outlets. Reporters have noted the poor preparation and response and lack of transparency from the government and local authorities. According to state media, as of Tuesday the death toll from the disaster was 71.
The media, including local outlets, have reported on the backlash local authorities have been facing for the poor response and the hard time some people are facing trying to find their loved ones. However, CCP supporters have dubbed the reports rumors and accused the outlets of slandering China.
The China Digital Times reported on a leaked document that revealed the government's directive to domestic media to stop taking "an exaggeratedly sorrowful tone" and reporting unofficial figures, as well as warning residents against being interviewed.
The FCCC reminded China of its obligation to the press, both foreign and domestic, of providing unrestricted access and safety while reporting.
"The censorship of foreign media in China has contributed to a one-sided view of our work in China. Together, this has created a deteriorating working environment for the foreign press and further prevents journalists from providing the comprehensive coverage of China we aim for," the organization said.