Kari Lake, a Republican candidate for Arizona Governor, has urged people to join the free speech video platform Rumble because of its stance of allowing users to speak freely.
Lake made the comments one day after YouTube censored her interview with conservative comedian and commentator Steven Crowder. She responded to this censorship by appearing for a follow-up interview on Crowder's show, "Louder With Crowder." This follow-up interview was a huge hit and passed over 90,000 live viewers on Rumble.
During the follow-up interview (interview starts at 46:56), Lake told Crowder that she believes YouTube is afraid of her free speech stance.
"You're not going to take away people's freedom of speech in Arizona," Lake said. "And they're afraid. They're so afraid of…governors who are actually there doing the right thing by the people that they have to keep us out of office any way possible."
Lake added that she wasn't surprised by YouTube's censorship of her previous interview with Crowder and noted that this isn't the first time YouTube has censored one of her interviews.
"They've taken down interviews that we've done with OAN [One America News] and other networks," Lake said. "I've had a lot of things taken down…they're un-America and I won't sit here and…have my rights taken away."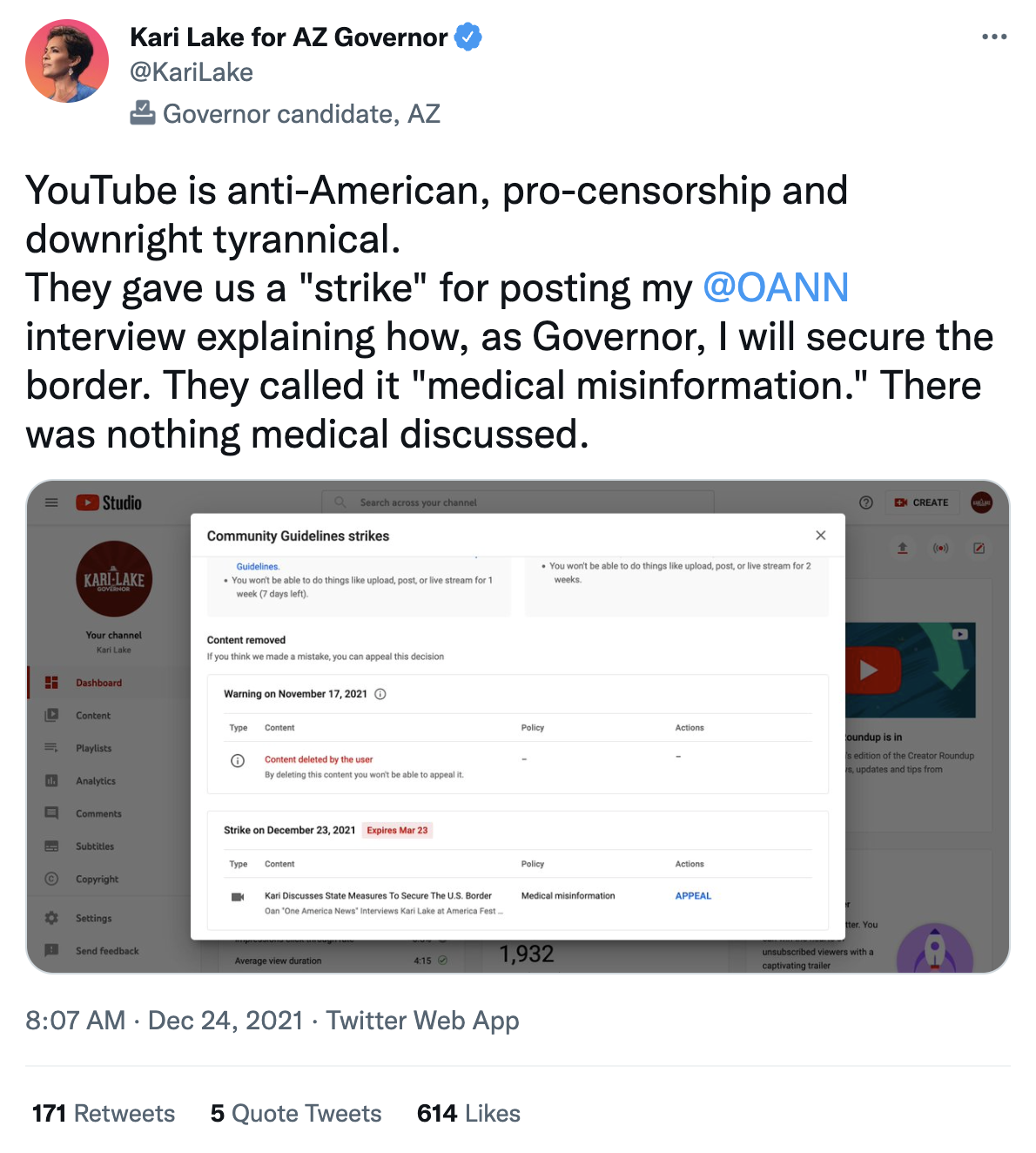 Lake also told Crowder that she's on Rumble and recommended that viewers use YouTube to promote Rumble.
"Every time that you're on YouTube, you need to…mention Rumble," Lake said. "Get people over to Rumble. It's a site…where freedom rings."
In addition to discussing YouTube censorship and Rumble, Lake also talked about regulations that take aim at social media censorship.
She said she hopes to enact an anti-social media censorship law that's similar to the one that was passed in Florida if she's elected governor. Under the Florida law, platforms that ban political candidates can face fines of up to $250,000 per day. Florida's Supreme Court ruled that most of the law's provisions were unconstitutional and granted a preliminary injunction that prohibited enforcement of these provisions in May. However, attorneys for the state of Florida hope to appeal the decision to the US Supreme Court.
Additionally, Lake said she believes Republicans will do something about online censorship if they take back the House of Representatives during the 2022 US midterm elections.
Lake has been criticizing Big Tech censorship and advocating for free speech-focused alternatives for years. In 2019, when she was a Fox 10 New host, Lake slammed her superiors after they asked her to hide her account on the free speech social media platform Parler. Lake has also pushed back against Big Tech's censorship of President Trump and described it as "shocking."
Lake is one of several political figures to embrace Rumble. Florida Governor Ron DeSantis, House Republican Leader Kevin McCarthy, Senator Rand Paul, and former President Trump also have accounts on the platform and post content regularly.