New York's Governor Kathy Hochul has asked Facebook to act on what she says is abortion "misinformation" following the upholding of the Texas abortion law that bans abortions after around six weeks of pregnancy. The governor feels many posts, including memes, might derail her plans for more pro-abortion policy.
In a press briefing, Hochul said she sent a letter to Facebook on Monday requesting the company wage "a war against misinformation" about abortion.
"I'm asking Facebook starting today to help clean up the act, help us wage a campaign of truth and not lies, with respect to what is going on in Texas and what is going on here in the state of New York because misinformation spreads like wildfire," Hochul said.
"We'll see what they do with it," Hochul said, referring to the letter. "I'll be watching, and let them know we have expectations."
Hochul took aim at Facebook users sharing articles and memes. "These articles, memes, and other shared posts often describe horrific procedures that have no basis in reality, cite entirely made-up studies, and purposely inflate or misrepresent public health data," the governor wrote in the letter.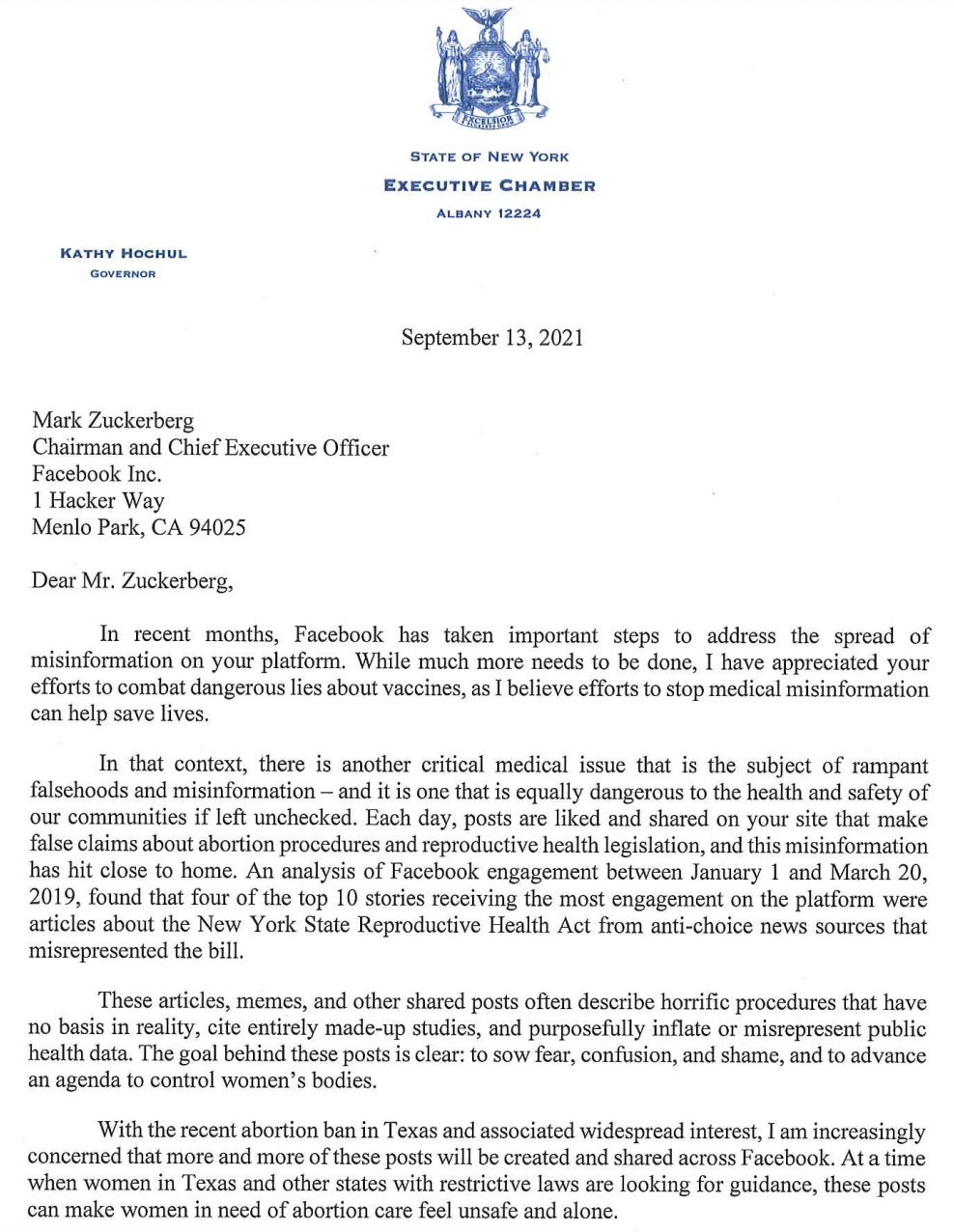 We obtained a copy of the full letter for you here.
The Texas law bans abortion once a heartbeat is detected, which can happen at around six weeks. The law, which was upheld by the Supreme Court on September 1, allows Texans to sue those who perform or assist abortions.
Hochul said people were "reading lies on social media," with the top 10 stories circulating on Facebook misrepresenting the bill.
"I want to make sure as we enter this new chapter after what the Supreme Court upheld on Sept. 1 is that we ensure we don't allow those lies to continue — that there's accountability and responsibility at the top of those companies to help tell the truth across this nation," Hochul said.
Hochul plans to address the "unfinished business" with New York's Reproductive Health Act. She said the state would update regulations "as soon as possible," including making abortion medications available via telemedicine.
"I will say now that I'm in charge, there will be no more delays in getting the regulations out," she said. "We are looking at the regulations and making sure that they're crystal clear, and we'll be announcing more on that."