The Paducah, Kentucky Public Schools Board has decided to punish the school superintendent, Donald Shively, because of a Halloween party costume he wore 18 years ago.
In a photograph from the party, Shively is seen in blackface. And since he is not, for example, Canada's liberal Prime Minister Justin Trudeau – who also in the past wore blackface for fun – the superintendent is being forced to pay the price for his behavior: he has been suspended for 40 days without pay, during which he will have to attend training sessions meant to "re-educate" him on the subject of racial equity.
This falls way short of what the local National Association for the Advancement of Colored People (NAACP) demanded – namely, his resignation. A meeting and a conversation with Shively, whom the Board previously said was "genuinely remorseful," did not change their mind.
What makes the story particularly interesting is that it was Shively himself who told the Board about the blackface photo from the 2002 Halloween party, and did that early last year. At the time, however, the board didn't seem to take issue with it. But this October, activists on Twitter published the photo and urged others to report the superintendent to the Education Ethics Department.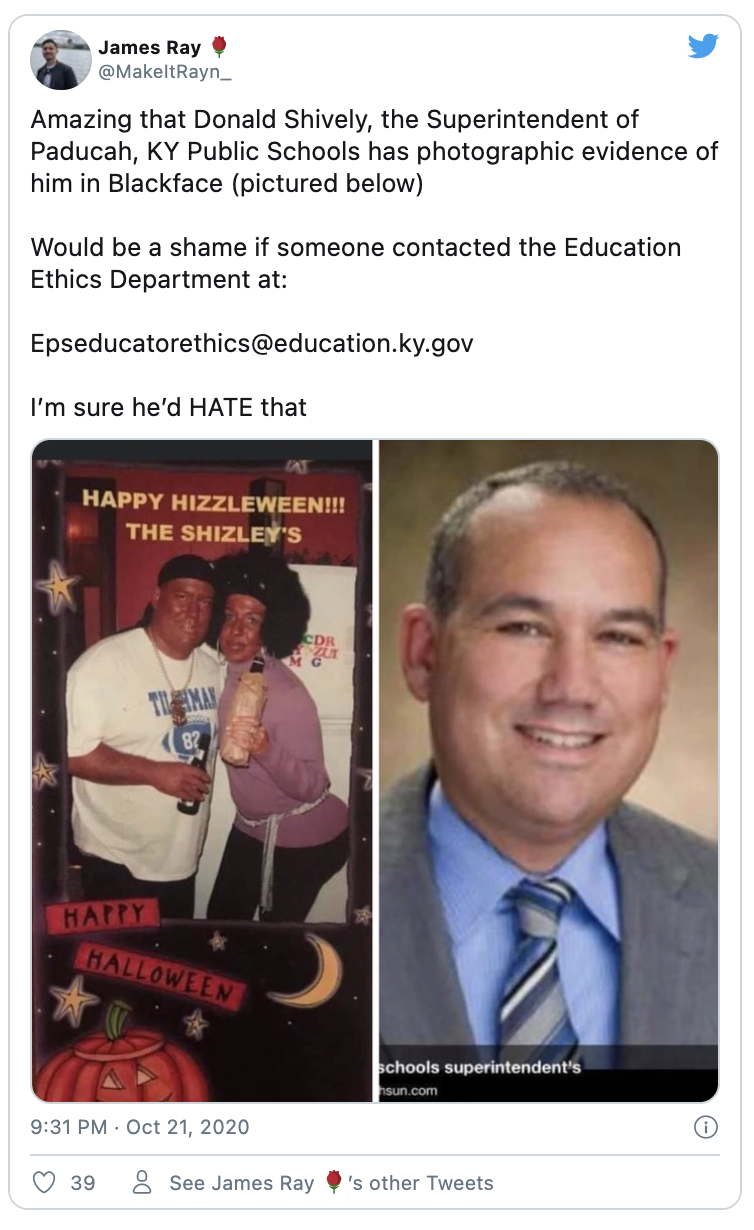 Although the Board does not hide that it knew about the photo well before it was published on Twitter, its chairperson, Carl LeBuhn, now said that he and other members are "shocked, hurt and extremely disappointed" by it. LeBuhn also said that such behavior goes against the Paducah Public Schools policy.
However, in October, before meting out the punishment, the Board also admitted that Shively's actions in the intervening 18 years had been those of a person committed to making sure equity was guaranteed to all students.
And that, they continued, is "more telling of his character and racial attitudes than an incident from almost two decades ago." The superintendent was also described by the Board as appearing genuinely remorseful.
But Shively will now have to spend 40 days away from work, lose pay, and attend classes to learn what he – judging by the Board's previous statement – already knows about: racial equity. He will also use this time for increased community involvement, it has been reported.
In a statement made before the Board's meeting Shively once again apologized for his past actions.