Ravelry, a free site for knitters and crocheters, has banned its users from supporting President Donald Trump on their platform. The company, thought to have over eight million members, announced that they have initiated the ban as they think that supporting the President is supporting "white supremacy". Ironically, they somehow justify the decision to ban and exclude open support of the President in the name of "inclusion".
Any user expressing support for President Trump will have their post removed and potentially be banned from the platform.
"We are banning support of Donald Trump and his administration on Ravelry. We cannot provide a space that is inclusive of all and also allow support for open white supremacy. Support of the Trump administration is undeniably support for white supremacy," wrote Ravelry in its new policy update.
https://twitter.com/ravelry/status/1142766608680660992?s=12
The company's policy noted that Trump supporters can use their platform without expressing public support on their platform. Any user expressing support in the past will not be banned. The ban came into effect yesterday, June 23rd.
While supporting the President in forums, projects, profiles, patterns and through other content is banned, the website, however, said that it won't delete any project data in the case of a violation.
If a user violates the community guidelines and openly supports the President on the platform, they shall ban the user but not delete their project data. Even if a user is permanently banned from the platform, they will still be able to access patterns they previously purchased and will also receive a copy of their data.
The company has also stated that they shall not ban conservatives and that they aren't endorsing the Democrats or banning Republicans.
Right after the Trump ban was initiated, a user who expressed his admiration for Donald Trump reportedly got restricted from forum posting, messaging and commenting for 30 days.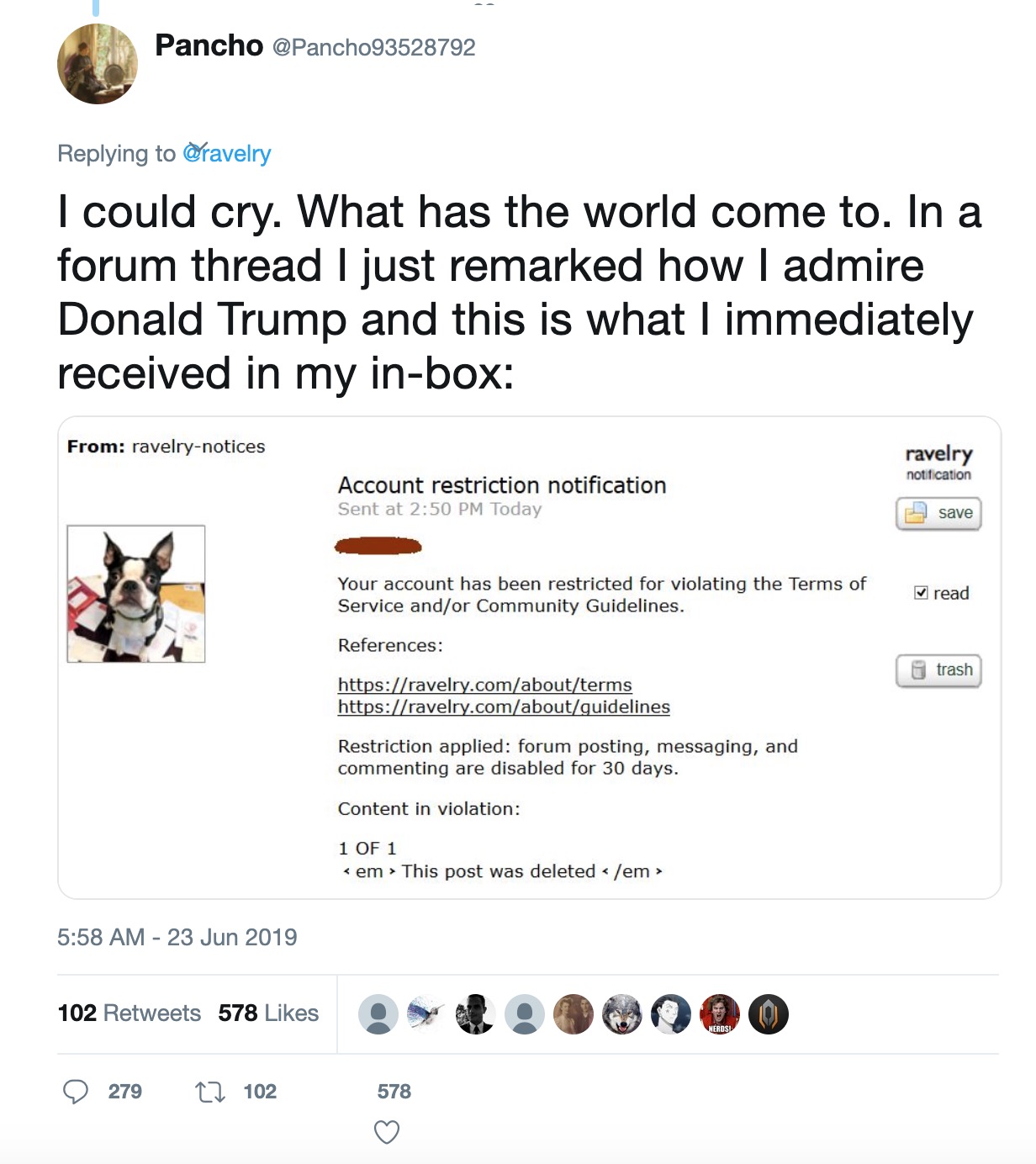 "I've never said anything pro or contra Donald Trump, before today. I think it's ridiculous that Ravelry will decide what their members may say or not say regarding politics. Ravelry is NOT for politics, it's for crafting. They should forbid both pro and contra, not just PRO," tweeted a user of Ravelry who was banned for posting about the President.