Following a five-game suspension without pay, Brooklyn Nets star Kyrie Irving apologized for posting a link to the film Hebrews to Negroes: Wake Up Black America.
Irving posted the Amazon link to the movie last week.
At a press conference last week, he said that the film contained things that are "questionable" and "untrue." However, he did not apologize because he was "not the one who made the documentary."
The film, released in 2018, is based on a 2015 book by the same name. Rolling Stone described the book as "venomously anti-Semitic."
On Saturday, Irving doubled down, saying, "I'm not going to stand down on anything I believe in. I'm only going to get stronger because I'm not alone. I have a whole army around me."
An angry exchange ensued after he was asked by ESPN reporter Nick Friedell why he promoted the book. He insisted he did not and kept telling the reporter to move on to other questions.
At another press conference on Thursday night, he still did not apologize. He was asked if he has anti-Semitic beliefs, to which he answered: "Again, I'm going to repeat, I don't know how the label becomes justified because you guys ask me the same questions over and over again.
"But this is not going to turn into a spin around cycle, questions upon questions. I told you guys how I felt. I respect all walks of life and embrace all walks of life. That's where I sit."
After that press conference, the Nets released a statement, saying Irving had been suspended for five games without pay because he was unapologetic.
"We have decided that Kyrie will serve a suspension without pay until he satisfies a series of objective remedial measures that address the harmful impact of his conduct and the suspension period served is no less than five games," the Nets wrote in the statement.
"We were dismayed today, when given an opportunity in a media session, that Kyrie refused to unequivocally say he has no anti-Semitic beliefs, nor acknowledge specific hateful material in the film.
"Such failure to disavow anti-Semitism when given a clear opportunity to do so is deeply disturbing, is against the values of our organization, and constitutes conduct detrimental to the team.
"Accordingly, we are of the view that he is currently unfit to be associated with the Brooklyn Nets."
"The answer to the question 'Do you have any anti-Semitic beliefs' is always 'NO' without equivocation," tweeted ADL CEO Jonathan Greenblatt. "We took @KyrieIrving at his word when he said he took responsibility, but today he did not make good on that promise. Kyrie clearly has a lot of work to do."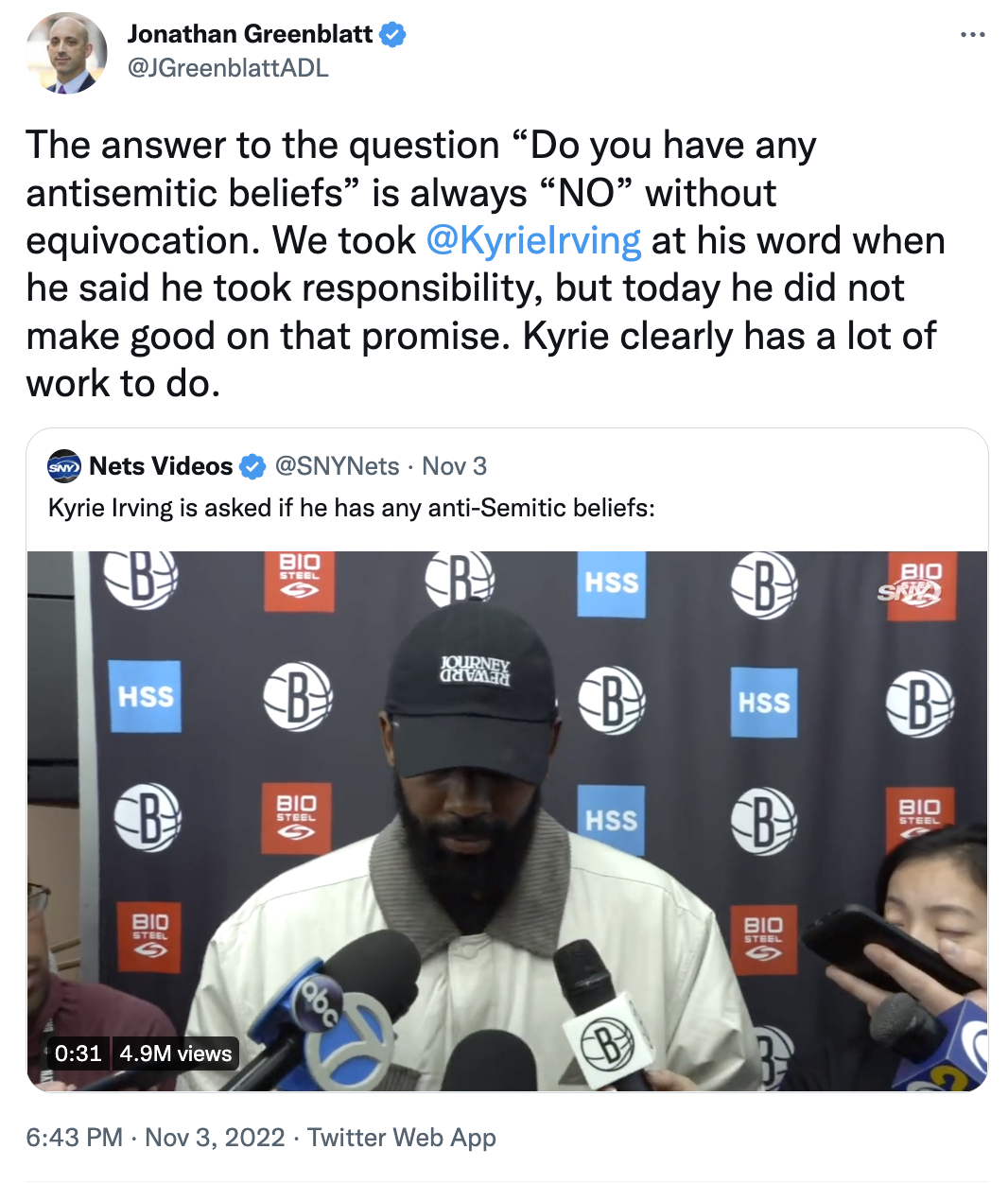 After news of the suspension, Irving did apologize in a statement posted on Instagram.
"To All Jewish families and Communities that are hurt and affected from my post, I am deeply sorry to have caused you pain, and I apologize," he wrote.
"I initially reacted out of emotion to being unjustly labeled Anti-Semitic, instead of focusing on the healing process of my Jewish Brothers and Sisters that were hurt from the hateful remarks made in the Documentary.
"I had no intentions to disrespect any Jewish cultural history regarding the Holocaust or perpetuate any hate. I am learning from this unfortunate event and hope we can find understanding between us all. I am no different than any other human being. I am a seeker of truth and knowledge, and I know who I Am."
NBA commissioner Adam Silver had also released a statement criticizing Irving for not initially apologizing for posting "vile and harmful" content online. He said it was a "reckless decision" and that he will meet with the player to discuss the matter.