When Kevin Strahle, aka LA Beast, posted a video of himself on YouTube throwing up after consuming a bottle of 20 year old soda, little did he know that this video would get flagged – nearly a decade later.
Strahle is a competitive eater with multiple Guinness World Records titles, and a massively successful YouTuber with some 2.5 million subscribers to his primary channel, skippy62able.
He took to his smaller, second channel on Thursday to announce  that he received an email from YouTube informing him that the video, titled, "Enjoying a 20 year old Crystal Pepsi (Warning: Vomit Alert," was now age restricted. It took YouTube 2,577 days, but they finally got there, informing Strahle that his video "may" not be suitable for all viewers.
The YouTuber said this content had already been flagged as not suitable for advertisers, but the age restriction is a new twist in the plot.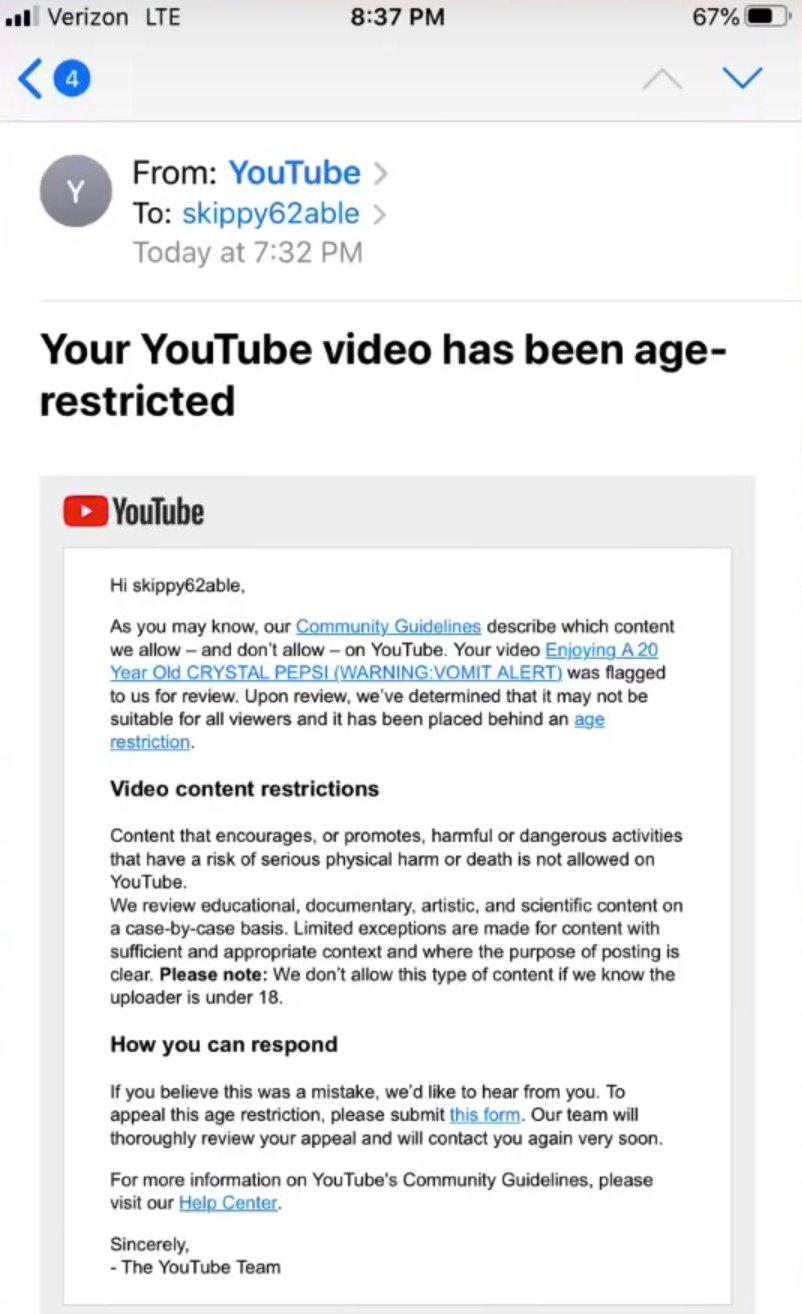 He then explains that another YouTube star, PewDiePie, referenced his video recently, which led to it getting reported.
In the email, YouTube talks about its community guidelines. As far as age restriction goes, they prohibit sexually suggestive or violent content and that containing vulgar language or portraying harmful or dangerous activities.
Videos flagged as age restricted get demonetized.
Finally, YouTube invites the creator to appeal against the decision, and promises a "thorough review."
But Strahle doesn't seem inclined to take YouTube's word for anything these days, as he expressed his frustration with the inconsistencies in the platform' policies.
To prove his point, he played a portion of an interview with YouTube CEO Susan Wojcicki regarding the way the giant implements those policies.
Wojcicki is heard saying that videos created in the past and were in line with community guidelines would not be punished retroactively.
"If we do go back in time, and say that content made in the past was fine at the time, there should be no strike," Wojcicki said, adding that the company was not penalizing content made before any change in policy.
"Rules are attached to dates?," the interviewer asks, to which Wojcicki replies, "Yes, they are."
Strahle asked his YouTube audience for opinions and advice on this matter. Some commenters think the time has come to replace YouTube with another platform that respects its own rules, and creators, better.
There were also suggestions that YouTube wants to get rid of independent creators and focus on big corporate ones.