One of the more prominent voices against Big Tech censorship and one of those most penalized for her political and ideological perspective, is Laura Loomer.
Loomer, who has over the past years of active silencing faced by conservative US voices on major corporate US social media platforms, moved from her role as a commentator and activist to becoming a Congressional candidate in Florida, just announced that yet another tech platform has removed her account – meaning that her now multi-year tech – and not only Big Tech – deplatforming continues unabated.
The latest payment platform to refuse to accept payments made to Loomer is Stripe.
This is an Irish-American company headquartered in San Francisco and Dublin, whose main goal is said to provide payment processing software for apps and e-commerce sites.
But judging by Loomer's experience, some censorship driven by either politics or ideology might not be out of place in that mission statement, either – the next time the company decides to update its profile description.
On her website, speaking for the Loomer Project, the details of this latest case of her deplatforming are explained.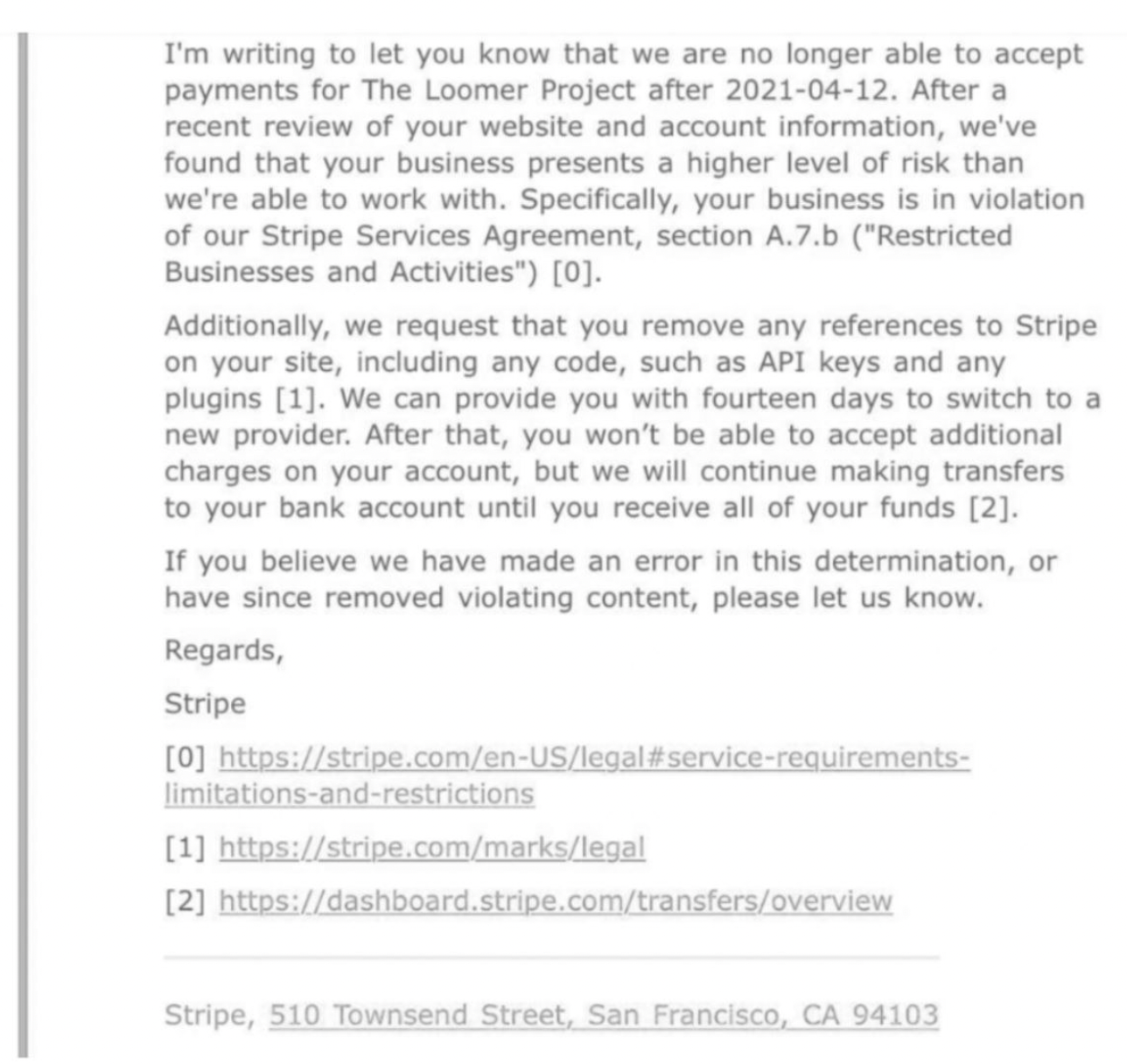 An email from Stripe said that payments to the project would cease as of April 12 this year. Stripe reviewed the website and Loomer's account, to deduce that it all represented "a higher level of risk than we're able to work with."
That pretty much says it all in as few words as possible, to amply illustrate the kind of (online) censorship-driven world we are now living in. Though the notice does go out of its way, too, to cite specific alleged violations of services agreement, namely something called "section A.7.b."
Loomer said that the news of the Stripe deplatforming – when the processor also demanded that she removes any reference such as plugins and APIs from the site – came just as she had discussed the ban on her Telegram channel, in an address to Florida's lawmakers about Big Tech censorship, delivered in the state capital of Tallahassee.
"Well. Just got back to my hotel room in Tallahassee after giving a speech about big tech censorship and speaking to FL lawmakers about the FL big tech bill only to find out I've been BANNED from Stripe, the payment processor.
"Stripe was my last resort. I've been banned pretty much everywhere else. It's how I make a living through my website and fund my investigative journalism and activism," Loomer wrote.
Loomer also saw links between the timing of her Tallahassee speech urging legislators to fine discriminating payment processors, and Stripe's swift decision to remove her from the platform.