A leaked Amazon document has brought some shocking revelations with regard to how the company's employees who sign up for the Fulfilment Center Ambassador program must behave on social media platforms, including what to say and what not to.
See the leaked document here.
The Big Tech giant built an army on Twitter to defend the company online. It is worth noting that tweets from many of these Amazon warehouse workers, or better yet, FCAs, seem strangely robotic in nature, yet many people have also been creating them as a joke.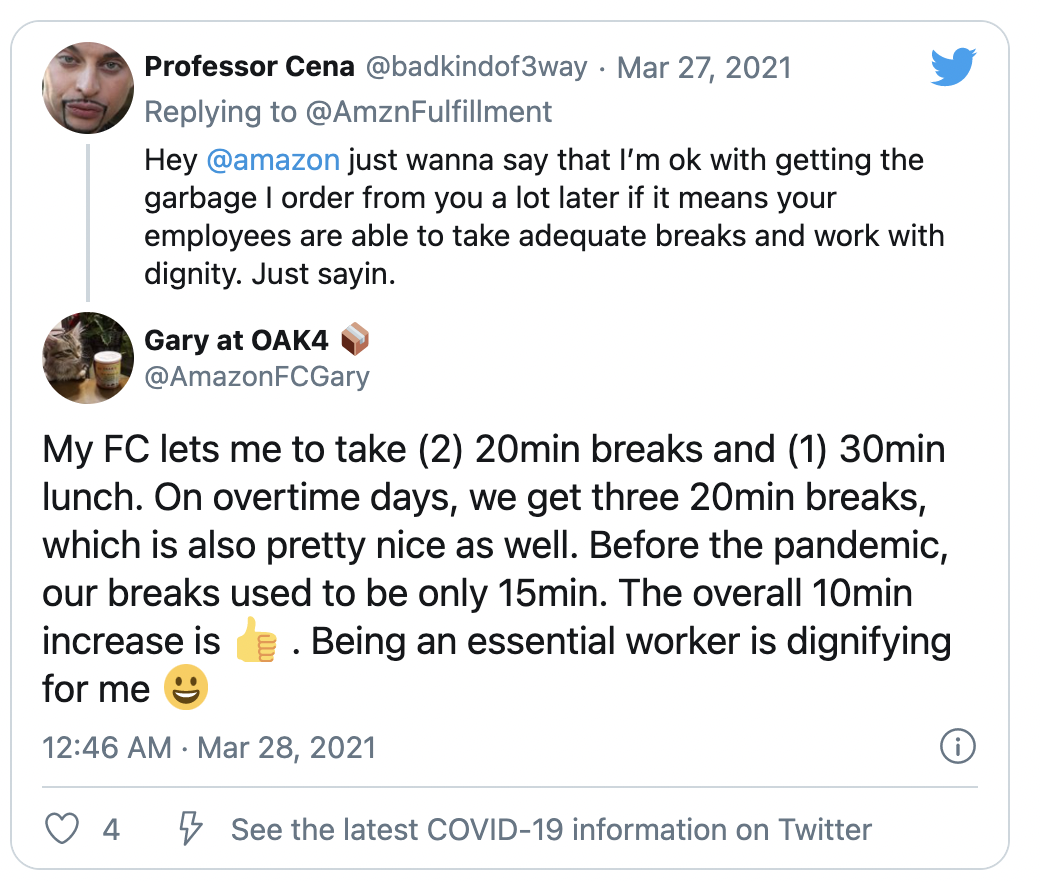 "I can assure you that I'm a real account. I'm part of a program that lets me come here & have conversations about what working for Amazon has been like for me. I'd like to know why you feel we are treated/paid bad. I've been so happy here & the pay/benefits are great," read a tweet from an Amazon worker on Twitter.
At a juncture where many are wondering if the responses are from a real individual, an internal document that was leaked and obtained by The Intercept has explained the reason behind such robotic responses.
Apparently Amazon has set a number of guidelines which dictate how these warehouse workers who are a part of the FCA program must respond on their Twitter accounts.
FCAs, for instance, are to not respond to any questions about unionization. Strangely enough, Amazon has recently held a vote for unionization at a fulfilment center in Alabama. If it passes, it would invariably result in the formation of the first-ever major union of Amazon workers.
These FCAs working for Amazon are banned from responding to any media requests without seeking the public relations department's approval. What's more, "compound criticisms" should not be addressed or replied to, among other topics that the company does not deem appropriate for its workers to address on Twitter.
To make matters clear, Amazon has provided a number of examples – the kind of tweets to reply to and the ones to ignore.
Amazon, in an example to show the kind of tweets to ignore, quoted the example: "@Amazon why are you still advertising on breitbart?! Between that and barely paying your employees, I'm ready to quit shopping with you."
On the other hand, tweets such as this one, "Daily Sun: Amazon employees forced to urinate in bottles during their shift," must be replied to, with a sample reply provided by the company being: "No that's not right. I worked in an Amazon FC for over four years and never saw anyone urinate in a bottle. They are easily accessible bathrooms in every one of our buildings I've ever been in."
Interestingly, FC Ambassadors who sign up for Amazon's program receive equal pay as they would for working in the fulfillment centers. Here's what Amazon's spokesperson Liva Levandowski had to say about the program:
"FC Ambassadors are employees who work in our fulfillment centers and choose to share their personal experience – the FC ambassador program helps show what it's actually like inside our fulfillment centers, along with the public tours we provide. We encourage anyone who wants to see for themselves to sign up for a tour at www.amazonfctours.com."