A married couple who go by the handle @BriaAndChrissy on Twitter announced on April 3 that their YouTube channel had been demonetized.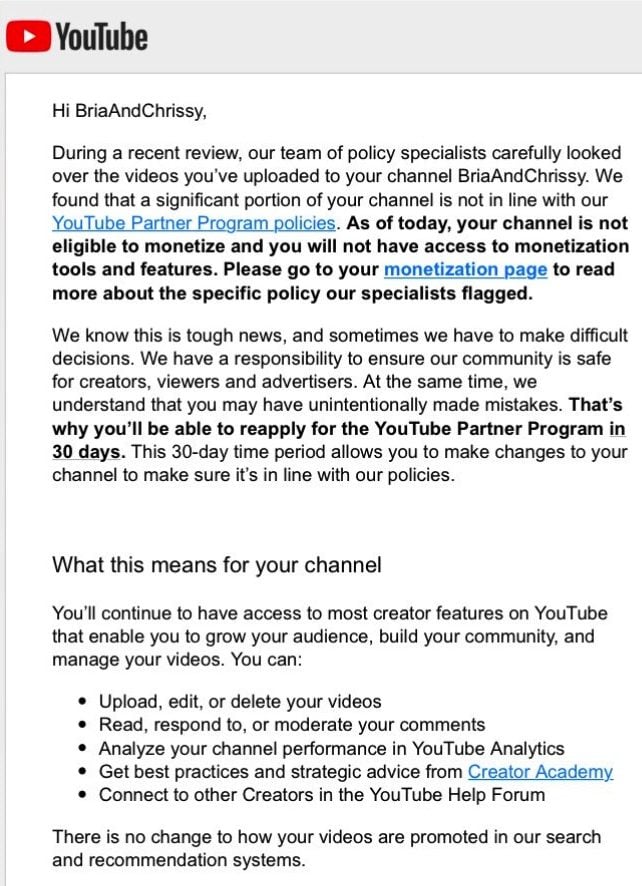 The channel, BriaAndChrissy, has over 850K subscribers, with its owners describing themselves as "a singing duo/lesbian couple with original music, making videos that inspire," dedicated to comedy, entertainment, and promotion of equality.
They shared a screenshot of the message they received from YouTube, that said a recent review carried out by "a team of policy specialists" of the videos uploaded to the BriaAndChrissy channel resulted in the flagging of the channel because a significant portion did not adhere to the YouTube Partner rules.
For that reason, the channel was demonetized, while its owners lost access to monetization tools.
YouTube's message said that the social media giant had to make this "difficult decision" to protect creators, viewers – and advertisers (probably not in that order, though). A more detailed explanation of what policies were violated is apparently provided in a link.
In addition, the channel's owners are told they would be able to reapply to have their monetization reinstated in 30 days' time – once they have corrected their mistakes, in case they were unintentional. No mention is made of the possibility of YouTube making a mistake – even if unintentional.
However, the YouTubers on April 4 announced that YouTube backtracked on the decision a lot faster than 30 days – it would seem, thanks to negative reactions online.
Announcing in a tweet that the channel's monetization had been reinstated, @BriaAndChrissy said YouTube told them the decision to demonetize has been "a mistake." So much for transparency.
But the pair added they feared this was "only the begging of many silencing tactics" and that it was because of this kind of mistreatment LGBTQ creators are receiving that they filed a lawsuit.
And even though they're technically supposed to be remonetized, they're having difficulty actually turning the monetization back on.
Chiming in in the comments was another well-known figure, Arielle Scarcella – who knows all to well about getting canceled by radicals online.
In an earlier tweet, Scarcella revealed that YouTube recently also demonetized her entire channel, and called on her fans to support her on Patreon.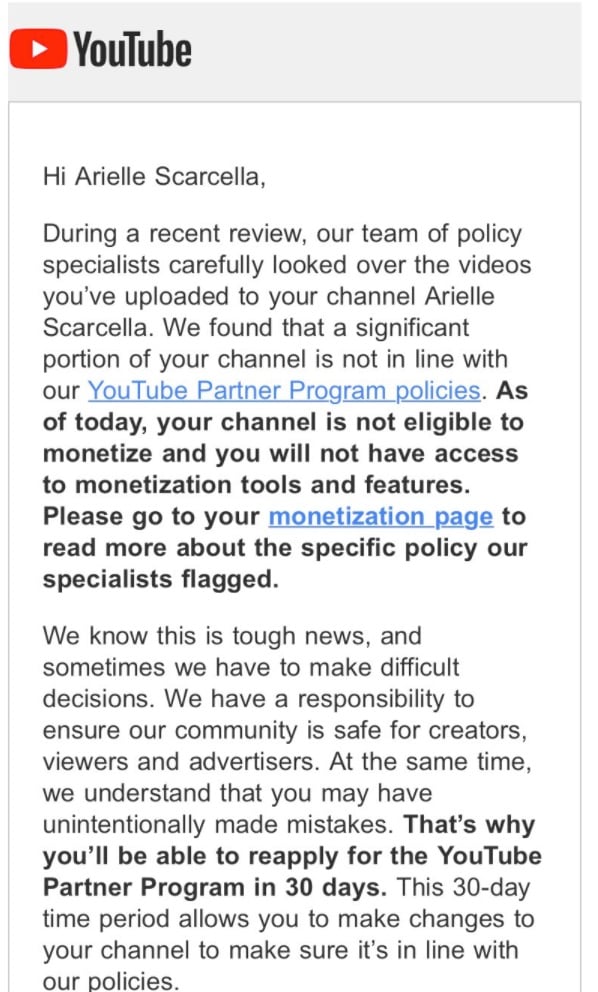 Many Twitter users who commented on the original tweet referred to cutting off people's revenues at a time of massive economic turmoil due to the coronavirus pandemic was "evil" of YouTube.