Canada's Liberal MP Lisa Hepfner is making headlines again with her statements in the context of the process of adoption of the country's controversial Bill C-18, the Online News Act.
Hepfner recently went after online media to disparagingly say they are not news outlets but "opinion publishers." This immediately caused widespread criticism from the media industry and was also quickly proven to be a fine example of misinformation, as reports listed legitimate online news sites to prove her wrong.
Hepfner had to apologize for that statement, and for a while maintained radio silence as Bill C-18 was considered by the Heritage Committee. Now, C-18 has passed the third reading and the Liberal MP has been "activated" once again – and is once again accused of not fully understanding the nature of the subject matter, this time of what links represent.
This time Hepfner spoke about sites like Facebook and Google that allow outlets to share their news articles, describing this as theft. She said this in a bid to prop up Bill C-18 as a positive legislative development, which will, according to her, make it more difficult for these large platforms to, in her words, "steal local journalists' articles and repost them without credit."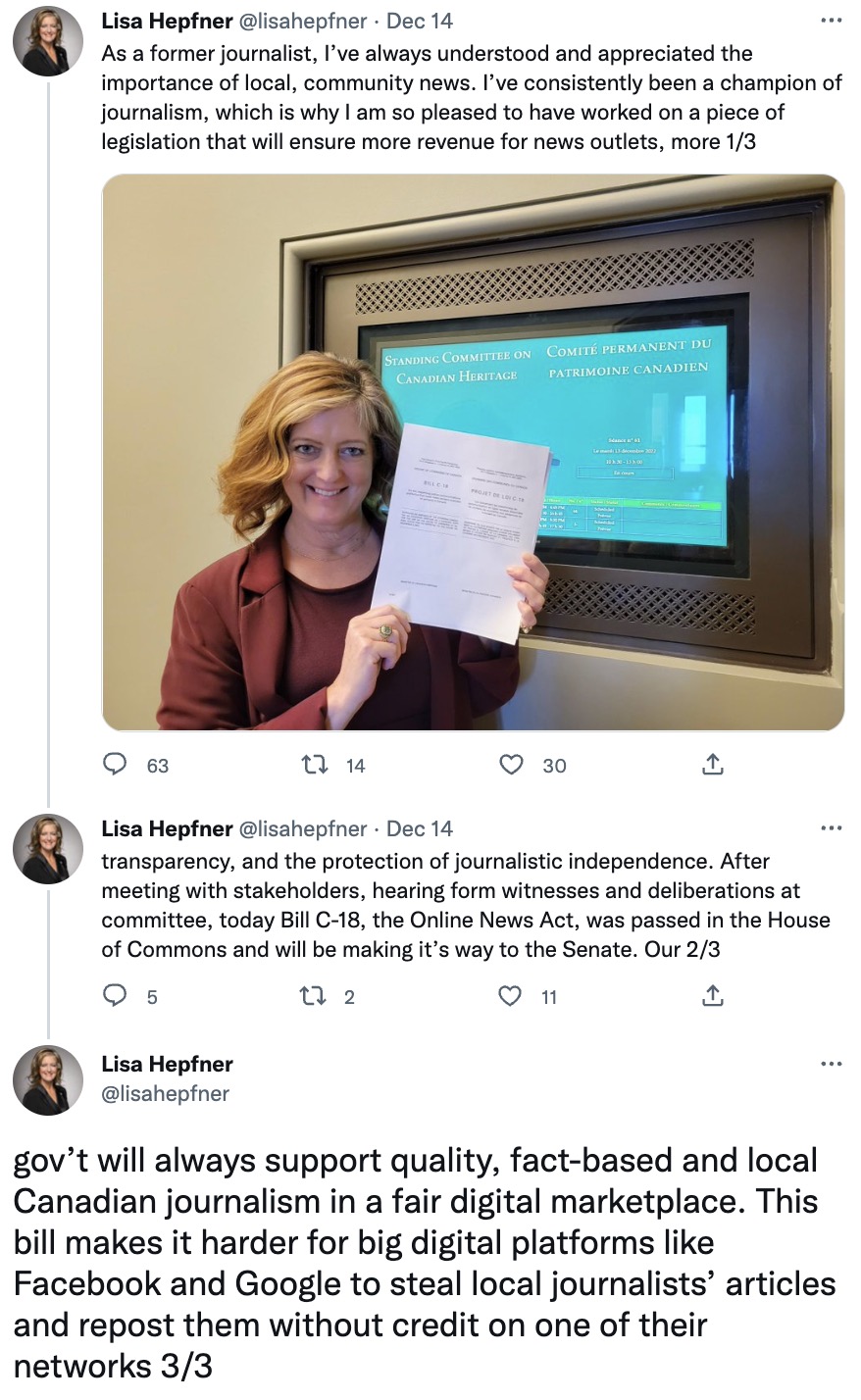 But are they doing that now? Not according to several media outlets, like Village Media and National Observer who swiftly reacted to say that their content is published and shared on these platforms "willingly" by the news outlets and expands the reach of the articles. So rather than feeling robbed, they suggest that the practice benefits their traffic and therefore the bottom line.
And there's a touch of hypocrisy about Hepfner's comments since she is in the habit of posting links to articles published by CNC and Hamilton Spectator on her own Facebook page.
As evidenced by her Twitter posts, Hepfner continues to insist that C-18 will bring more money to news outlets and other benefits, but critics say that links actually generate revenue, rather than "steal" it.
Observers critical of the bill see the issue of making platforms pay for the links as central to the legislation that has cleared the House of Commons and should now be confirmed by the Senate.