Community generation platform Locals has launched LocalsTV – a new app that makes it easy for users to explore content and stay up to date with their favorite Locals creators on their smart TV.
Locals has the goal of "supporting creative independence." The platform makes it easy for creators to start a subscription-based community and allows fans to pay creators instead of platforms.
Before the launch of LocalsTV, Locals was available in mobile app stores and on the web. This new LocalsTV app expands the availability of Locals content to a wide range of smart TVs.
The LocalsTV app is currently in beta and available for Amazon Fire TVs (via the Amazon App Store) and Android TVs (via the Google Play Store) and will be released on other platforms in the future. Many popular brands, including Amazon Fire TV, Insignia, Philips, Sony, and Toshiba, have at least one of these app stores available on their smart TVs. If your TV doesn't support either of these app stores by default, you can access them by connecting an Amazon Fire TV Stick or Android TV Box via your TV's HDMI port.
The LocalsTV homepage highlights recent, trending, and featured videos and lets you explore free and paid content without having to join or subscribe.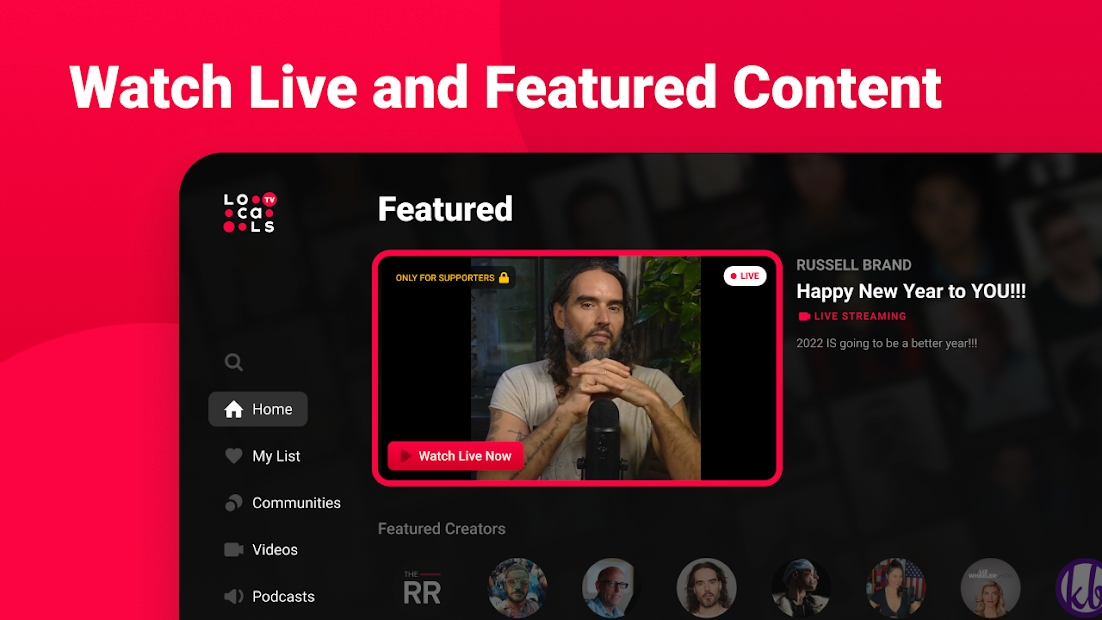 The app also has specific categories for "Videos" and "Podcasts" which make it easy to filter by content type and browse for videos or podcasts by "trending," "recent," "oldest," or "favorites."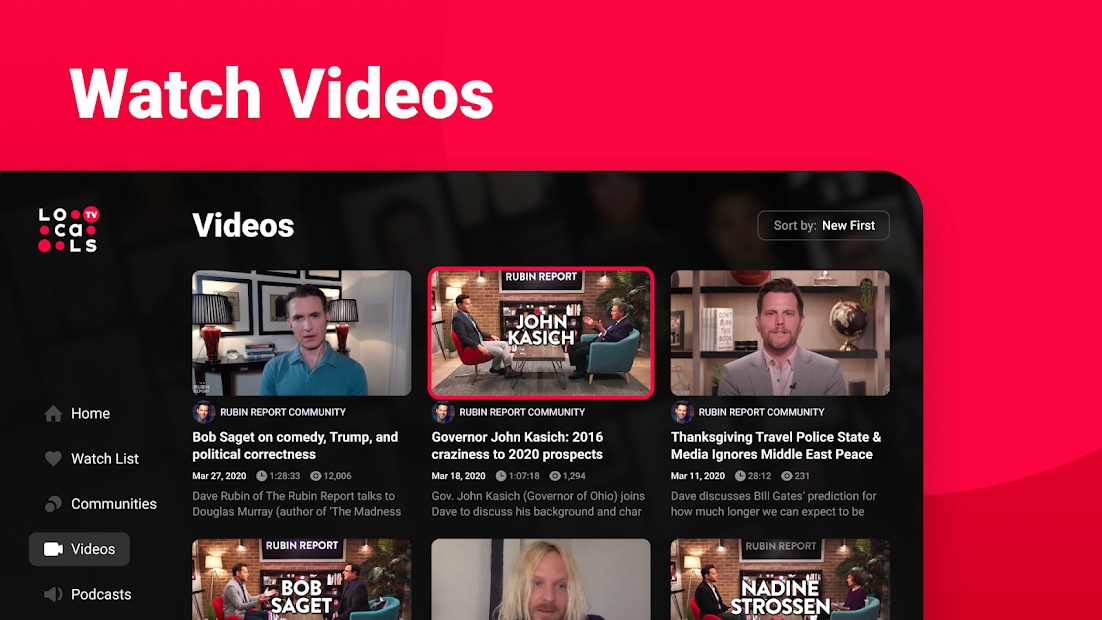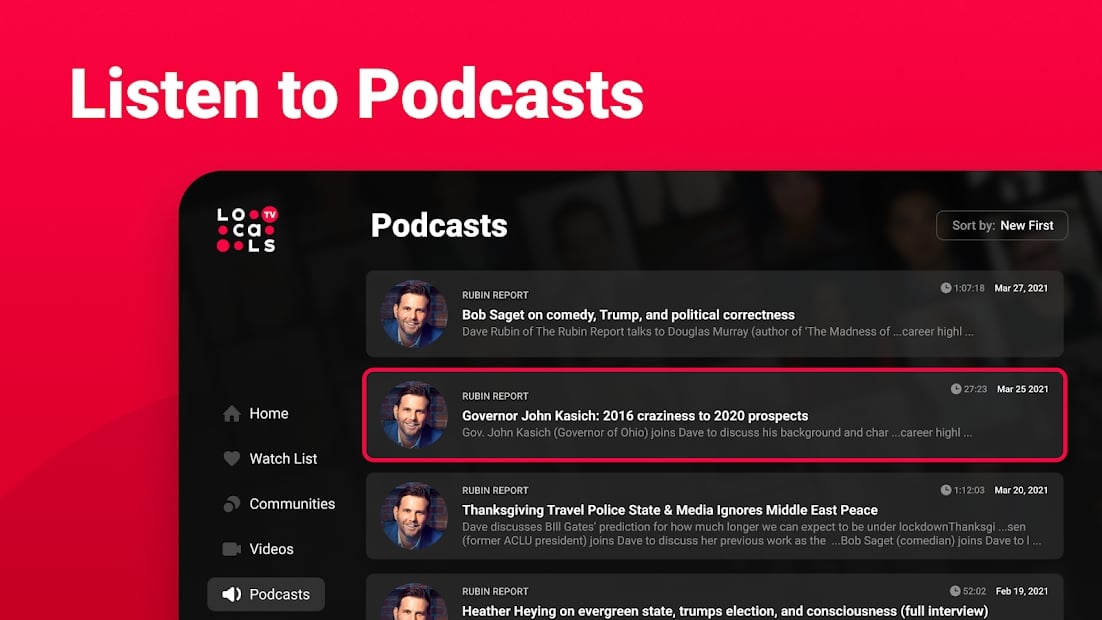 Additionally, LocalsTV has a "Communities" category which highlights Locals creators' community pages and makes it easy to find all the videos that they've uploaded, browse the playlists that they've created, and search for specific videos or podcasts from that creator.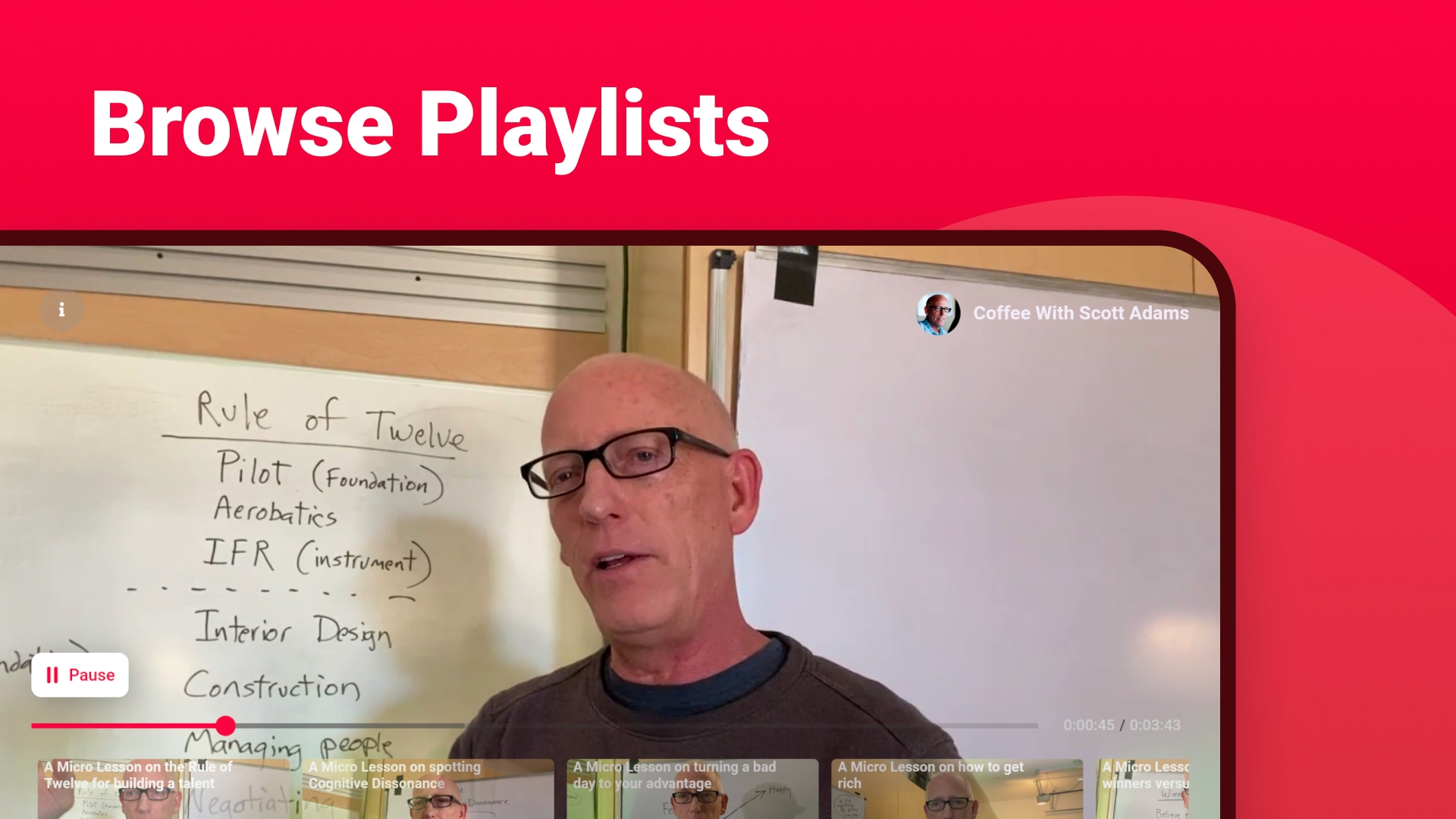 Another LocalsTV feature is the global search option in the sidebar which lets you search for specific content.
Locals' live streaming feature, LiveStream Connect, has also been integrated into LocalsTV. Live streams are promoted on the LocalsTV homepage and a notification button appears when the live streams start. Live streams also display real-time community live chat alongside the stream.
When you find LocalsTV content that you want to watch or listen to, you can start watching it immediately or add it to a list of favorites to watch or listen to later. You can access your lists at any time via the "My List" option in the sidebar.
Subscriber-only content can be unlocked directly in the app by watching or listening to the preview on a locked video or podcast and purchasing a subscription directly from the screen prompts.
"LocalsTV is an expansion of our ability to deliver content anywhere," said Locals CEO Assaf Lev. "Distribution of video is fundamental to our creators and we are thrilled to enhance the Locals experience for our creators and their members on this new medium."