Ever since London Real dared to broadcast an interview with David Icke, it has felt the full force of not only the weight of big tech censorship, but also government complaints. Only through the support of the people has the storm been weathered.
But London Real isn't out of the woods just yet.
Today, the London Real's Facebook business advertising account was suspended by the tech giant, preventing the platform from using advertising to grow the reach of the network.
"As of today, our entire Facebook advertising account was disabled," said London Real founder, Brian Rose. "This is after it was severely limited over a week ago, without an explanation and a claim that 'it had nothing to do with our content publishing.'"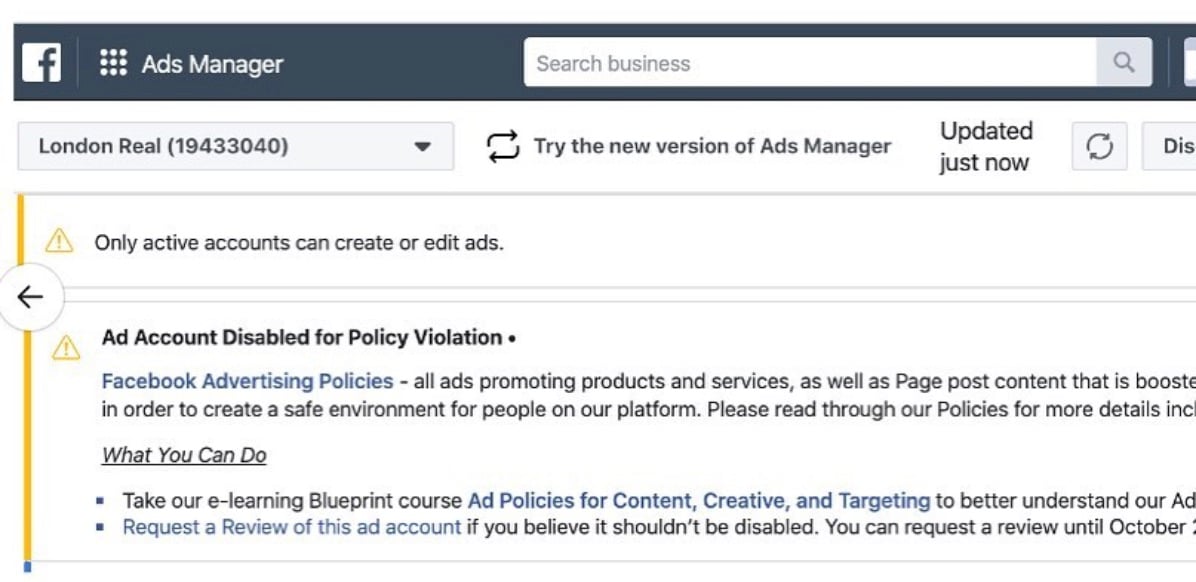 Rose has spent over £50,000 ($62,500) every month on the platform for the last three years to help get the word out and promote the broadcasts and live events.
Only when London Real this month aired an interview with David Icke, questioning how the pandemic was being used to suppress civil liberties, has global tech giant cut off their reach. "All of a sudden just in the last week, you decide that my ads, which haven't changed in months, now violate your policies?" Rose said, blasting Facebook.
The move by Facebook comes just a short time after Microsoft-owned LinkedIn decided to suspend Rose's account, days after interviewing David Icke.
"Don't be fooled folks, this is a war we are fighting. And they are coming for anything that we hold dear. Our finances, our livelihoods, our reputations, our freedoms, everything," Rose said today.
"I have one message to these trillion-dollar Silicon Valley technology behemoths who think they can treat us all like their "products", selling our information to others and demanding we supplicate to your 'community policies'; that violate our basic human rights…This is chess not checkers, and we ain't going nowhere. Come at us so everyone can see….We will not be silenced. We will not be censored," Rose said today.