Update: After Reclaim The Net contacted Twitter, Luke Dashjr's account was reinstated.
A prominent Bitcoin (and Linux) developer, Luke Dashjr, has been suspended permanently from Twitter, the Bitcoin Meme Hub account has announced, urging its followers to support him by endorsing a gist (a post on GitHub's pastebin service), and at the same asking Twitter CEO Jack Dorsey to "help and look into this."
Dashjr's "Twitter crime" that sent him to "Twitter jail" doesn't have directly to do with his professional activities, but with his personal convictions.
According to the GitHub gist, the tweet that was his undoing on Dorsey's platform said that if anybody tried to force him or his family to in the meanwhile receive the vaccine, he would respond "with appropriate force."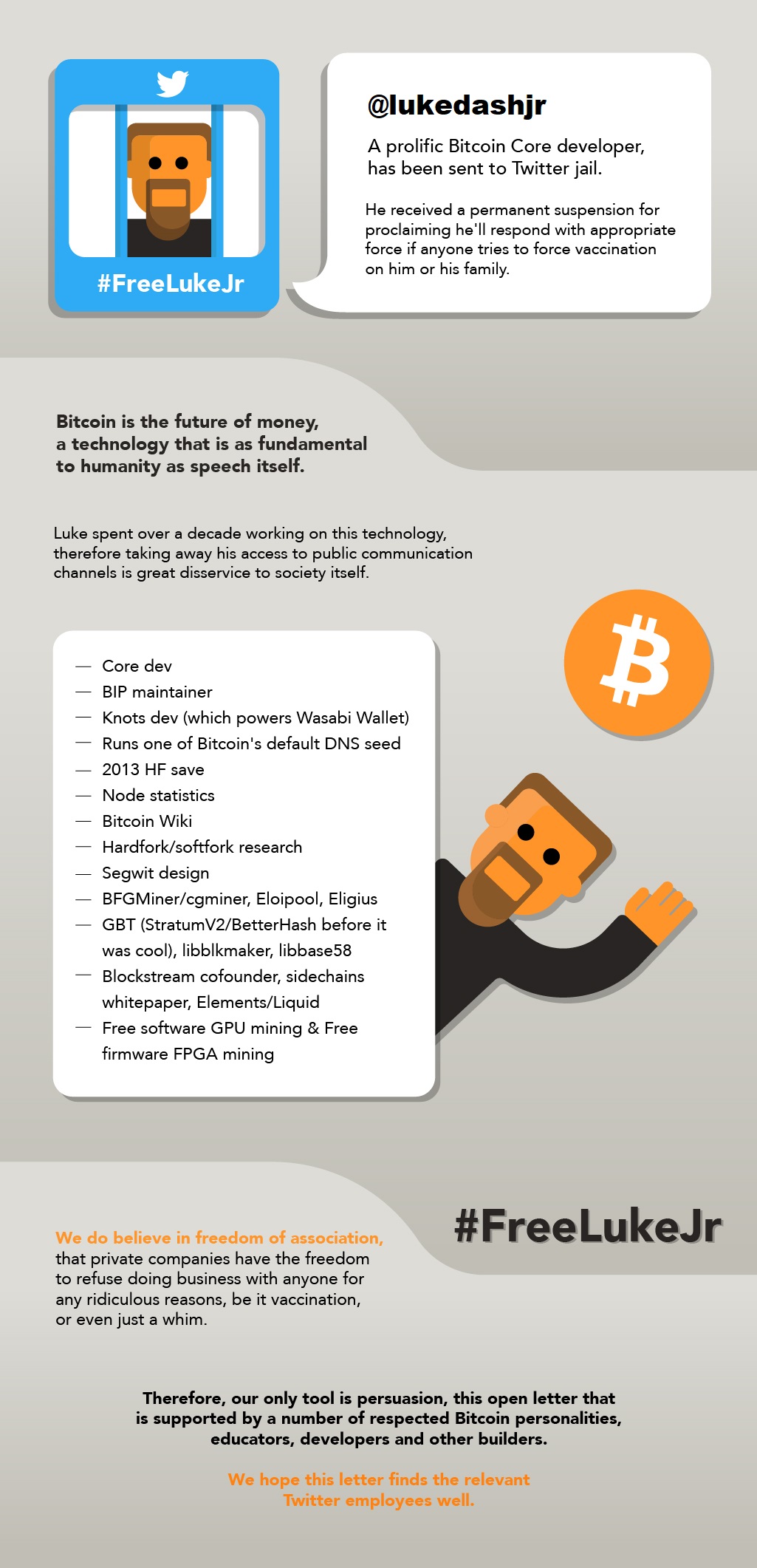 The Bitcoin community behind the gist took the broader picture approach to this new instance of censorship on Twitter, to note the importance of Bitcoin itself, and Dashjr as its core contributor for over a decade, in terms of the importance of giving him an opportunity to communicate on public social media platforms. Denying him that right, given that Bitcoin is described as the future of money and a technology that is "fundamental for humanity and speech itself" – Twitter's ban is seen as "great disservice to society."
Listing some of the most important projects that Dashjr has been involved in as proof of his importance to Bitcoin, the open letter is supported by other similarly prominent figures in the Bitcoin community, and is directed towards Twitter employees who might have the power to rethink and reverse the ban.
Earlier, Dashjr was profiled by crypto-centric sites as a private person and a freedom activist whose online presence is nonetheless strong thanks to his dedicated, more than two decades-long involvement in various free and open software, and crypto projects.
Having joined Bitcoin in 2011, Dashjr's impact is said to have been important for the decentralized and unconfiscatable digital money project to take off; he is ranked 11th on the list of Bitcoin Core contributors.