Mailchimp, a prominent email marketing service, is doubling down on its censorship. The email marketing service is mostly used for sending bulk email newsletters and has recently faced accusations of censorship for going beyond suspending accounts for spam and phishing to the realm of suspending accounts that publish content it decides is "misinformation."
Mailchimp has now pulled services to the Northern Virginia Tea Party for apparently sharing "potentially harmful misinformation," as stated by the company.
Luke Rosiak, an investigative reporter and author recently tweeted about Mailchimp refusing to offer its services to the Northern Virginia Tea Party and wrote: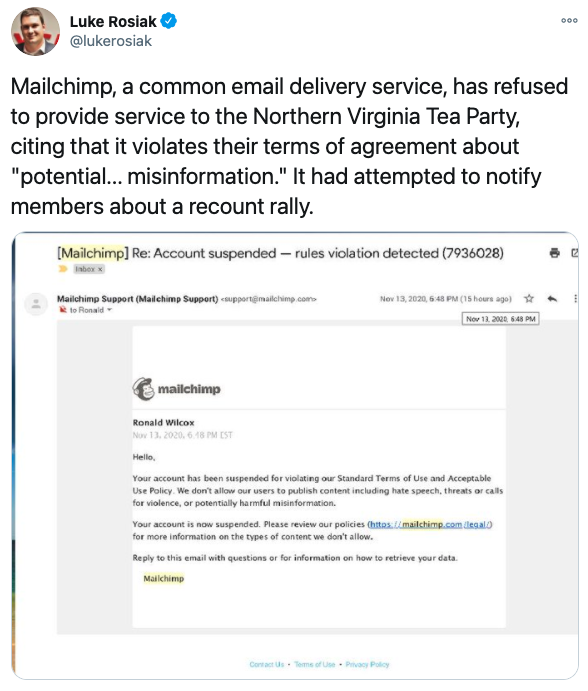 "Mailchimp, a common email delivery service, has refused to provide service to the Northern Virginia Tea Party, citing that it violates their terms of agreement about "potential… misinformation." It had attempted to notify members about a recount rally."
Whether to avoid negative PR or support their political beliefs, tech companies are increasingly resorting to conservative censorship.
"If there are going to have to be two versions of every product because large, apolitical products refuse to serve half the country, conservatives are going to have to get better at technology. But it just seems like a really, really bad road to go down for the country," tweeted Rosiak.
Northern Virginia Tea Party has not been the only victim of Mailchimp; based on a screenshot of an email shared on Twitter, in a reply to Rosiak's tweet, it was found that even Engage the Right was denied service by Mailchimp.
In this case, though, it wasn't misinformation, but "hate speech", according to the company, as found on the email screenshot.
It is worth noting that both Northern Virginia Tea Party and Engage the Right are organizations rallying support for Donald Trump and organizing recount rallies.
What's more, emails sent by these organizations through Mailchimp are private in nature and not posted on public platforms. In such a case, the scope for fact-checking the hordes of mails sent by these organizations is not clear, or rather questionable.