On Star Wars-based TV series The Mandalorian, actress Gina Carano portrays Cara Dune, a former shock trooper.
And it seems that she is very comfortable "playing" a similar role on social media, where she continues to stand her ground against outrage mobs who keep going up against her in a bid to get her fired and "canceled."
And it's not just about something Carano posted herself – now her dogged detractors are going through her Twitter likes to prove their point against the actress.
The need not only to have an opinion and freely express it on social networks, but to make sure those holding different views don't get the same chance, and are moreover run out of there and fired from their jobs is what's fueling "cancel culture" and its proponents.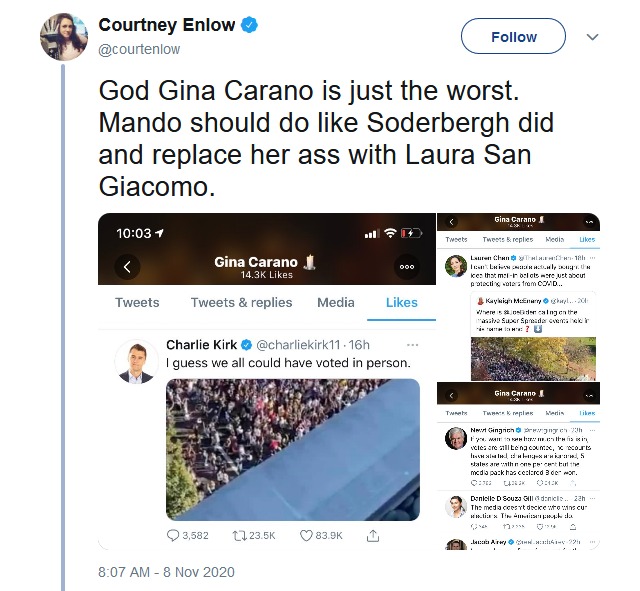 In the case of Carano, whose political position is thought to be more conservative than mainstream Hollywood, this manifests in the likes of Syfy FanGrrls Associate Editor Courtney Enlow tweeting that the actress is "the worst" after finding out she was skeptical about the integrity of the US election process, and had liked posts by Turning Point USA's Charlie Kirk, BlazeTV's Lauren Chen, and former House of Representatives speaker Newt Gingrich.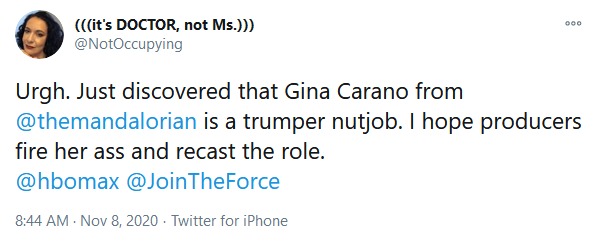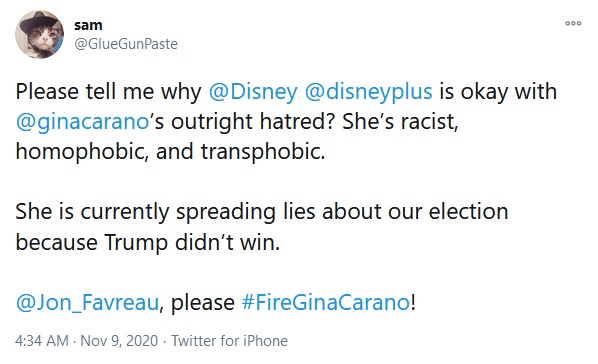 Enlow took screenshots of this "forbidden" Twitter activity, but apparently came to her senses and later deleted her own tweet. However, she maintains that Carano should be fired from the show, finding support from a number of Twitter users who were reportedly happy to add insults (calling the actress "human trash," "trumper nutjob," "bigot," "transphobe," etc.), while backing the idea of Disney sacking her purely for her political views.
Carano's choice was not to get embroiled in any of this and instead post, among other positive things, "Let your spirit be filled with strength & peace."
Carano's past run-ins with social media mobs saw her accused of transphobia for refusing to list pronouns in her Twitter bio, of racism for sharing an anti-Nazi photo, and for her opposition to coronavirus lockdowns that have been devastating the economy and people's lives for nearly a year.