The online platform MangaDex has entered into an abrupt "maintenance" period. It's not yet known if this has anything to do with a recent DMCA subpoena, ordering Cloudflare to give up the identity of the site's operator.
Domain analysis shows that today, MangaDex has moved away from using the Cloudflare service.
In the sights of legal content
A problem for many manga fans is that the availability of officially translated comics outside of Japan is limited.
This gives rise to sites like Manga Rock, Mangastream or MangaDex, which serve to host unofficial scans and translations performed by fans.
However, it seems that these practices are reaching a critical moment because of copyright claims.
MangaDex made an announcement on Twitter indicating that they would be temporarily offline (for 72 hours) while performing a migration in the hosting service, all without prior notice.
https://twitter.com/MangaDex/status/1212465962970238977
Although officially the MangaDex owners did not mention that they were going through legal problems, TorrentFreak revealed that the site is under legal pressure related to a DMCA subpoena.
The case against MangaDex
According to the information presented, the removal order was filed by lawyer Evan Stone in a Texas court on behalf of VIX Media, LLC, against Cloudflare.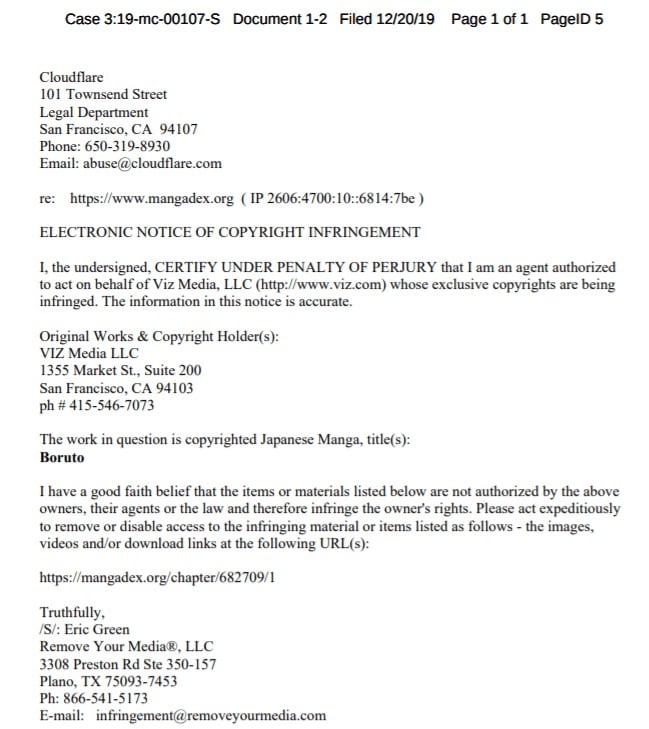 In the letter sent by the lawyer, we can read: "The purpose of the attached citation is to obtain the identity of the alleged copyright infringer who is in control of the Internet domain that appears in the citation. The information obtained will be used solely for the purpose of protecting the rights granted to my client under Title 17 of the United States Code".
The letter addressed to Cloudflare requires that they provide all personal data they have about the owner of MangaDex to the lawyer (including name, email address, physical address, billing information or any other contact information). Additionally, the lawsuit is specifically aimed at the "Boruto" manga comic, as seen in the link provided in the letter.
All this information must be delivered before February 8, 2020. It is not yet known if it will be used in an attempt to close MangaDex or to exert pressure.