A teacher at a Manhattan private school who lost his job for questioning the controversial "antiracism" curriculum claims the school's head also has doubts. The teacher was removed from class for the rest of the year because some students said they were uncomfortable with him after an online article he wrote, highlighting the inherent racism in the so-called "antiracism" teachings.
Last week, Paul Rossi, a teacher at the Manhattan private school Grace Church School hit the headlines after publishing an essay accusing school's administrators of fixation on race.
The school responded by removing him from class for the rest of the year because some students said they were so uncomfortable that they asked to be removed from his class.
On Monday, Rossi hit back by sending an email to the school's headteacher, George Davison, accusing him of publicly embracing the "woke" indoctrination of students, but privately expressing doubts about the curriculum.
"In support of those who will inevitably be scared into silence by seeing the price I am now paying for speaking up, I am compelled to share what you have told me in previous conversations," Rossi wrote in the email, whose copy was posted on Twitter by the Foundation Against Intolerance & Racism (FAIR).
According to the email, Davison had previously told Rossi that he had "grave doubts about some of the doctrinaire stuff that gets spouted at us in the name of antiracism."
Per the email, Davison feels the antiracism curriculum is unfair to white students. He said the teachings were "demonizing white people for being born" and making white students "feel less than, for nothing they are personally responsible for."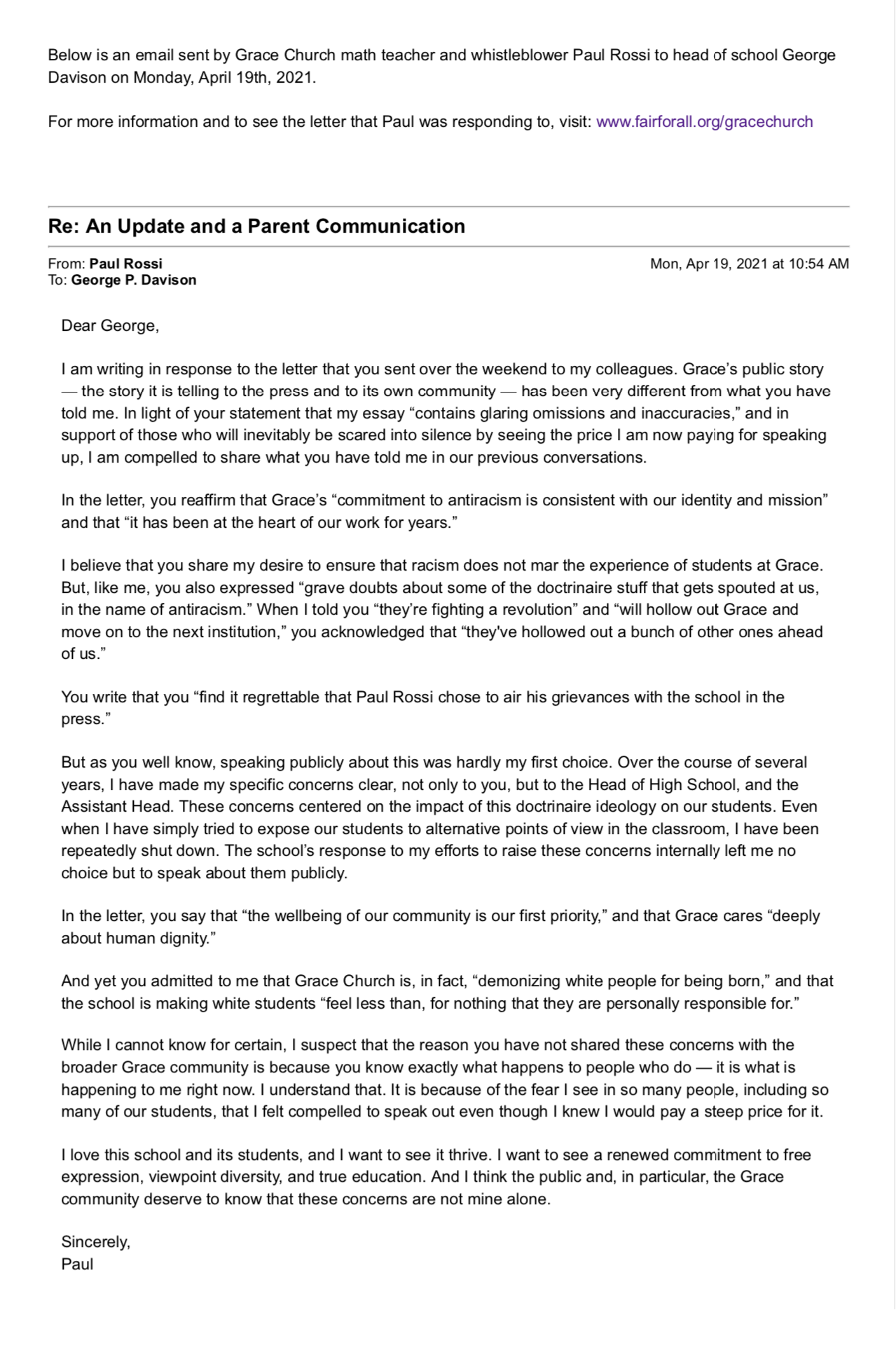 Rossi encouraged Davison to speak out about his reservations with the curriculum.
"While I cannot know for certain, I suspect that the reason you have not shared these concerns with the broader Grace community is because you know exactly what happens to people who do," Rossi wrote in the email. "It is what is happening to me right now."
Davison responded to the email by denying Rossi's allegations and accusing him of being untrustworthy.
"We disagree and that will remain," Davison wrote back. "You misquoted me and attributed to me things that I had never said nor would ever say in the press. Your actions were unprofessional and I still defended your right to have a point of view. I will not in an email get into a point by point rebuttal because I know that you are not trustworthy given your past performance."
Grace Church School is not the only Manhattan private school to hit the headlines for antiracism-related controversies. Longtime headteacher at Dalton School James Best resigned last week, following a disagreement over the school's embracing of progressive politics.
Like Rossi, a parent at Brearley School, Andrew Guttman, published an essay online accusing the school's administrators of a "cowardly and appalling lack of leadership [for] appeasing an anti-intellectual, illiberal mob."