During times such as the coronavirus outbreak, people start to express all sorts of opinions— some good, some bad, and some distasteful. But legacy media outlets are taking it upon themselves to embark on a journey of moral policing of individuals that express a controversial statement.
What we now observe is one such moral policing act: A Washington Post editor, after reading a controversial tweet by a man, called up his parents and ended up writing an article about it.
Scott McMillan, a 56-year-old lawyer from San Diego, recently tweeted his opinion about the coronavirus.
"The fundamental problem is whether we are going to tank the entire economy to save 2.5% of the population which is (1) generally expensive to maintain, and (2) not productive," wrote the lawyer.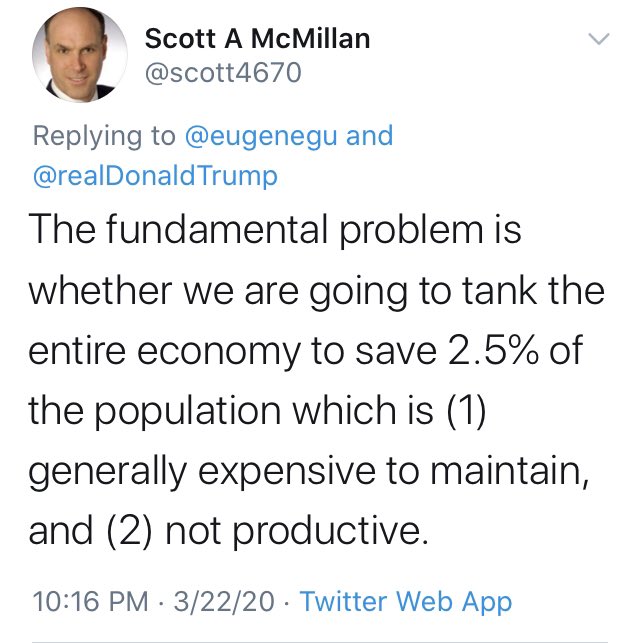 It is worth noting that what McMillan wrote strongly echoes with President Trump's views on the entire outbreak: "WE CANNOT LET THE CURE BE WORSE THAN THE PROBLEM ITSELF".
Some people thought that McMillan's tweet simply meant that the US must let the elderly die.
As soon as he tweeted, the Twitterati and ran amok and started accusing him of being a "Nazi", "right-wing nut" and even went as far as to threaten him and his family.
Adding fuel to the fire, the Washington Post editor Marc Fisher went and spoke to the parents of the lawyer and wrote a feature article about it.
"Scott McMillan, a 56-year-old lawyer, tweeted that it's more vital to revive the economy than to save people who are 'not productive,' like the elderly and infirm. So I called his parents," tweeted Marc Fisher, while sharing a link to the article.
Readers have expressed shock that the Washington Post would go as far as to write an entire article after calling the parents of a random Twitter user – who only had around 400 hundred followers at the time he made the tweet the Post took issue with.