Facebook CEO Mark Zuckerberg's presentation about "the dangers of censorship" was accompanied by a practical demonstration of – the dangers of censorship.
Zuckerberg's speech at Georgetown University, live-streamed on Facebook, received a deluge of overwhelmingly positive comments and reactions – so many, in fact, that it appears to have raised suspicions of foul play.
The conspicuous absence of negative reactions to the speech in the comments to the live stream warranted reaching out to the company for clarification.
And the answer is that Facebook uses "ranking signals" to derank content that it doesn't like – or, as the company's spokesperson Tucker Bonds said, content of "low quality."
This is not to say this content is blocked from being posted, or deleted – it is simply pushed into the digital hinterland at the bottom of a page containing tens of thousands of comments.
What floated to the top thanks to Facebook's algorithms are some rather generic messages thanking Zuckerberg for creating "a powerful application bringing friends and families together," "an amazing platform… making it easier to reach loved ones," along with thousands of emojis expressing "hearts and laughs."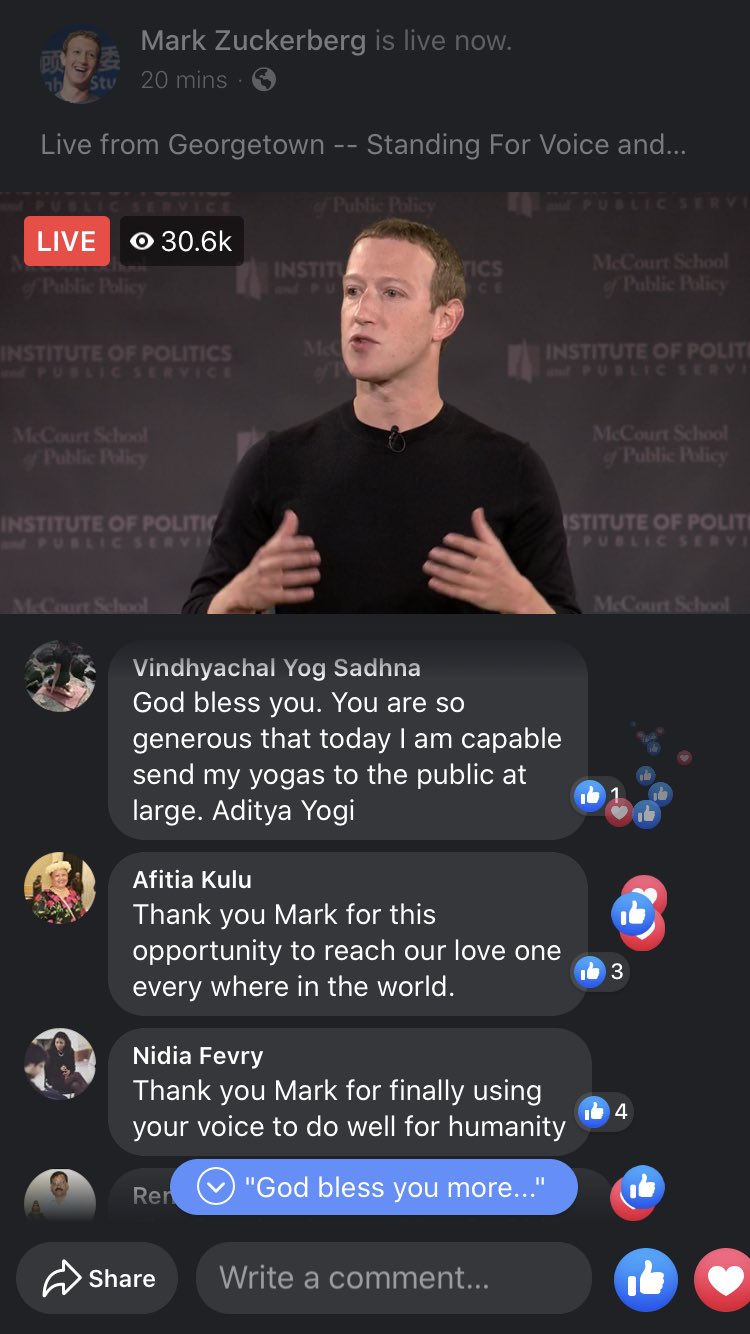 Lucky that Zuckerberg took a swipe at China's censorship during the address, otherwise this display of positivity might have reminded some observers of precisely the way China creates a curated online reality to fit its narratives.
Other than confirming what we already know about the way Facebook is allowing users to view content, the company's spokesperson also asserted that comments are not shown in real-time on popular livestreams because of their "sheer volume." In other words, once again we are led to believe that this global giant is unable live up, in technical terms, to the scale of its own business.
As for Zuckerberg's speech, he made repeated references to the US Constitution's First Amendment and pledged that the platform would "continue to stand for free expression" and would not risk stifling free speech. This has angered Democratic candidates in the US 2020 election who were hoping Zuckerberg would do their bidding.
"Facebook is actively helping Trump spread lies and misinformation," said Elizabeth Warren.
But with a system in place that's able to rearrange, promote, or hide content in the way demonstrated today, there are other kinds of critics who will wonder if what Facebook wants to "stand for" here is free speech at all.