Comic book giant Marvel has announced the next installment of its New Warriors superhero series, and a brand new mentored team.
A trailer was released on Tuesday to promote this new batch of superheroes, including two named Snowflake and Safespace, and – as you might expect – it was widely slammed and downvoted.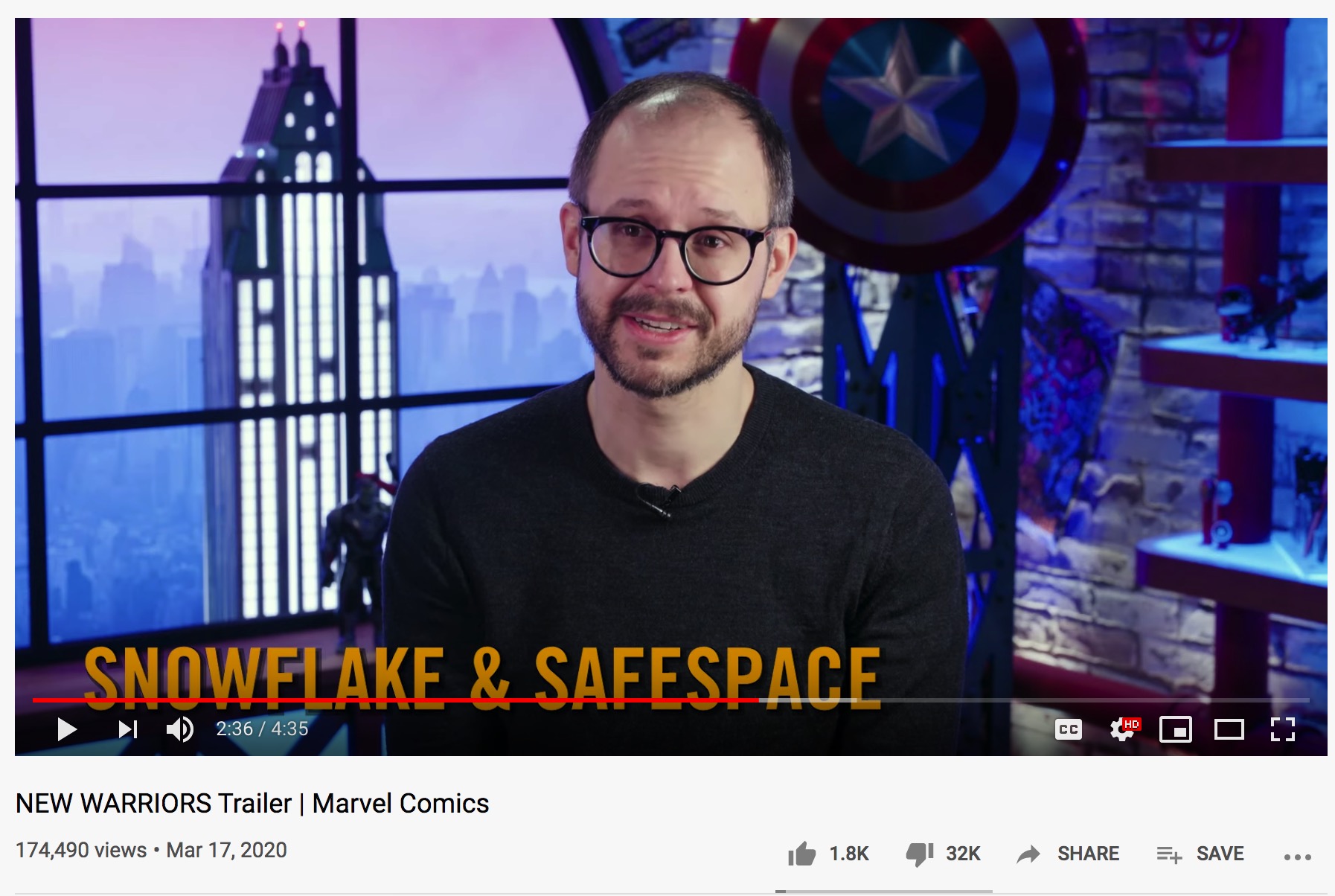 So, is this a parody?
No, it seems that Marvel was just diligently checking every box on the woke list of requirements that it has compiled for itself.
Daniel Kibblesmith, the writer behind the New Warriors, explained the lineup and the thinking that went into creating these characters and naming them.
Kibblesmith was approached to create authority figures rather than rebels to accommodate a new, in-universe "law" which requires superheroes to be adults, unless they are teenagers with "official government assigned mentors."
Therefore, we have "authority figures" here to mentor the teen "new New Warriors," he goes on to say, claiming that the series' characters always in the past captured an era's zeitgeist – and in 2020, that would be the internet.
The new New Warriors, meanwhile, include a character who's a group home and foster kid called Trailblazer, named in this way for being quick to action and aware of her powers.
Next, there's Screentime – "an internet kid taken to its logical conclusion." And that in Kibblesmith's story-telling means getting "patched permanently into the world wide web" as a result of an experiment gone bad.
Now come twins Snowflake and Safespace – because nothing screams "rebel" and "warrior" quite like those two words, does it.
Not what Kibblesmith had in mind, either: in fact, these are characters deliberately adopting words used on the internet pejoratively – because they have a sense of humor? Wrong again. It's to wear them "like a badge of honor," the writer explained.
Safespace is a burly "jock" (?), Kibblesmith continues, while his bro is non-binary with a pronoun preference: it's they/them. Snowflake is the more offensive of the two, Kibblesmith reveals.
Finally, we have B-Negative, a goth kid with vampire powers resulting from "a rogue blood transfusion."
It's still only a trailer, but how are fans reacting to the new New Warriors? Not well. As of this writing, the video posted on YouTube and viewed over 110K times had over 6,000 comments, 1.8K likes, and a whopping 32K dislikes.

Defend free speech and individual liberty online.
Push back against big tech and media gatekeepers…