The mayor of Lansing, Michigan, Democrat Andy Schor, is now being intensely criticised online and facing calls for his resignation for writing an email saying that he felt people challenging him for the 2021 reelection were using the George Floyd death, as well as the COVID-19 pandemic, to their advantage. In a letter written addressing his would-be donors, Schor referred to an unknown group of people as "they" while complaining that "they" were backtracking the city's progress.
"With all of this going on, I have not focused on fundraising or my reelection next year. But unfortunately, others are looking to 2021," wrote Schor. "They are using these crises to try to push back against the growth accomplished and crisis management. They seek to tear down Lansing's progress, to take advantage of the tough situation we are in."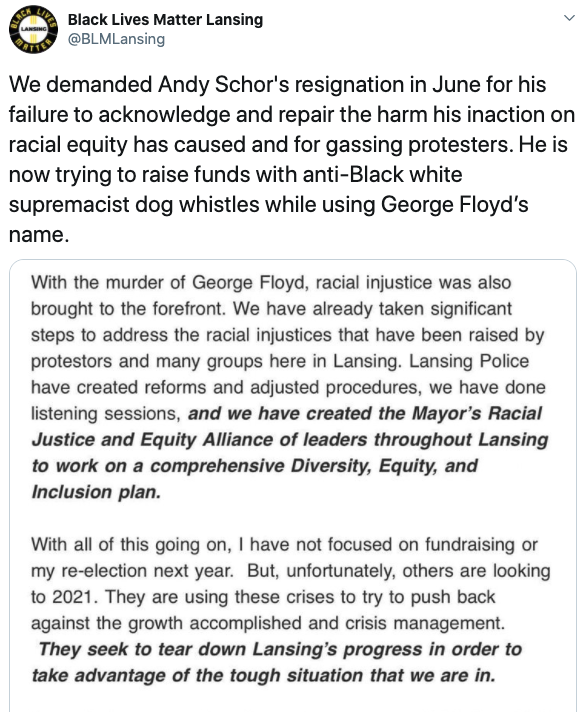 Much like any other campaign fundraiser, this letter also spoke about sustainability, economic development, and other commonly discussed reforms. But referring to the Black Lives Matter movement and criticising an unnamed, ambiguous group of protesters – referring to them as "they" was all it took to trigger targeted online backlash in today's unreasonable cancel culture.
"Andy Schor is raising funds for his campaign by denigrating Black people demanding transformation to make Lansing better for EVERYONE," read a post from Lansing's Black Lives Matter group.
The founder of Firecracker Foundation Tashmica Torok condemned Schor's letter and said: "He frames the blood, sweat, and tears I and my people have poured into begging for the lives and well being of our people as us 'taking advantage of' a crisis to 'tear down' the progress he's been making. Let me be the first to NOT thank you for fundraising for your campaign after you've been asked to resign."
It is also worth noting that there wasn't anyone competing with him for the position as of now. Schor later clarified that he referred to candidates that would potentially run against him as "they." While there is some speculation that the former mayor Virg Bernero may run against Schor, there hasn't been any official confirmation yet.
The Lansing mayor also appeared surprised at the fact that his words stirred up such mixed feelings. "The email specifically references the importance of racial justice and equality, and the work being done in Lansing. It also references the important work being done for COVID, and work one to grow Lansing," said Schor.
Lansing's activists are taking to the internet and expressing that Schor should resign.

"The mayor is basically stating that we are using our experiences, the experiences of black and brown people, our traumas, to 'push back against growth.' Mr. Mayor, if you believe that fighting for racial justice and equity is 'tearing down progress' then you need to resign," said the executive director of the Women's Center of Greater Lansing, Melina Brann.