The London & Quadrant Housing Trust (L&Q) fired Maureen Martin, a mayoral candidate for Lewisham, South-east London, for advocating for heterosexual marriage only. Her employer accused her of gross misconduct.
The controversy started in April when Martin shared a leaflet for her campaign, which contained a six-point plan. The third point in her plan was a promise to "cut through political correctness and state the truth that natural marriage between a man and a woman is the fundamental building block for a successful society, and the safest environment for raising children."
Twitter users began to post the leaflet online, where it began to get the attention of her employers.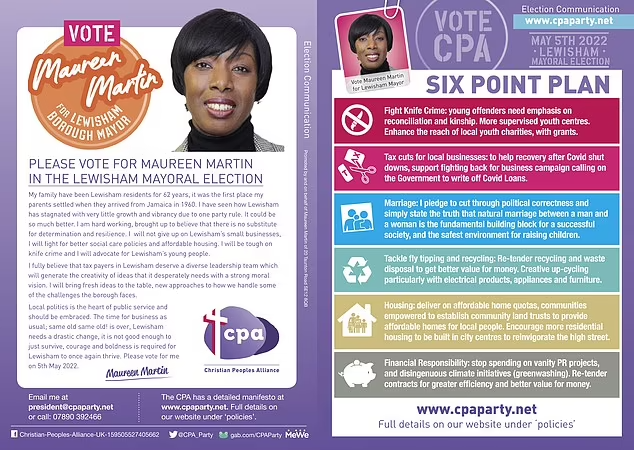 Stef Smith, a Scottish playwright, accused her Martin of "actively promoting prejudice and discrimination against LGBTQ+ people." Sci-fi writer Si Clarke said that Martin wanted to "outlaw gay marriage."
Just two days after she published the leaflet, she was summoned by her employer for an "investigation meeting" because they had received three complaints. One of the complaints recommended that she should go through an "anti-oppressive training" and for "disciplinary action" to address her opinions.
"As Ms Martin was questioned, it became clear her bosses had trawled her Twitter account in a search for further comments," The Mail reported.
"She was challenged about one tweet in which she had commented on transgender sport and another in which she retweeted a comment by the CPA that it was 'disgusting' for the US embassy at the Vatican to display the rainbow LGBTQ+ flag. Ms Martin said she was clearly not referring to the movement."
After the investigation, she was fired.
"I completely agree that your views are your views," an L&Q manager said during the investigation meeting. "However to air them so publicly when you're clearly linked to L&Q, can you see how that could bring L&Q into disrepute?"
Speaking to the Mail, Martin said she was "shocked" by the "brutal" interrogation.
"I thought to myself, 'There's no way they could fire me over this, surely?' I had determined already that I was not going to back down from my Christian values. I will defend them," she added.
She further argued that her beliefs against same sex marriage did not have an impact on her work as a a housing manager.
"I would not treat people in any way other than professionally. It was a general statement I made and I am quite within my right to make it," she said.
"I have the right to say what I want to say. You have the right to disagree with me. That's the essence of free speech.
"If we don't have it in this country, we are in big trouble. Are we going to turn into a totalitarian country? Are we a free country, or aren't we? We have to make our minds up."
After a disciplinary meeting on May 6, Martin was fired. L&Q claimed that she aired her opinions in an "inappropriate manner" and that it was "reasonable to conclude that they will have caused upset, hurt, and offense."
She told the Daily Mail that the dismissal hurt her campaign.
"'It was quite difficult to campaign because I had this thing hanging over my head. It was a massive distraction and significantly impacted my campaign," she said.
She is suing L&Q for unfair termination, harassment, and discrimination.
"While we respect that individuals' freedom to hold particular religious or other beliefs is absolute, we do not tolerate it when these beliefs are manifested in a way that is derogatory or offensive to others," said L&Q's CEO Fiona Fletcher.
"Several of our residents raised complaints with us after reading the leaflet.
"This matter was robustly investigated in accordance with L&Q's policies and procedures, and in line with equalities legislation, and the appropriate action taken."