Rep. Kevin McCarthy, the current House Minority Leader, has called for an investigation into Google, Facebook, and other Big Tech platforms following revelations by Elon Musk about Twitter's suppression of the Hunter Biden laptop story. McCarthy also suggested that security clearances of intelligence officials should be removed.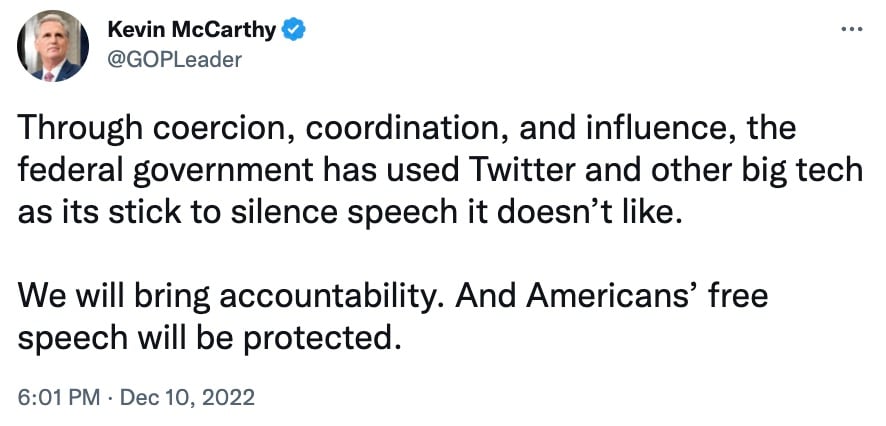 "Through coercion, coordination, and influence, the federal government has used Twitter and other big tech as its stick to silence speech it doesn't like," McCarthy tweeted. "We will bring accountability. And Americans' free speech will be protected."
"Now we need to start looking at Facebook, at Google. These now have become arms of the Democratic Party, arms of the Biden administration," McCarthy said last week in an appearance on Fox News' Sunday Morning Futures.
"But they also used the intel community as well to lie to the American public. Should those people keep their clearances? Should those people still be allowed to have information? If they're going to be political individuals then no, they should not. And this is just the tip of the iceberg of what we need to investigate going forward," he continued.
Intelligence officials, including former National Security Director James Clapper and former CIA Director John Brennan, signed a statement claiming that the New York Post's reporting on the Hunter Biden laptop "has all the classic earmarks of a Russian information operation."
The Twitter Files released by Taibbi revealed that a small group of Twitter executives made the decision to suppress the story without evidence that it included "hacked materials" and without the green light from then-CEO Jack Dorsey.
"Although several sources recalled hearing about a 'general' warning from federal law enforcement that summer about possible foreign hacks, there's no evidence – that I've seen – of any government involvement in the laptop story," Taibbi wrote.
Rep. James Comer, who is expected to chair the House Oversight Committee, described Musk as the "Grinch that stole Christmas for the Democratic National Committee."
"What he's showing here is evidence that the Biden campaign colluded with Big Tech to suppress a story that we now know is 100% true," Comer said in an appearance on Sunday Morning Futures.
"The problem the Democrats should have is, why were they so scared of the laptop story? And the answer…is because the laptop provides evidence that not only did Joe Biden lie to the American people about his involvement with his family's influence peddling and shady business dealings, it also proves that Joe Biden was a part of those shady business deals. And that's something every American should be concerned about."