Tom Elliott, the founder of Grabien, a multimedia marketplace, slammed Twitter as the big tech platform ended up suspending his tweet, which was critical of New York Gov. Andrew Cuomo.
Despite being criticised by New Yorkers for the way he handled the pandemic, not much was less so reported by the media, the New York governor was particularly slammed for his regulations with regard to nursing home patients – which according to what many argue – may be the reason behind the high fatality rates in the elderly populations.
Cuomo also infamously hurled threats and passed the blame when asked about the slow rate of vaccination in his state.
Taking a dig at Cuomo's approach to handling the pandemic, vaccinations, and elderly populations, Elliott tweeted writing: "@NYGovCuomo to NY's remaining seniors: Please just die already." Twitter was quick to suspend his account, stating that his tweet violated the platform's rules with regard to abuse and harassment.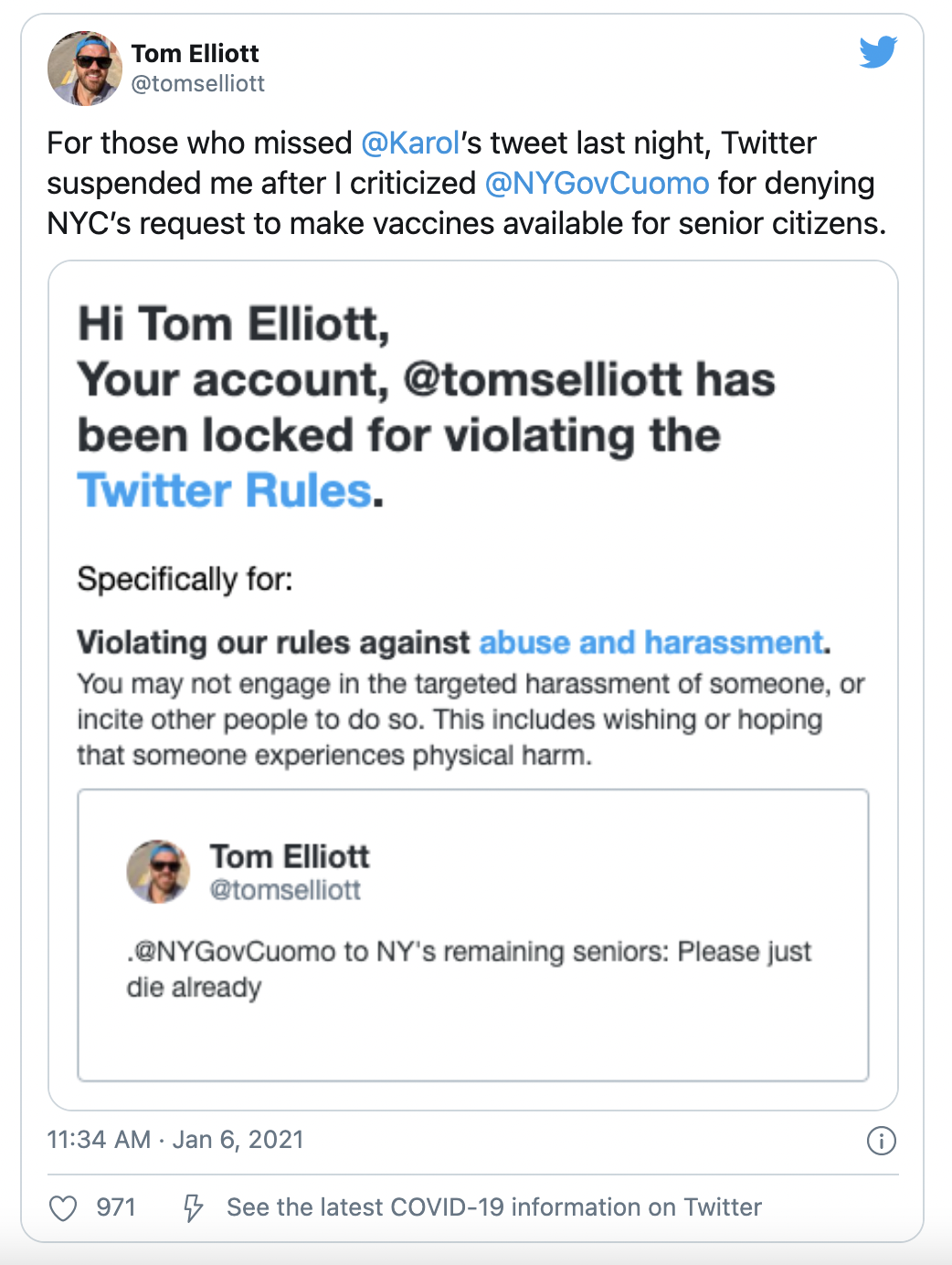 "Twitter suspended me after I criticized @NYGovCuomo for denying NYC's request to make vaccines available for senior citizens," wrote Elliott.
Elliott said that his simple sarcastic remark was perceived as a "wishing or hoping that someone experiences physical harm" by Twitter. "My tweet was explicitly doing the opposite; trying to protect NY's most vulnerable from Cuomo's deadly vaccine rules," Elliott wrote.
Instead of deleting the Tweet and bending to Twitter's Draconian rules, Elliott decided to appeal the decision; but to no avail. He also expressed his frustration with Twitter's appeal process as it limits the message to just 240 characters. "Twitter's appeal process bizarrely limits you to 240 characters, which is hardly enough space to explain the stupidity of their Thought Cops," wrote Elliott.
"I suspected Twitter wouldn't conduct the appeal process in good faith, but preferred being locked out over implicitly agreeing my tweet meant the opposite of what it did. They later confirmed my suspicion and denied the appeal," Elliott continued.
Elliot, concluding that Twitter was upset because he criticized Gov. Cuomo, said that the platform's rules were merely a "cover to penalize accounts engaging in Wrongthink."