Kennedy Mitchum, a young woman from Missouri, has convinced Merriam-Webster to update the definition of racism to include systemic racism. The 22-year old believes the current definitions of racism are inadequate.
Mitchum emailed Merriam-Webster and after a series of emails back and forth the dictionary agreed there was a point in updating the definition to include "systemic oppression".
Mitchum is from Florissant, Missouri, which is located near Fergusson, where the 2014 protests of the shooting of Michael Brown gave birth to the Black Lives Matter movement. The young woman had entered into discussions about social injustice where she says people would quote dictionary definitions to prove they were not racist.
"I kept having to tell them that definition is not representative of what is actually happening in the world," she said, speaking to CNN. "The way that racism occurs in real life is not just prejudice it's the systemic racism that is happening for a lot of black Americans."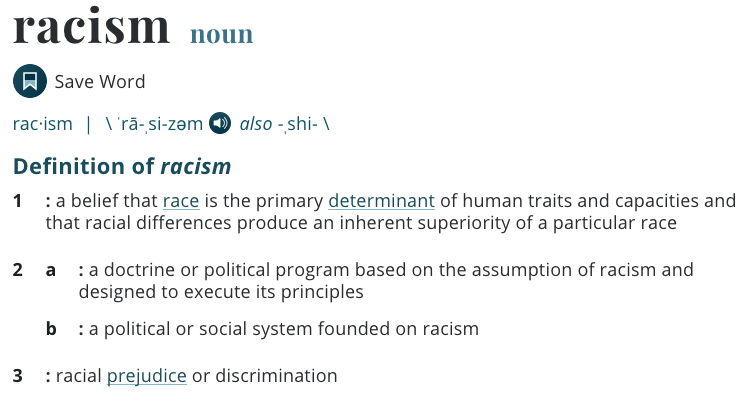 So, on May 28, Mitchum sent an email to Merriam-Webster, urging them to include systemic oppression. The next day, she got a reply from Alex Chamber, an editor at Merriam-Webster. In the email conversation, Mitchum was able to convince Chambers that the definition should be updated, and he assured her they would work on it.
"This revision would not have been made without your persistence in contacting us about this problem," Chambers said in the email. "We sincerely thank you for repeatedly writing in and apologize for the harm and offense we have caused in failing to address this issue sooner."
According to another editor at Merriam-Webster, Peter Sokolowski, some entries cover systemic oppression, such as "a political or social system founded on racism." However, he told CNN there is a need to express the idea more clearly.
"I think we can express this more clearly to bring the idea of an asymmetrical power structure into the language of this definition, but it's there," said Peter Sokolowski.
He argued that, traditionally, dictionary definitions have had to concise and short to fit as many words as possible in as little text as possible for the print editions. However, that's no longer the case since dictionaries are now online.
The Merriam-Webster dictionary gets updated twice or thrice a year. So, the new definition of racism they'll come up with might be available soon, in the next release.
Mitchum hopes that a more comprehensive definition helps spark more in-depth conversations around the topic of racial injustice.
"I was super happy because I really felt like that was a step in a good direction for a lot of positive change for a lot of different positive conversations that can really help change the world and helps change how people view things."