You could say it was under a state of emergency – or even some semblance of martial law – that the superintendent of the Grand Ledge Public Schools in the US state of Michigan, Brian Metcalf, got fired.
The district board decided on this in a unanimous vote – one, nevertheless, that took place under extraordinary circumstances.
"Approximately seven hours into a due process hearing on Monday that was conducted under a tent in a parking lot at Grand Ledge High School and broadcast over Zoom" – local print media explained.
Elected and appointed officials, as well as celebrities and "normal" people have been learning in the past few months, ever since the death in June of George Floyd in police custody, and the ensuing social, media, and corporate chaos, how fragile the notion of free speech is, and how detrimental it can be for them to exercise any version of it a climate of public discourse super-charged by cancel culture, and institutions and corporations very eager to stay out of its way.
But when it comes to Superintendent Metcalf, it seems like his reactions on social media came way too early for him to understand how they might be viewed and construed in this feverish process, and consequently haunt him.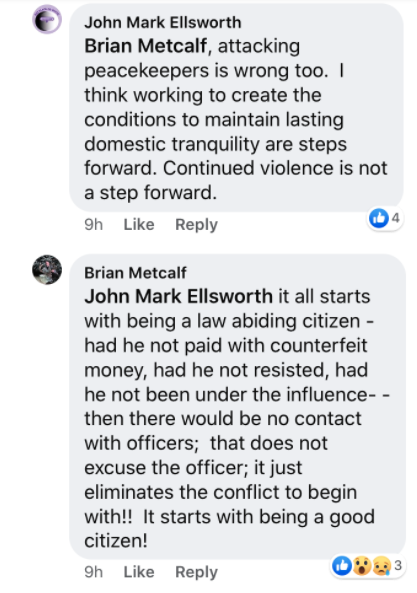 According to quotes from his social media posts, Metcalf still felt confident that he was free to offer his thoughts on current affairs on Facebook, when he suggested that Floyd might not have met his fate had he been "a good citizen" – in other words, a law-abiding one who wasn't using counterfeit money or resisting the police.
More than anything sinister like a racist or an apologist for police violence, you can see a social media user here, caught up in the early days of any given controversy, unaware and sadly unable to tell where it might go or blow up to, and above all believing that their off-the-cuff remarks would run their natural course like they do in a human conversation – instead of being documented forever on the internet – like they are.
Metcalf's attorney Eric Delaporte revealed that his client then issued an apology to the "pitchforks crowds" – apparently, as dictated to him by Education President Denise DuFort.
But ultimately, it was all for naught.