Microsoft has blocked EdgeDeflector, a third-party app that allows users to use their preferred browser for Start menu search results. By default, the Start menu search results open in Edge even when a user has set another browser as their default.
Some users do not like the fact that Microsoft forces Edge and Bing in Start menu search. That is why apps like EdgeDeflector exist. Even Mozilla and Brave browsers recently announced a similar feature.
Users began noticing that EdgeDeflector had been blocked in an early preview build for Windows 11 released late last week. Microsoft has since confirmed that the block will be rolled out in an update to Windows 11 that will be arriving soon.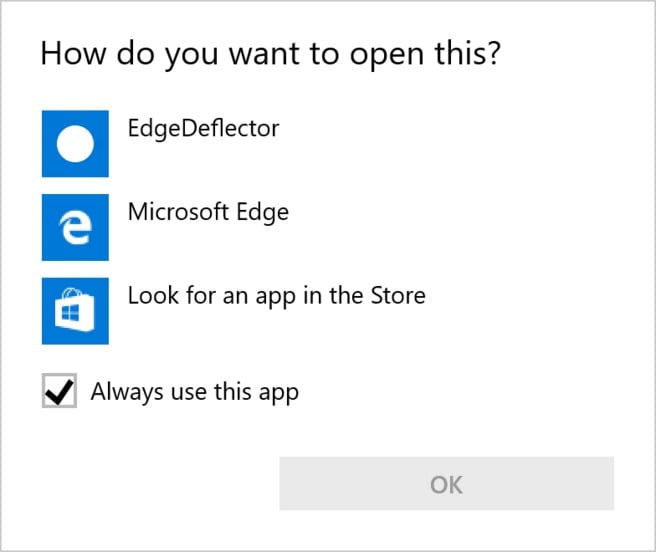 "Windows openly enables applications and services on its platform, including various web browsers," says a Microsoft spokesperson in a statement to The Verge. "At the same time, Windows also offers certain end-to-end customer experiences in both Windows 10 and Windows 11, the search experience from the taskbar is one such example of an end-to-end experience that is not designed to be redirected. When we become aware of improper redirection, we issue a fix."
EdgeDeflector's developer Daniel Aleksandersen is not pleased with the "fix."
"These aren't the actions of an attentive company that cares about its product anymore," he wrote in a blog post. "Microsoft isn't a good steward of the Windows operating system. They're prioritizing ads, bundleware, and service subscriptions over their users' productivity."
Microsoft did not explain a reason for blocking EdgeDeflector, but according to Aleksendersen the Windows creator was worried about Mozilla's and Brave's plans to introduce features similar to EdgeDeflector.
"The 500,000 EdgeDeflector users were probably never more than a nuisance to Microsoft," explains Aleksandersen. "However, last month both the Brave and Firefox web browsers either copied EdgeDeflector's functionality or signaled it was on the roadmap."
It is rather bold that Microsoft is trying to force Edge on users considering the antitrust lawsuits it faced in Europe for bundling Internet Explorer in Windows. In one case, Microsoft paid a $730 million fine for violating the 2009 antitrust agreement.